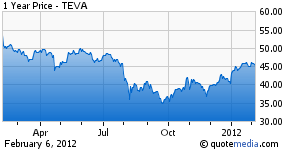 Teva (NYSE:TEVA) has gained the reputation of being a long term player in the oncology field. Which is why the following story means to much to me.
Sitting in front of me, a vivacious young woman showed me what looked like the black death of head and neck cancer. I could have wept. Half my age, the angel of death seemed to have penetrated inside her gum line. It sickened me the sight was so repulsive.
Head and neck cancer is unforgiving. It attacks the head and neck region including the nasal cavity, lips, sinuses, salivary glands, throat, mouth, and larynx. It disfigures the fortunate people who survive. It leaves people with half a face. Just ask Robert Ebert.
Enter Teva. Through key a partnership with a small biotech firm, CEL-Sci (NYSEMKT:CVM), Teva is helping to advance a product called Multikine to bring hope to the hopeless. Israel-based Teva is standing with this U.S. based firm that is now deep into its phase 3 trial. Recently, it was learned that Teva has increased its stake and activity in the head and neck cancer product's advancement by helping to add new hospital locations.
Interestingly, the drug Multikine was developed by Dr. Eyal Talor whose past clinical studies can be traced to Israel, the home-base of Teva's operations. Early work no doubt caught Teva's attention as the effect of Multikine's use on tumors is as they say, "A picture may be worth a thousand words. As I have carefully study this product, Teva has no doubt identified Multikine's ability to shrink head and neck cancer tumors, as well as better define the edges of a tumor for surgical removal.
Multikine, like Dendreon's (NASDAQ:DNDN) Provenge employs the patient's immuno-system. In simplistic terms, Multikine turns the patient's immuno-system back-on and targets the tumor. In fact, detailed images support the theory that Multikine causes the tumor cells to retreat, and in a few cases, to ultimately disappear.
In speaking to a professional who works in the oncology area, she told me that the up and coming area of oncology research was immuno-therapy. The body is its best defense. Multikine turns that defense back on and into high gear.
The difference between Provenge and Multikine is very significant. Multikine doesn't require the patient's blood. Multikine is a universal formulation that is made in the company's certified cold-fill manufacturing facility which is already approved by the FDA. That means Teva has a location in place to manufacture the drug through its biotech partner.
Frankly, do a little reading on head and neck cancer patients and you'll unhappily discover that once diagnosed, many might as well pick out their tombstones and caskets. Not to be morbid, but it's true. Head and neck cancer patients often have a very short time to live. So it's no surprise that the market giant Teva is investing in Multikine.
In my opinion, investors who like to invest their money towards humanitarian ventures may want to consider how Teva is using its resources to help a much smaller but promising biotech partner.
Disclosure: I have no positions in any stocks mentioned, and no plans to initiate any positions within the next 72 hours.
Disclaimer: Investors buy and/or sell at their own risk.