MasterCard (MA) remains a strong bullish company. At this level of value in the stock some investors may not be able to afford the stock directly, but with the bullish pattern in MA, we have found a nice option strategy that bring a nice profit to an investor with limited risk.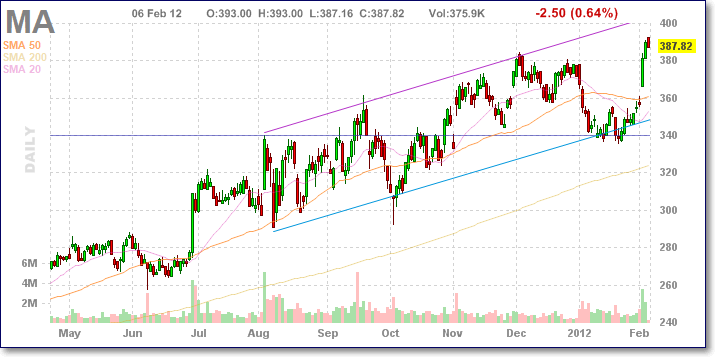 (Click to enlarge)
MasterCard Incorporated, together with its subsidiaries, provides transaction processing and related services to customers principally in support of their credit, deposit access, electronic cash and automated teller machine payment card programs, and travelers cheque programs. Its payment solutions include payment programs, marketing, product development, technology, processing, and consulting and information services.
With the increase in value of MA over the last 18 months, we still find MasterCard extremely strong and bullish. With analysts expecting a strong 2012 with earnings projected at $21.72 per share, we still consider it a strong buy. But the price may be a bit out of some investor's price range. We like the predictability if the stock pattern and have a nice strategy to play it up and down. A Bear Put Spread looks like a nice strategy here while the stock continues to move up and down in a peak and valley pattern.
Establishing a bear put spread involves the purchase of a put option on a particular underlying stock, while simultaneously writing a put option on the same underlying stock with the same expiration month, but with a lower strike price. Both the buy and the sell sides of this spread are opening transactions, and are always the same number of contracts. It appears that MA still has some movement on the upside before it corrects to its valley again.
When it reaches the 400 level, or close we would look at doing the following play:
Buy an April 2012 '370' (presently priced at $10.80)
Sell an April '365' (presently priced at $9.25)
If the stock continues to move down like it usually does, here is the way it will play out:
Max Debit: (Cost of option bought - cost of option sold) ($10.80-$9.25)= $1.55
Max Risk: (Debit) $1.55)
Max Profit: (Difference in strike prices - debit) ($5.00- $1.55)= $3.45
MA has moved fairly predictably the last 18 months and is expected to remain strong. Here is a way for an investor who does not wish to buy the stock outright to profit with limited risk as MasterCard continues to move upward.