Negotiate this: Priceline (PCLN) may be setting up for a sharp fall.
Priceline is up over 9000 percent to $550 a share from its $6.30 low in October 2002. With the exit of its number one spokesman, William Shatner, together with slowing global economies, an unsustainable stock price, and unappealing valuations, Priceline may be at its peak.
Once having to compete with Orbitz (OWW), Travelocity, Expedia (EXPE), and many other travel sites, Priceline has completely dominated the travel booking website space for years now. Perhaps largely due to William Shatner's top-notch spokesmanship, Priceline catapulted past the competition with its catchy "Priceline Negotiator" commercials. In fact, Shatner has played such a major role in Priceline's success, that consumers' perception of the company are almost completely tied to Priceline's commercials featuring Shatner:
In our independent brand studies, consumers are able to correctly attribute our commercials (with william shatner) to the Priceline brand 85-90% of the time. This is more than double the industry attribution standard.
-Priceline

Recently, however, Priceline decided to kill off Shatner's character in what seems to be his last "Priceline Negotiator" ad. Whether or not Priceline will truly stick to this decision is yet to be determined, though it appears that Priceline has chosen to move on to a new advertising campaign. The killing off of Shatner's character, however, is a symbolic move: Right as Priceline reaches the $550 mark for the eighth time, the death of the "Priceline Negotiator" may mean the death of Priceline's stock. If Priceline can't break above $550 and stay above it, it is due for a pullback. And the drop that comes may mark the $550 level as an all-time peak.
There are a number of reasons why Priceline may be at a peak, or at the very least not a good investment choice:
1) Slowing Global Economies. Though the latest PMI numbers and economic indicators are showing that global economies may have averted recessions, the risks are still great that the decelerating growth worldwide will plunge many countries into economic contractions. The U.S., China, and Brazil - on which most of the world economy relies - are hovering just above 50 on the PMI (purchasing managers index), and a drop below 50 would signal contraction. Any slip-up could easily drag down economies, and a big potential shock from the Middle East revolutions, European crisis, or looming threat of war with Iran would take a big toll. Since Priceline's business is built upon the economic health of the consumer, a recession or economic downturn could severely impact Priceline's profits as consumers become increasingly wary and decrease their spending. Slowing global economies are a major threat to Priceline (see: 2012: On The Verge Of A Global Recession?).
2) Unappealing Valuations. Priceline may sport profit margins of over 20 percent and revenue growth of over 40 percent, but investors may be a bit too optimistic about future growth. Priceline's earnings numbers have been great, but as it approaches the next few quarters, expectations may be too high. Not only has the stock price tripled since June 2010, but Priceline's trailing P/E ratio is at 28 - way above competitors like Expedia , with a P/E ratio of 10. Priceline may still be the number one company in the space, but its valuations are too rich for investors to be jumping in carelessly. There are plenty of other stocks that offer much more attractive valuations, more room for growth, and at much less risk.
3) Unsustainable Stock Price. Priceline has soared over 900 percent from its 2002 lows, and over 200 percent from its June 2010 lows. With such a steep rise, the stock is inevitably due for a correction. The stock has taken some breaks in 2008, 2010, and 2011, but the larger trend has been a very sharp rise upward. With the angle of the price rise at steep extremes, Priceline may be setting up for a very sharp fall to $300 or below.Take a look at how meteoric Priceline's rise has been over the past 6+ years: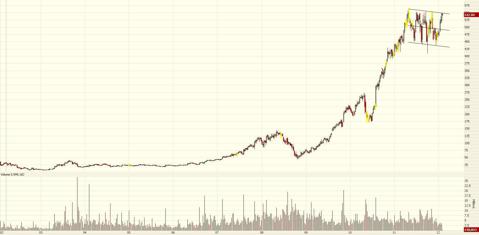 To make matters worse, Priceline's stock has flirted with the $550 level eight times since May 2011: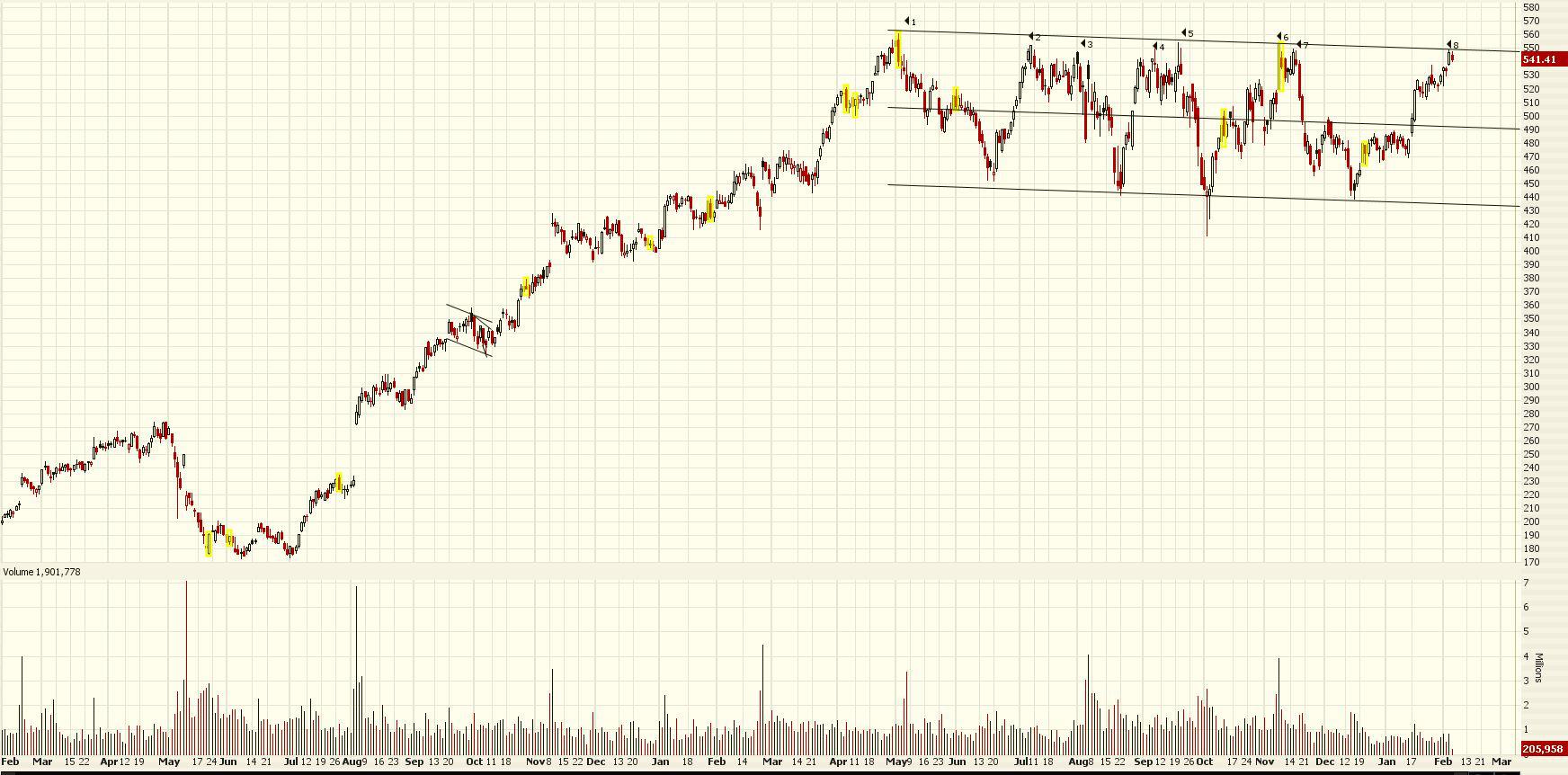 (Click to enlarge)
When a stock fails to cross and stay above a certain level, that level becomes strong overhead resistance. The greater the number of times the stock fails at that level, the greater that level of resistance becomes. And with Priceline failing at $550 eight times in less than a year, the $550 level is extremely strong resistance! Unless Priceline can break above $550 and sustain it, we may be at a major top.