Sirius Xm Radio (NASDAQ:SIRI) is expected to report last fiscal quarter's results before the opening bell on February 9, 2012. We can review how Sirius Xm Radio has performed recently.
What It Is:
Sirius XM Radio Inc. provides satellite radio services in the United States and Canada. The company was founded in 1990 and is headquartered in New York, New York. Sirius Xm Radio trades an average of 59.8 million shares per day and has a market cap of $8 Billion.
52 Week High: $2.44
52 Week Low: $1.27
Book Value: $0.16
Float Short: 8.18%
What To Expect:
On average, 7 analysts are expecting a drop of $-0.01 in earnings per share compared to last quarter's results of $0.02. Investors will be looking to see a number north of $0.01 per share based on the earnings estimates. With so many shares issued and outstanding (3.6+ billion lotto tickets) it's hard to get your head wrapped around Sirius with just a few of the earnings per share.
Here is a look at the fiscal year revenue for Sirius Xm Radio: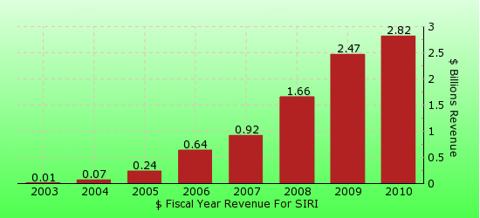 Recent Stock and Valuation Performance:
The stock has moved higher in price 7.25% in the last month, with a one year change of 21.19%.
The stock has done very well as compared to the overall market. When comparing to the S&P 500, the year to date difference is 10.21%.
$2 appears to be more than just a simple sticking point. Sirius also extends its price to earnings multiple to levels historically poor for investor returns. Unless you are interested in buying at $2.15 and selling at $2.25, you may not want to take on the risk. Even if Sirius is able to grow out their yearly earnings to $0.10, at $2.50 a share you are looking at a PE of 25. It's just nuts, because it also would take someone else thinking it's going HIGHER than $2.50 to be a willing buyer at some point. I have written several bearish articles and have backed off in the latest writings (click here to read). I will get back to this, but for now lets take a look at some more numbers.
Investors have been rewarded with an increase of year-over-year revenue. Revenue reported was $2.82 billion for 2010 vs. $2.47 billion for 2009. The bottom line has rising earnings year-over-year of $43.06 million for 2010 vs. $-352.04 million for 2009.The company's earnings before interest and taxes are rising, with an EBIT year-over-year of $465.41 million for 2010 vs. $228.33 million for 2009. Rising revenue along with rising earnings is a very good sign, and what we want to see with our companies. Be sure to check the margins in the earnings release to make sure the bottom line is keeping up with the top line.
Ok, so we can clearly see revenue climbing and I believe that is a number to be looked at only second to the share price history. What is interesting is if you take a comparison between Sirius and Apple (NASDAQ:AAPL) as investments. Like Sirius, Apple is a well known brand that doesn't compete necessarily against Sirius for market share, but they both sell "gizmos" and service to go along in support.
Similarities:
Both dominate their respective market space
Both have large amounts of loyal customers
Both offer a high tech product/service
Both are expected to continue to grow both the top and bottom lines
Differences:
Differences Between Sirius and Apple
| | | |
| --- | --- | --- |
| | Sirius | Apple |
| Forward PE | 30 | 10 |
| Price/Book | 13 | 5 |
| Debt/Equity | 492 | 0 |
| short interest | 7.9% | 1.2% |
| Qtrly Revenue Growth yoy | 6.3% | 73% |
| Qtrly Earnings Growth yoy | 54% | 117% |
| Return on Assets | 5.6% | 24% |
Some numbers may be more important than others, but it is very clear to me Apple "should" be trading higher than Sirius. In fact, when you add in the potential dividend payments that may come or a stock split, Apple becomes even more attractive relative to what Sirius has to offer an investor.
Short interest is a very good gauge of the "smart money" and where they are putting their capital to work. By a difference of almost 7 to 1, the smart money is betting Sirius is likely to fall in price compared to Apple.
The best reasonable explanation of why investors would place a greater value on the money Sirius is able to earn is the combination of a super low stock price (anything under $5 is super low for me), and the massive retail investor following. This should be a red flag that perhaps there is "no one else to sell to" at a greater price.
Things to think about as you ponder what the earnings results will be and how much an investor should pay for a given amount of expectations.
Here is the last few quarters to get an idea how well they perform compared to estimates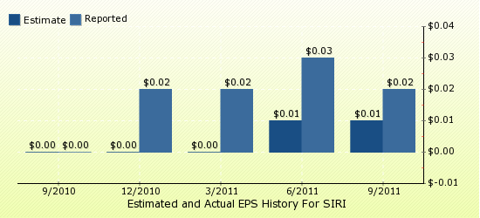 Reported earnings per share compared to the mean estimate. Differences are rounded.
The total short interest number of shares for SIRI:



The number of days to cover short interest based on average daily trading volume for SIRI:



I use a proprietary blend of technical analysis, financial crowd behavior, and fundamentals in my investing. You may want to use this article to begin research with a financial planner. I use the data from earnings.com and Zacks.com that I believe to be of the most interest.
Disclosure: I have no positions in any stocks mentioned, but may initiate a long position in AAPL over the next 72 hours.