Shares of luxury retailer Saks Inc (NYSE:SKS) have not kept pace with their peers over the past year. The chart below shows SKS (dark blue), Coach (NYSE:COH) (red), Ralph Lauren (NYSE:RL) (light blue), Nordstrom (NYSE:JWN) (green), and Tiffany (NYSE:TIF) (orange) over the past year.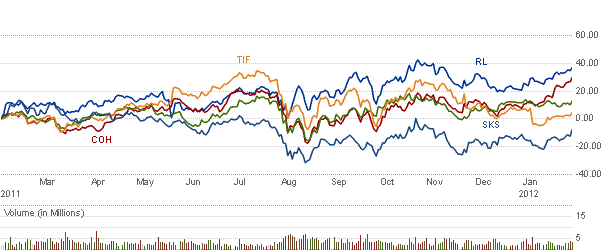 (NASDAQ:CNBC)
Performance
SKS: -4.94%
TIF: +5.25%
COH: +32.97%
JWN: +15%
RL: +38.57%
As you can see, SKS has not done well compared with its peers. However, SKS remains the most expensive stock of the group.
Trailing PE ratios
SKS: 26.32
TIF: 19.04
COH: 22.73
JWN: 16.3
RL: 23.03
Forward PE ratios
SKS: 21.16
TIF: 16.43
COH: 17.88
JWN: 14.04
RL: 19.11
PEG ratios
SKS: 1.88
TIF: 1.17
COH: 1.29
JWN: 1.38
RL: 1.52
No matter how you look it, SKS is more expensive than its peers. Another reason SKS peers are a better investment is because they pay dividends. This compares with SKS, which does not have a dividend.
Dividend Yields
SKS: 0%
TIF: 1.78%
COH: 1.24%
JWN: 1.83%
RL: 0.51%
While none of these stocks can be considered "high yielders," there is clearly a big difference between paying something and paying nothing.
Conclusion
Investors should avoid SKS because it is too expensive. Investors looking for luxury retail plays should instead consider TIF, RL, JWN, or COH.
Disclosure: I have no positions in any stocks mentioned, and no plans to initiate any positions within the next 72 hours.