The Armour Residential REIT (NYSE:ARR) management announced the issuance of up to an additional 26 million shares of stock recently, and since I have an open order for this fund, it's time to do a little analysis.
Here's the 5-day stock chart: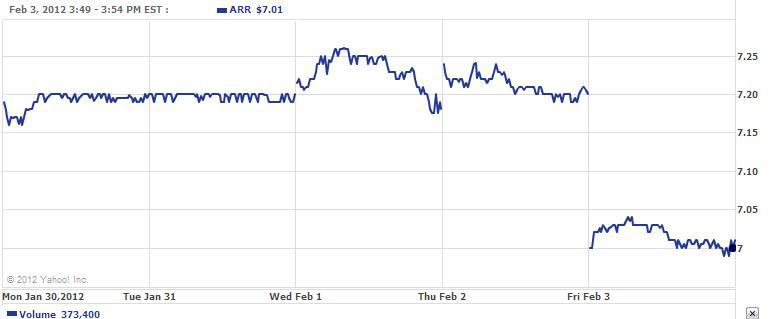 This kind of share issuance happens all the time in this industry, because this is how these funds raise capital. I did an article recently outlining some recent share issuances from other funds in this group, for background information.
What we would expect is that it will dilute the stock, and we would like to know the effects that this will have on the stock price, and, most importantly, how it will affect the dividend, which is a prime motivator in wanting to own any of these high-yielding funds.
According to a recent announcement, there were around 109 million shares outstanding as of December 31, 2011:
| | | |
| --- | --- | --- |
| Time | Shares Outstanding | Stock Price |
| Before | 109,320,000 | $7.20 |
| New Issuance | 26,000,000 | |
| After | 135,320,000 | TBD |
| Gross Proceeds from Issuance | $ 182,000,000 | |
| Leverage | 9.00 | |
| Available Capital | $ 1,638,000,000 | |
The company lists an email address with which interested parties can get the share issuance price, but it is pretty clear from the market reaction that some of the early recipients of the responses were told that it's $7 per share. If all of the 22 million initial shares plus the additional 4 million optional shares are issued, the proceeds will be around $182 M.
ARR will use financial leverage to raise capital to loan out as mortgage loans. According to their September 30, 2011 10Q announcement, their current leverage rate is 9:1, which implies the ability to issue a bit more than $1.9B of additional mortgages at some rate.
| | |
| --- | --- |
| Coupon Interest Rate Est. | 3.75% |
| Additional Revenue Est. (Annual) | $61,425,000 |
| Profit Margin (Industry Typical) | 90% |
| Potential Incremental Earnings | $55,282,500 |
The current highest coupon rate for mortgages listed in the ARR 10Q was around 4%, so I have made the conservative assumption that the money will be loaned out at 3.75%, so in a year, and at the industry-typical profit margin of 90%, the raised capital will have an opportunity to earn an additional $55M for the company.
| | |
| --- | --- |
| Dec 31 Shares Outstanding | 95,436,949 |
| 2011 Income Per Share (Est.) | $ 1.40 |
| Total Income | $ 133,611,729 |
| Potential Incremental Earnings | 55,282,500 |
| Potential Earnings (Forward Looking) | $ 188,894,229 |
| PE (Industry Typical) | 8 |
| New Market Cap | $ 1,511,153,828.80 |
| Shares Outstanding | 135,320,000 |
| Mkt Price Per Share (Est) | $ 11.17 |
| Est Dividend per Share (Annual) | 1.26 |
| Current Monthly Dividend | 0.11 |
| Yearly Dividend (current rate) | 1.32 |
According to the most recent earnings pre-announcement (the actual earnings announcement will be made next week) the company made $1.40 per share in 2011, which leads to a calculated earnings level of $133M based on the shares outstanding as of the end of the year.
Add the incremental $55M to that, and you will have a company that will make $189 M. The typical PE ratio among this group is 8, so that would imply a market capitalization of $1.5B, after all is said and done, and would lead to a stock price of $11 or so per share if nothing else happens between now and the time the company can scale up with the new funds. That would make the risk on the upside from the current price of $7, so perhaps an opportunity for some capital appreciation in addition to the nice dividend.
Given potential earnings of $188M and a 90% distribution ratio to the shareholders implies a dividend rate of $1.26 per share, so it appears that the current level of dividends is at least sustainable at or near its current level of $1.32 per share annually. ARR pays its dividends monthly, so the current 11 cent per share dividend appears to be reasonably safe.
So, what are the risks? Anywhere I said "if" or "Estimated" in the above analysis is an opportunity for something to go slightly wrong. The shares will not be issued instantaneously and so the earnings will not show up on the books instantaneously, the housing market is weak, the pressure on long term rates will continue to be downward as long as the Euro problem has not been resolved, and all of these are likely to affect the ability of this transaction to be a success.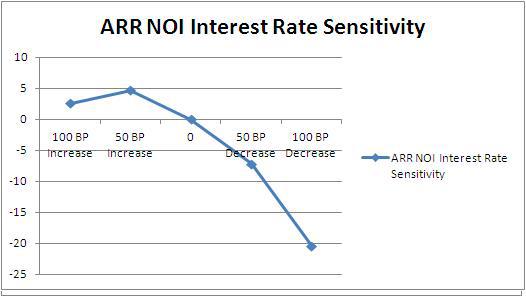 We did some analysis the other day to the effect that the company has structured its portfolio in such a way to benefit from an increase in rates, and so at least as of the September quarterly report we know what would have happened to company income had the rates gone lower, but since the company is attempting to grow, a new curve is likely in play. It will be interesting to look at their 10Q for some more insight on this when it comes out in a few days.
As for my limit order, it appears that it won't be filled, at least for the next month, since the company is apparently issuing shares at 7 so I am going to have to cancel it. Whether I go long or not depends on what I see in the next 10Q, which will come out in the next few days.
As I always say, the world is chaotic, and there are no guarantees on anything, but there appears to be no reason to fear the new share issuance, it says that the company has prospects and an opportunity to grow, and that is a point in their favor.