Atlanta, Georgia based Coca-Cola (NYSE:KO) will report earnings before the opening of the market on Tuesday. Coke is a member of the Dow Jones Industrial Average, and its earnings report will impact the market tomorrow. I place Coca-Cola in the category of very conservative, large-cap growth stocks. I suppose that with a current dividend yield of 2.8% it could also fit into the conservative growth and income style box.
Coke obviously passed through its aggressive growth phase many years ago, as its earnings have been growing at an average pace of just 9% per year over the last five years. According to the 18 analysts that follow the stock, they expect its average growth rate to shrink to just 6.2% per year over the next five years.
As a professional money manager, I strive very hard to find the very best stocks to fit into each client's portfolio. Some of my clients are rather young and have a long-term time horizon for investing. They can afford to take more risk, and I fill their portfolios with the best aggressive to moderate growth stocks that I can find.
Other clients are older and nearing retirement, and unless they instruct me otherwise, I try to find the very best conservative growth, or growth & income stocks for their portfolios. Would Coca-Cola be one of the best conservative growth stocks that I can find right now? After all, I try to keep my portfolio to about 25 positions and there is no room for just average stocks. I want the best 25 that I can find at the current time for my roster.
I will analyze the stock of Coke just like I would any other stock. I first like to look at the stock's overall performance. Performance tells me a lot about the management of the company, and how the stock stacks up against the entire market, and or other stocks in its sector or category.
Coca-Cola has handily outperformed the S & P 500 over the last ten years. The stock has delivered a total average annual return of 7% per year, while the S & P has delivered just 1.8% per year.
Over the last five years Coke once again has outperformed the S & P 500 by a wide margin. While the S & P was going backwards by 1.5% per year, Coke was going forward by 10.3%. Over the last three years, Coke has delivered 20.8% per year, while the market has delivered 17% per year. It should also be noted that Coke was down 24.1% during the bear market of 2008, while the market was down 38.5%. Coke does have a defensive nature to its shares.
Coke also beat the market over the last twelve months quite handily. It should be noted however, that last year was a good year for large-cap dividend paying stocks. I have been warning that many such stocks were entering into overbought and overvalued territory late last year. So far in 2012 the market is favoring the more risk-on type stocks. Overall, Coke get a performance grade of "B-."
Small-cap, technology, and emerging market stocks are out of the gate very fast here so far in 2012, and I suspect that this will continue for some time as the economy continues to rebound. Again, for the last several weeks, I have been warning that last years leaders, large-cap dividend payers, will be this years laggards. So far that is the case.
I don't like the fact that Coca-Cola's growth is slowing down so much either. Much of it is just the law of large numbers, but there are plenty of large-cap stocks like Mastercard, Visa, Apple, Caterpillar etc. that still have robust growth ahead of them.
We need to now do a valuation on the shares of Coke to see if the stock is currently under, over, or fairly valued. I begin with next year's consensus earnings estimate of $4.10 per share. I grow those earning by the consensus estimate of 6.2% per year over five years, to arrive at $5.21 in earnings power.
As I have stated many times in the past, I like to work with 5 year target prices, not the more common 6-12 month ones which I find to be very unpredictable. With a potential for $5.21 in earnings five years from now, what kind of earnings multiple (PE ratio) is appropriate for the shares of Coke?
Coca-Cola currently has a PE ratio of 18. Over the last four quarters, the PE ratio of the stock has ranged between 16-18. I am giving the shares the benefit of doubt and using a multiple of 18 on future earnings. This gives me a five year target price of $4.10 X 18= $73.80. I next add in the impact of a current dividend yield of 2.8% over a five year period of time.
Coca-Cola currently has 49.9% upside potential over the next five years. I like to buy stocks that have 80-100% or more upside potential. Coca-Cola currently falls far short of this. As I stated earlier, much of the upside potential has been sucked out these large-cap, dividend payers with the big moves that they made last year.
Here is a graphic representation of what that valuation looks like:
Coca-Cola has been a very steady, solid performer over the years, but I only have 25 spots on my roster. Coca-Cola would not be one the stocks that I would currently own. Time to upgrade.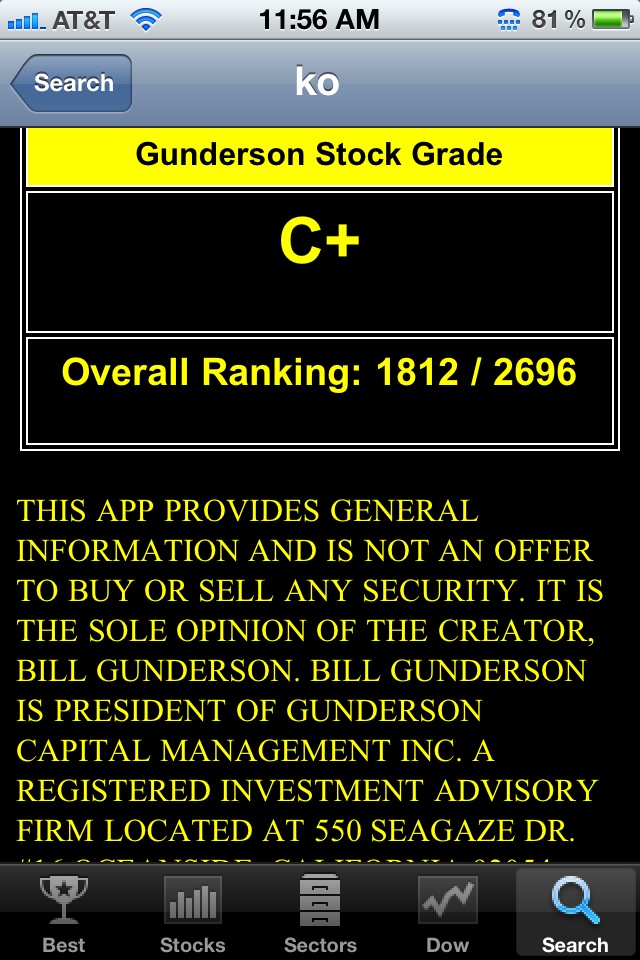 Disclosure: I have no positions in any stocks mentioned, and no plans to initiate any positions within the next 72 hours.