"You must live in the present, launch yourself on every wave, find your eternity in each moment." - Henry David Thoreau
Every now and then I like to run a screen on the nearly 1,000-plus ETFs/ETNs I track to see which areas of the investable landscape are showing the most extreme movement. The idea behind this is to identify areas which could either be breaking out from their historical ranges, or may be ripe for a mean-reversion type trade. I like using ETFs and ETNs rather than traditional indices because one can easily pull the data up on a chart rather than have to worry about where the index data can be found online.
With that said, take a look below at the top 10 non-levered ETFs/ETNs which have had the most extreme upward movement relative to their own respective 20-day moving averages.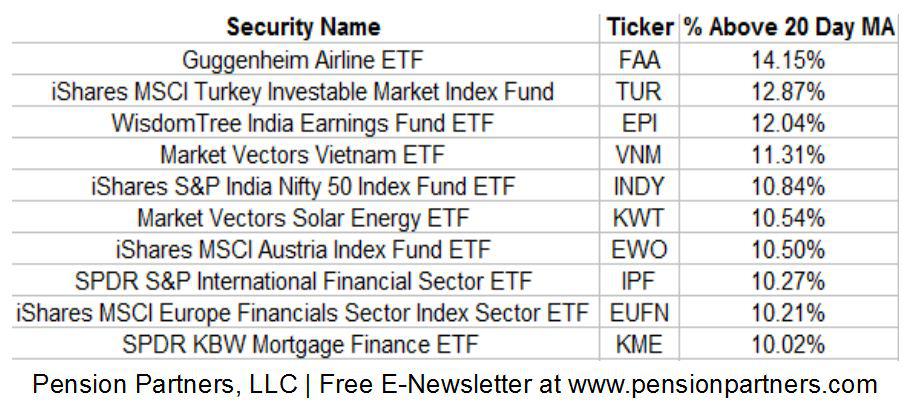 Airline stocks (NYSEARCA:FAA), for lack of a better term, have been "flying" since 2012 started, with the average company pushing nearly 20% returns in the industry. Turkey (NYSEARCA:TUR), India (NYSEARCA:EPI) and Vietnam (NYSEARCA:VNM) on the emerging/frontier markets front have had powerful moves after performing relatively poorly in 2011. But perhaps the most interesting aspect of the list above is the message embedded in the financials sector overseas.
I alluded to the idea in prior interviews that European Financials are behaving a little bit like the way U.S. stocks did following the March 2009 low (see my latest CNBC interview here). The S&P International Finance Sector ETF (NYSEARCA:IPF), European Financials (NASDAQ:EUFN) and Mortgage Finance (NYSEARCA:KME) are across the board zooming as the European Central Bank's Long Term Refinancing Operation appears to have taken off the table the possibility of a Lehman-like event. More so than that, the potential for 2012 to act similarly to 2003 and 2009 suggests that the movement in financials abroad is anticipating a recovery in risk assets, since, after-all, it has been the riskiest sector to position into for the entire length of the crisis that began in 2007. It certainly is likely to remain an interesting year, and one that likely will surprise most.
Disclosure: I have no positions in any stocks mentioned, and no plans to initiate any positions within the next 72 hours.
Additional disclosure: This writing is for informational purposes only and does not constitute an offer to sell, a solicitation to buy, or a recommendation regarding any securities transaction, or as an offer to provide advisory or other services by Pension Partners, LLC in any jurisdiction in which such offer, solicitation, purchase or sale would be unlawful under the securities laws of such jurisdiction. The information contained in this writing should not be construed as financial or investment advice on any subject matter. Pension Partners, LLC expressly disclaims all liability in respect to actions taken based on any or all of the information on this writing.