Over the past several years, the casino industry has seen great upswings and downswings due to economic fluctuations. What has allowed Wynn (NASDAQ:WYNN) and Las Vegas Sands (NYSE:LVS) to keep growth alive is international expansion, especially in Macau, China. Macau is one of the only spots in China where gambling is legal. WYNN was the first to see this opportunity and truly take advantage of it. After WYNN took this leap to Asia, LVS and MGM (NYSE:MGM) followed, but they are still behind the lead of Steve Wynn. Last week WYNN reported earnings last week that beat analysts' expectations, but the stock sold off nearly 3.2% on the news.
WYNN Fourth Quarter Earnings:
Net income rose 67% to $190.5 million, or $1.52 per share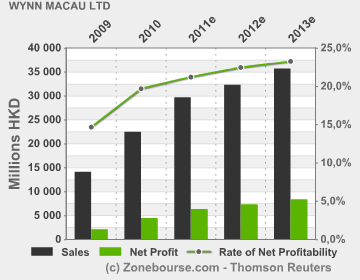 Source: 4 Traders
Adjusted EPS was $1.55, above the forecast $1.28 per share
Revenue 8.6% to $1.34 billion
Macau revenues hit $995.5 million, or about 74% of the whole pie
EBIDA increased 10.1% to $365.2 million
Even though these earnings did not impress Wall Street, the company has several key differentiators that make it more appealing from an investor perspective both fundamentally and financially. Steve Wynn, the company's founder and CEO, is a genius in the industry and is revered by his competition. His spirit is embodied by this quote:
I have developer's disease. I love to sit at a drafting table and draw plans for hotels, wrestling with problems of traffic and the flow of people. That's what turns me on.
It illustrates why investors have seen a steady and stellar growth quarter after quarter and is why WYNN is poised to grow and create incremental revenue in the coming years.
The Company's Fundamentals
WYNN Forward Price/Earnings: 17.85
WYNN Price/Earnings to Growth Ratio: .62(Nasdaq)
Total Cash: $1.91 billion, Total Debt: $3.11
ROE: 23.97%
These numbers indicate a company that is trading below the industry average in PE, and more importantly, has a strong PEG value, which indicates extended growth into the coming years. An ROE of 23.97% is impressive and speaks to the company's ability to use investors' money to grow incremental sales around the world. Due to the fundamental soundness of WYNN from a financial standpoint, the company is poised to defy Wall Street's current sentiment and move to the upside in the coming months.
Differentiators
Dividend: WYNN currently is the only resort company in its class to pay a dividend. WYNN returns 1.7% to investors in the form of a dividend and this provides investors an income stream from the investment. The company paid a special dividend in 2010 of $8 per share, which illustrates the company's past ability to reward investors for past successes, while at the same time taking advantage of the ROE of 23.98% that the company achieves.
Steve Wynn and Innovation: Leadership is the most important aspect of any business, and WYNN is a winning entity in large part because of Steve Wynn and his charisma, innovative spirit, and ability to turn a property that is failing into one that is thriving. Companies like LVS and MGM do not have the power in leadership that Steve Wynn brings to the table. The numbers speak for themselves and Steve has been able to deliver strong earnings quarter after quarter. Liz Benston of Las Vegas Sun stated in 2010 "Las Vegas is no longer the center of the gambling universe."
She was responding to the move WYNN made to Macau and Steve Wynn's ability to move the company in the direction that would yield opening the most reports in the most effective and timely manner. WYNN did not just open a casino in China, he headquartered his company there due to it being the future of his company as well as having tax benefits. As outsiders, we do not have the foresight that a leader like Steve Wynn has, but what is certain is that from the company's past earnings and consistency, WYNN is a solid investment.
In conclusion, WYNN is a company that is poised to grow fundamentally and financially. With the opportunities abroad, especially in Macau, the recovery that is occurring domestically, and WYNN exceptional leadership, the company is poised to grow into the coming years. The fundamental soundness of WYNN can be measured through the company's financial performance. The numbers don't lie.
Disclosure: I have no positions in any stocks mentioned, and no plans to initiate any positions within the next 72 hours.