By Michael Goldstein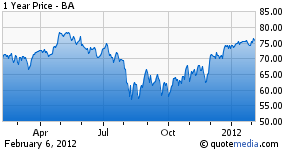 On January 25th, Boeing (NYSE:BA) reported fourth quarter earnings that blew away market expectations, as commercial aircraft deliveries helped revenue grow to $19.6 billion. Earnings per share rose to $1.84 in the fourth quarter, with full year earnings of $5.34 per share, up 20% on record revenues of $68.7 billion. With orders exceeding $103 billion through 2011, the company's backlog has reached a record $356 billion.
The board also gave guidance for 2012, with earnings per share seen in the range of $4.05 to $4.25 as higher pension expenses take their toll. It expects revenue to rise to between $78 and $80 billion.
With shares trading at $75, the trailing price to earnings ratio of 14.05 is higher than rivals Lockheed Martin (NYSE:LMT) and Northrup Grumman (NYSE:NOC): 10.63 and 8.76 respectively.
Last year's dividend at Boeing, $1.76 per share, is covered three times by its earnings, and yields 2.40%. This is less than Lockheed's 4.9% and Northrup's 3.4%, though Lockheed's dividend is covered just 1.95 times by its earnings.
With such a backlog of orders, Boeing's debt/equity ratio is over 340.
Shares have risen significantly over the last quarter, though at recent levels seem to have hit some resistance. While the shares are trading above both the 50-day exponential moving average of $72.38 and the 200-day moving average of $69.26, they may retreat in the short term.
Certainly, recent headlines may be the forerunner of a tougher market for Boeing:
Though Boeing has been the market leader of a strong sector, times may be about to get tougher. Competitors are taking a larger share of the defensive aircraft market, and the commercial market may be about to stutter. Airbus' move into a longer-range plane will pose even greater competition in a market which Boeing has traditionally dominated. While existing orders are strong, new orders may come with more difficulty.
At a price only a short way off their 52-week high of $80.65, and having out performed the broader S&P 500 by some way over the last few weeks, additional forward momentum may prove difficult.
Disclosure: I have no positions in any stocks mentioned, and no plans to initiate any positions within the next 72 hours.