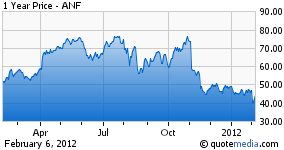 In a rising market few stocks hit their 52-week lows. A buyer must be careful.
That said, Abercombie & Fitch (NYSE:ANF) has hit the bargain bin, bouncing off a new bottom at $40.25 to nearly $42.50, because it has all the earmarks of a company whose place in this territory will be temporary.
ANF is a youth-oriented retailer hurt this Christmas season by the fact that its customer base has been hit hard by the economy. If you're living at mom and dad's, fashion is not on your shopping list. Same-store sales in the U.S. were flat against 2010 levels, blamed on "a promotional environment" and "high cotton costs."
OK. But the 17 cent/share quarterly dividend remains intact, and despite the warm winter spring will come and, with it, fashionistas hitting malls. That's the way Piper Jaffray sees it. They've given the stock an "overweight" - it refers to its place in your portfolio, not the models and not the help. Zack's, meanwhile, has a "neutral" on the stock but a price target of $48/share, which is considerably higher than the present level.
From a technical standpoint ANF recently crossed its 200-day moving average to the downside, which brought in some buyers, but you won't find a crowd at the counter when you go to check-out, despite the average analyst having a $63 target on the stock.
Management seems dedicated to clearing out the bad news now and there seems to be plenty of cash with which to re-stock the shelves.
If you believe that the economy is headed up, this might be a good way to double-down on that bet.
Disclosure: I have no positions in any stocks mentioned, and no plans to initiate any positions within the next 72 hours.