Randgold Resources Limited (NASDAQ:GOLD) reported a monster quarter Monday. Key highlights from the report can be found below. The quarter confirmed that the company is executing above expectations on its plans to significant boost gold production. Given the exponential increase of earnings this will drive, provided gold prices stay stable, Randgold should be considered by all growth investors as a potential addition to their portfolio.
Key highlights from Randgold's earnings report

Gold production rose an impressive 58% in FY2011

Quarterly earnings rose 332% on a year over year basis

Operating costs were $641 per ounce in line with the company's $650 per ounce goal

The company announced it will double its annual dividend to 40 cents a share.

Management expects operating costs to drop to $500 to $550 an ounce after FY2012 as production ramps up.
Randgold Resources Limited - "Randgold Resources Limited, together with its subsidiaries, engages in the exploration and mining of gold mines in west and central Africa. It holds 80% controlling interest in the Loulo mine located in western Mali; Morila mine in Mali; 89% controlling interest in the Tongon mine located in the neighboring country of Côte d'Ivoire; 83.25% controlling interest in the Massawa project in Senegal; and 45% interest in the Kibali project, which is located in the Democratic Republic of Congo, as well as a gold deposit at Gounkoto in Mali". (Business Description from Yahoo Finance)
Here's four reasons why Randgold is a solid value at $118 a share:

The stock is experiencing rapidly increasing earnings growth. It earned 96 cents a share in FY2010, made over $4.20 in FY2011 and analysts forecast it will make just under $7 a share in FY2012. Based on this earnings report, I would look for upward revisions in coming weeks.

The stock chart is technically positive and is breaking out (Click chart to enlarge)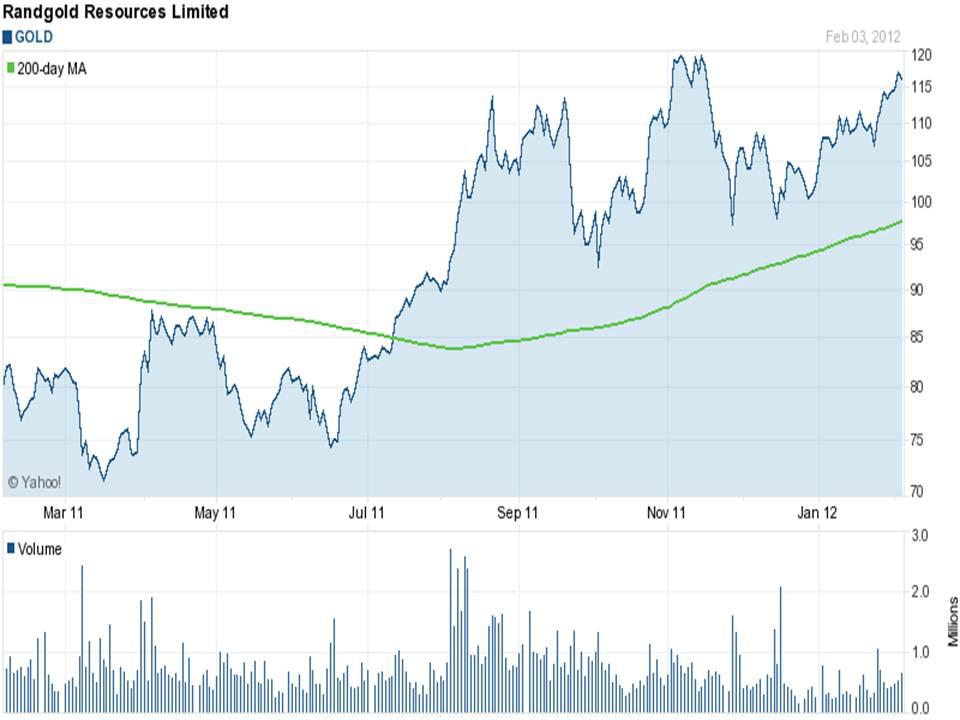 Click to enlarge
This stock has grown earnings at a 38% annual clip over the past five years, yet is priced at just 17 times forward earnings.

S&P has a "Buy" rating and a $140 price target on Randgold. Given the progress the company is making in its production ramp up, I would look for upgrades by key analysts in February.
Disclosure: I have no positions in any stocks mentioned, but may initiate a long position in GOLD over the next 72 hours.