Yum Brands' (NYSE:YUM) fourth-quarter results, issued after the close Monday, revealed strong performance, particularly in China. Though the firm will likely get a bid Tuesday, we believe the shares to be a bit rich and remain on the sidelines. Our fair value estimate for the world's largest restaurant company is unchanged.
(click image to expand)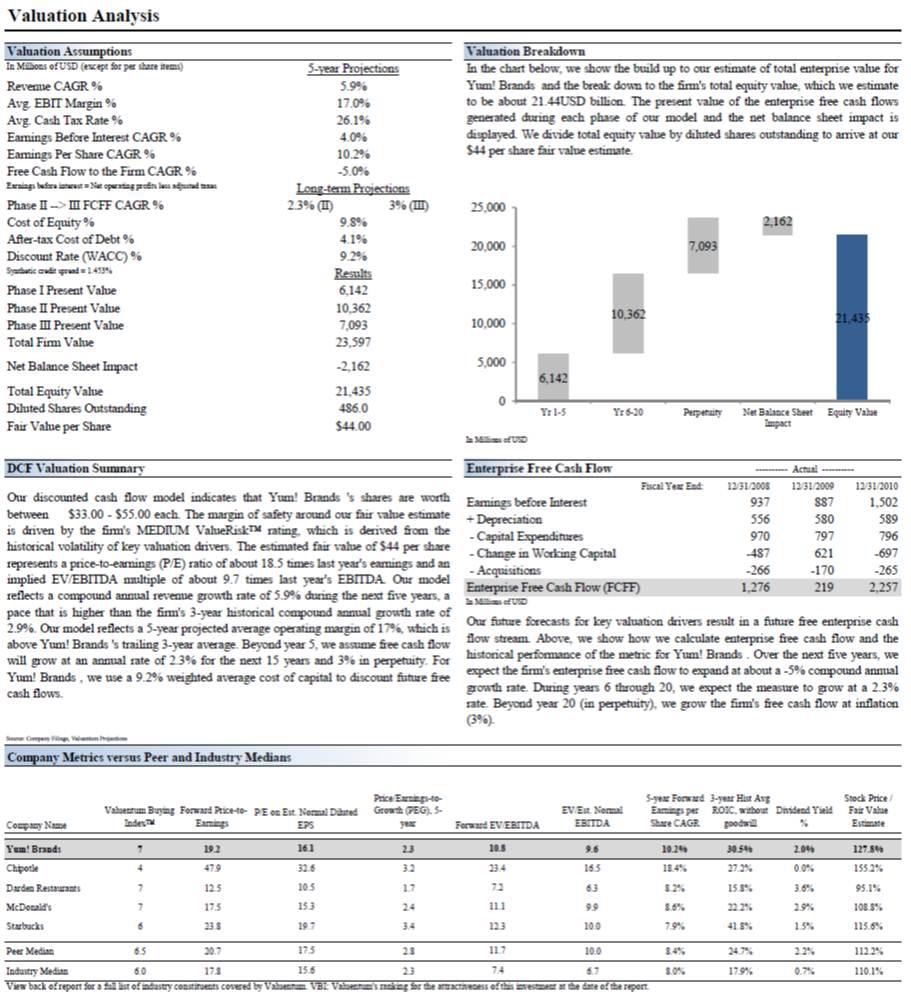 Worldwide system sales grew 11% in the fourth quarter thanks to 33% growth in China. Same-store sales grew an impressive 21% in China during the fourth quarter and managed to stay positive in the U.S. during the period. We think such performance speaks clearly about the strength of the Chinese economy/consumer, and the positive U.S. same-store-sales growth represents an improvement over the full-year measure (and anniversaries a very strong 5% pace during the fourth quarter of 2010). Yum Brands' KFC and Pizza Hut brands continue to gain momentum in China, and we think the firm has just scratched the surface with expansion in India, Russia and Africa - regions where the company noted grew at strong double-digit rates in the fourth quarter. Management has it right, in our opinion: "The Yum Growth story is clearly about China and a whole lot more."
The firm's operating profit jumped 15% in China and 10% in the U.S., though its worldwide restaurant margin fell 1.1 percentage point to 14.3% due mostly to higher food and labor costs. Still, consolidated operating profit improved 15%. Earnings per share, excluding special items, increased 20% to $0.75 in the fourth quarter from $0.63 in the same period a year ago. Though most of the strength came from the operating line, lower debt costs, a 5.5 percentage point drop in the tax rate, and a lower share count also bolstered the results.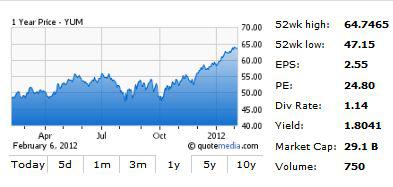 Looking ahead to 2012, management indicated that it is well-positioned to meet or exceed its annual target of at least 10% growth--a pace of expansion we think is achievable. We think the firm's unit-growth potential in emerging markets is staggering and remain fans of its capital allocation decisions. Although we wouldn't mind if the firm halted share repurchases for awhile in favor of a substantial and sustainable dividend increase based on our valuation. Yum Brands continues to be the best international restaurant play, in our view, but its expensive price already reflects such an opinion. We'd only grow interested in the shares in our Best Ideas Newsletter on a substantial pullback.
Disclosure: I have no positions in any stocks mentioned, and no plans to initiate any positions within the next 72 hours.