Shares of Gentex Corporation (NASDAQ:GNTX) began the trading week at $29.83 and settled at $26.64 at the end of the trading week Friday. Shares were hammered down over 13% on Tuesday with reported 4th quarter earnings. After reading through the conference call and doing further research, I believe this company has a great future ahead of it with the recovery of the auto industry, new legislation, and an increased presence in the aerospace industry.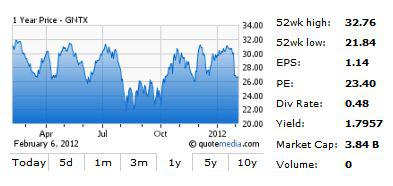 Fourth Quarter Earnings
Revenue for the fourth quarter ending 12/31/11 came in at $260.3 million. This represented an increase of 17% from the fourth quarter of 2010. Earnings per share came in at $0.28, which was a slight improvement over the fourth quarter of 2010 when $0.26 was reported.
Full Year Earnings
Net sales for 2011 were $1 billion, which was an increase of 25% from 2010 and represented the first time the company hit the significant milestone. Operating income was also a record for the company with $231.4 million reported, up from 2010's $191 million. For the year, Gentex earned $1.14 per share, up from the $0.98 reported for 2010.
For the full year, one million Smart Beam units were sold, compared to 630,000 in 2010. The company has forecast an increase of 40-45% which would represent 1.4-1.45 million units shipped in 2012.
Segments
Gentex Corporation operates in three segments: Automobile Mirrors, Aircraft Mirrors, and Commercial Fire Protection.
In the fourth quarter, auto dimming mirror units were up 16% compared to the previous year. The average selling price for an auto dimmable mirror for the quarter was $46.39, which was a slight increase from the fourth quarter of 2010 ($46.36). The average price was down from the third quarter 2011 price of $46.79. Gentex maintains a market share in auto dimming mirrors of approximately 85%.
Dimmable aircraft window units were up 29% in the fourth quarter, thanks in large part to the new Boeing 787. I previously wrote about the Boeing 787 and what it meant for another supplier Hexcel Corporation (NYSE:HXL), which was one of my top ten stock picks for 2012. Approximately ten 787s are being produced a month for Boeing (NYSE:BA) by 2013. Over 3,300 total 787s are expected to be purchased by the year 2028 from Boeing. Each of the planes shipped uses Gentex for over 100 mirrors aboard the plane. Through a deal with PPG Industries (NYSE:PPG), Gentex supplies its patented dimmable mirrors. Boeing has also expressed interest in using Gentex mirrors on other new aircraft. The aircraft window segment makes up less than 10% of Gentex's revenue but could be a great future driver led by the success of the Boeing 787.
Also in the aircraft segment, Gentex is supplying Beechcraft King Air 350is with fifteen dimmable windows per plane.
The fire protection unit was actually how Gentex became a company. The segment was founded in 1974 and includes many fire alarm units in commercial buildings. Smoke detectors has also been a newer market entered by Gentex in this segment.
Kid Safety Act
The Kid Transportation Safety Act has been going through legislation over the past couple of years. Gentex will be a clear beneficiary as new safety legislation is passed. The Kid Safety Act would require all new vehicles sold in America required to have a rear camera display installed by 2014. The law is expected to be finalized by the end of February, 2012.
Negatives
Gross profit margins were affected negatively by several international incidents. The flooding in Thailand and tsunami in Japan created supply problems that led to Gentex using additional suppliers to fulfill production. Gross profit margins decreased to 35.3% for 2011, down from 36.2% in 2010.
Inventory numbers were also up for the full year, which is normally a bad sign for companies. In this case I think it was in part because of the growing demand coming back for automobiles and Gentex's increased brands served in the car market.
Expansion
The Michigan-based auto parts supplier has been focusing on expansion over the past couple of years to further increase production for its increased demand. Several recent expansion efforts were announced during the fourth quarter conference call.
60,000 sq. ft. Chemistry Lab - early 2012 completion

32,000 sq. ft. Exterior Mirror Manufacturing Expansion - 2012 completion ($4 million)

125,000 sq. ft. Electronic Assembly Expansion - Completion Second Quarter 2012 ($17 million)

120,000 sq. ft. Connecting Two Manufacturing Facilities - Completion Second Quarter 2012 ($25 million)
In 2011, Gentex spent over $13 million to fund expansion projects. The remaining $40-$45 needed for the expansion projects will be paid for in 2012 by Gentex. With the new expansion, Gentex will have plant capacity to produce 21-23 million auto dimmable mirrors per year and 10 million exterior mirrors annually.
Gentex History
Gentex was founded in 1974 with a fire protection unit. Auto dimmable mirrors were added in 1982. The founder of the company, Fred Bauer, remains with Gentex Corporation and serves as the Chairman of the Board and Chief Executive Officer. Bauer is also one of the leading shareholders with 4.3 million Gentex shares held.
Gentex makes mirrors used on cars manufactured in America, Europe, and Asia. They have contracts with leading car manufacturers including Ford (NYSE:F), General Motors (NYSE:GM), Toyota (NYSE:TM) and Honda (NYSE:HMC).
Guidance
Gentex has forecasted the following unit sales for 2012:
1.40-1.45 million Smart Beam Units

1.87-1.96 million Rear Camera Display Units
For the first quarter 2012, net sales are forecast to be up 15-20%. Analysts see full year earnings for 2012 at $1.28. The following fiscal year, analysts predict $1.53 in earnings per share.
Stock Price
Shares of Gentex trade at $26.73 at the time of writing. Over the last fifty two weeks, shares have traded in a range of $21.84-$32.76. Shares are about 18% away from that fifty two week high share price. If shares can reach the fifty two week high level of around $33, perhaps a stock split would be in the works. The company split shares in 2005 and 1998 at prices between $33 and $35.
The stock remains a bargain at a price below $28. Gentex has zero debt on its balance sheet and over $456 million in cash. Watch this company closely and determine a good entry point. With the rebound of the automotive industry and bullish aircraft sector, the stock could make a great holding in an IRA.
Disclosure: I am long F.
Additional disclosure: Long Ford Shares. May purchase shares of GNTX in the next 72 hours.