By Richard Rittorno
A few weeks ago, we asked the following two questions: if natural gas is so low, why is my heating bill cost not heading lower, and which stocks are profiting from this? Here come the answers.
The simple answer to question No. 1 is that utilities are not passing along the lower fuel cost to customers and point the finger to transportation costs and other handling fees.
Which points us directly to question No. 2: the master limited partnerships that own the pipelines are not affected by the price of natural gas. Think of them as the toll on every cubic foot of gas we use, no matter how hard or how easy it is to get out of the ground.
Remember, President Obama finally acknowledge natural gas as a stepping stone to get America off foreign crude oil, so there is a lot of gas in play now.
With that in mind, we went to our screens to find companies hit the bill and bring forward a proven strategy from 2011 of solid companies with solid — downright juicy — dividends.
What we found were three companies that fit the criteria enough to give us reason to dig in further. The first is Kinder Morgan Energy Partners, L.P. (NYSE:KMP)
Executive Summary
Kinder Morgan Energy Partners, L.P. is a pipeline transportation and energy storage company in North America.
KMP owns an interest in approximately 28,000 miles of pipelines and 180 terminals. KMP's pipelines transport natural gas, refined petroleum products, crude oil, carbon dioxide and other products across five business segments:
1. Products Pipelines
2. Natural Gas Pipelines
3. CO2
4. Terminals
5. Kinder Morgan Canada.
Their terminals store petroleum products and chemicals and handle bulk materials, such as coal and petroleum coke.
Overall Valuation: KMP is in the natural gas utilities industry and has positive earnings, the PEG, PE and price-to-book ratios are the most appropriate valuation measures. KMP appears to be extremely highly valued with a PEG value of 70.4821, one of the highest in the industry, "supported" by a PE of 553.9894 — also among the highest in the industry.
Profitability: Looking at the operating, gross and net margins, KMP converts an above-median percentage of its revenues to profits compared to other companies in the natural gas utilities industry. KMP has an impressive profitable operating margin of 19.85%.
Yield/Dividend: KMP's dividend appears to be at risk on paper with the company paying more in dividends than it earned. However, much of its cash flow includes a deal with El Paso (EP) that is tying up cash. A interview with the CEO Richard Kinder with Jim Cramer on Mad Money indicated as the acquisitions come fully online the company could greatly benefit.
Financial Strength: KMP is among the most highly leveraged companies due the acquisitions in the natural gas utilities industry with its debt-to-total-capital ratio of 61.90%. Given that the company's operating profits are 2.01 greater than interest payments, there should be little difficulty in repaying debt.
Quick rundown on technicals: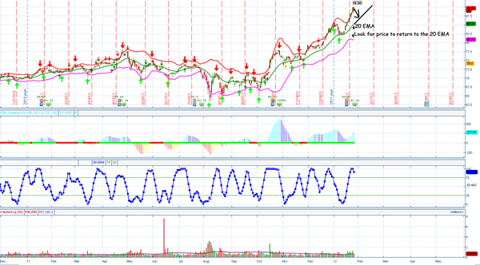 Click to enlarge
Looking at a daily chart with Bollinger Bands, price hit a 52- week high during last week's trading
Price action has been bouncing off the middle line of the Bollinger Bands (the 20 EMA) to the outer Bollinger Band, then back to the median/ 20EMA, repeating this pattern through its climb to the 52-week high.
Traders can look for entry points at the median for the next leg up. Aggressive traders can enter now to capture the possibility of price continuing back to the median in anticipation of the next move higher.
Protective stops orders can be placed below the bottom outer Bollinger Band (pink) to avoid the natural wave in price. Because the price is continuously moving, traders will need to actively manage their protective stops at the close of each trading day.
We will dig down on the next tickers that pop up on our screens soon.