After the bell yesterday, American Capital Agency (NASDAQ:AGNC) announced its results for Q4 2011. The company also announced that it would cut its dividend in Q1 2012 for the first time in two and a half years (see chart below).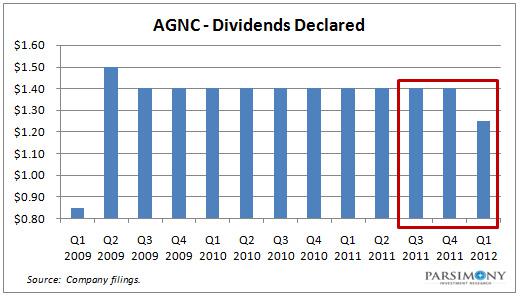 As we have seen with mortgage REIT bellwether Annaly Capital Management (NYSE:NLY), a dividend reduction isn't necessarily a bad sign for these REITs. Annaly's dividend reduction has partly been driven by a reduction in leverage, which we believe is very positive for the future.
That said, we believe that the recently announced Q1 2012 dividend reduction for AGNC is foreshadowing a reduction in leverage levels in 2012. This should be music to AGNC shareholders ears.
Below are some stats from the most recent quarter.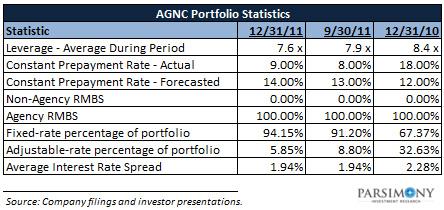 As shown in the table above, average leverage for the quarter was down, which is a positive sign for the company. Also, actual prepayments have not spiked as much as forecasted as the stagnant housing market continues to create a headwind for refinance activity.
Optimistic About the Future
As President and CIO, Gary Kain, stated in the press release, the current environment is ideal for mortgage REITs.
As we enter 2012, we continue to be very optimistic about the future of our business," added Mr. Kain. "The Federal Reserve recently stated that it expects short term interest rates to remain extremely low through at least late 2014. In addition, we continue to believe our portfolio remains very well positioned for the current environment, as evidenced by the favorable prepayment performance of our specific mortgage holdings and the composition of our hedge book. In aggregate, while margins have certainly compressed, the durability of very attractive investment returns has been enhanced.
We agree with Mr. Kain and continue to believe that agency REITs (like AGNC and NLY) continue to be a suitable investment for investors seeking good risk-adjusted yield.
Agency mortgages are guaranteed by government sponsored entities (implying limited credit risk). Conversely, non-agency securities do not carry a similar implied guarantee, making them inherently more risky due to the higher relative credit risk. That said, we would stay away from non-agency focused mortgage REITs like Chimera Investment Corp. (NYSE:CIM).