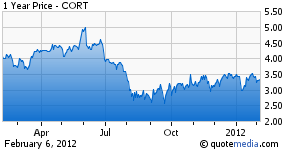 Corcept Therapeutics (NASDAQ:CORT) is a drug discovery company focused on the development of treatments for metabolic and psychiatric disorders. Their flagship product, which has been renamed from CORLUX to the active name Korlym, is undergoing FDA review as a treatment for Cushing's Syndrone and is also being developed (in Phase III trials) for the treatment of psychotic depression.
Cushing's syndrome is classified as either exogenous or endogenous. Corcept is looking to treat the more problematic endogenous designation, which is generally caused by tumors secreting excessive levels of cortisol.
What makes Korlym particularly interesting is that there are no FDA approved treatments for this syndrome after surgery, radiation, and chemotherapy. In addition, since Cushing's Syndrome has been granted orphan status in the United States (meaning that it is officially a "rare" disease with fewer than 200,000 affected), Corcept will be given special privileges for Korlym during the approval and marketing process not limited to seven years of marketing exclusivity, tax credits, fee waivers, and assistance from the FDA. Korlym has been granted orphan drug privileges in the EU already, which offer an even more generous 10 years of market exclusivity.
The hormone cortisol is a major factor in both of these conditions, and it is the mechanism by which Corcept's drug Korlym acts. The active ingredient, mifepristone, is a generic compound which antagonizes cortisol and progesterone receptors. Phase III trials have been conducted to determine the efficacy of Korlym and its ability to improve the condition of patients suffering from hormone imbalances. In the SEISMIC study concluded in 2011, fifty Cushing's Syndrome patients were enrolled and ultimately exhibited statistically significant improvements in their clinical data.
Shares of Corcept have been inching upwards since their dramatic tumble in August, and might be poised to return to their original levels above $4/share as the PDUFA goal date of February 17, 2012 approaches. In addition to the NDA decision on Korlym with regards to Cushing's Syndrome, Korlym's progress on its treatment potential for psychotic depression should effect the shares. Lastly, the working drug CORT 108297 in Phase II trials may also draw investor interest due to its ability to block the cortisol receptor exclusively, which allow the potential for a treatment of a broader range of diseases.
A look at the BioMedReports FDA Calatalyst Calendar also shows that the firm is advancing their second selective GR-II antagonist, CORT 113083, towards an Investigational New Drug submission. They told the market last May, via an 8-K filing, that they anticipate submitting their IND for CORT 113083 some time in the first half of 2012.
Corcept's research and clinical development are focused on antagonizing or blocking the GR-II receptor for cortisol, a hormone implicated in a broad range of psychiatric and metabolic diseases. Its first-generation compound, Korlym, also known as mifepristone is used for the treatment of Cushing's syndrome as well as for psychotic depression. Korlym is a small molecule which blocks the cortisol, or GR-II receptor. By blocking the receptor, it reduces the receptor's activation by cortisol. Its CORT 108297 is developed for the prevention of weight gain induced by antipsychotic medication. The firm has collaborations with MedAvante, Inc, Xceleron Ltd, Eli Lilly & Co. (NYSE:LLY), Produits Chimiques Auxiliaires et de Synthese SA, i3 Research, and others.
Disclosure: I have no positions in any stocks mentioned, and no plans to initiate any positions within the next 72 hours.