About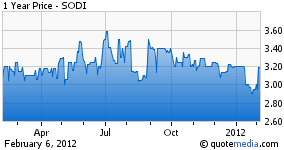 Solitron Devices Inc. (OTCQB:SODI), designs, develops, manufactures, and markets solid-state semiconductor components and related devices for the military and aerospace markets. Solitron has been around for quite for time and the consistency of their overall numbers jumps out in my opinion. They have annual revenues of around $9 million and normalized FCF of around $900K (actual FCF for fiscal year ending 2/2011 was $1.2 million).
Value
Using normalized FCF, as stated above, SODI is conservatively valued between $5.58-$8.20. The low end is using zero growth and the high end using 10% growth, while using 12% and 15% discount rates. These are conservative when considering median FCF growth over the last ten years was ~15% and median CROIC over the same time was ~40%. In addition to the DCF range of value, net current assets per share is currently $4.19. The NCA value leads me to believe SODI is undervalued because (1.) $3.27 per share is cash and Treasuries and (2.) inventories of $1.30 per share and the company only orders materials after orders are placed and only in the quantities needed to fulfill the order. Any excess materials they're forced to order from suppliers is written down and carried at zero after two years.
Risks
Obviously the normal risks associated with small companies apply here. Raytheon (NYSE:TRN) and the Government (indirectly) account for extremely high percentages of total sales, around 40%. According to SODI their advantage is " our ability to produce highly reliable custom hybrids in a short period of time will give us a strategic advantage in attempting to penetrate high-end commercial markets and in selling military products complementary with those currently sold, as doing so would enable us to produce products early in design and development cycles."
Other
Another item that I feel needs to be addressed is that SODI entered into Chapter 11 protection in 1993. From what I've read, and I'm by no means an expert or experienced looking into bankruptcies, they've fulfilled their obligations to old creditors. Secondly, the USEPA (Environmental Protection Agency), imposed a $10K or 5% of Net Income over $500K fine on them payable 2008-2012. I believe this stems from an incident pre-bankruptcy and was on-going litigation over the years. If I am correct and this is from that time period, they're almost at the point where they can put these matters behind them and move forward. Again, if I'm understanding the lawyer lingo correctly, that may be the reason SODI has been a perennial NCA company.
Conclusion
I am by no means an expert in deciphering lawyer lingo but if I managed to understand this situation correctly it appears Solitron may be undervalued. The semiconductor industry is very competitive but seeing CROIC around 40% for a decade leads me to believe management knows what they're doing. Along with terrific CROIC, they've also been able to slowly grow revenues and FCF. With Solitron selling at a 28% discount to NCA value there doesn't appear to much downside at $3.00 and if the company is able to keep and/or increase FCF levels where they ended in fiscal 2/2011 the upside will be much higher.
Disclosure: I have no positions in any stocks mentioned, and no plans to initiate any positions within the next 72 hours.