One problem I have read about in many comments and articles is the inability to invest in the domestic "big banks" for income. When looking at the four largest banks in the United States, we see some puny dividends:
Wells Fargo (NYSE:WFC): common stock yields 1.59%
JPMorgan Chase (NYSE:JPM): common stock yields 2.62%
Citigroup (NYSE:C): common stock yields 0.12%
Bank of America (NYSE:BAC): common stock yields 0.50%
The income from these stocks won't cover the increases in inflation, nevermind buy a little dinner. There is, however, another form of income that can be generated from these mega-banks that will allow an investor to "eat well"; this is the preferred stock and/or trust preferred (TRUP) securities of the banks.
Below I present a table of various preferred/TRUPs of the banks which allow an investor to pick up a sizable yield pick up versus their common equity brethren:
click to enlarge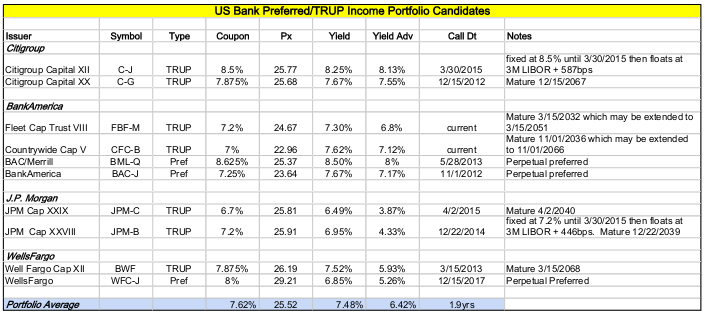 As you can see from the table, there is some decent yield to be had from investing in these banks. Notice the column entitled "yield Adv"; this is the yield pick up versus the common stock of these four entities, which is rather handsome.
Two of these banks are recovering banks (Citigroup and Bank of America) and therefore their yields are higher, while the other two (JPM and Wells Fargo) are more solid and therefore have lower yields.
It is arguable whether all four banks are out of the woods yet (I would say very close to out), but it is a safe bet that these banks are survivors and will be around for some time - even the legenday investor Warren Buffett (well, legendary to some) has put his money where my mouth is by investing in Bank of America. I would even say that - with the exception of volatility - these banks allow an investor to sleep well at night.
The preferred/TRUPs, therefore, should allow an investor to eat well and sleep well.
If you believe there is significant upside potential in these names (most often spoken of in the case of BAC and C), you could consider buying the preferred stock/TRUPs and call options. The preferred can pay your call premium and provide some downside protection (or pay the cost of carry).
Conclusion: While the financial sector has given investors sleepless nights, I believe that investing higher up the capital structure into preferred stock and trust preferrred offers an investor potential upside and very decent yields.
Disclosure: I am long CFC.PA, BAC, C.
Additional disclosure: Also long C.PV and BML.H.