Not long ago, the euro (FXE) was seen as the last bastion of monetary fortitude. The last damsel not corrupted by the temptation of easy money and fast printers. At the center of this image, we had the notion that Germany, still scarred by the horrors of hyperinflation in the early 20th century, was not going to let monetary dilution take place.
All around, the decrepitude of money printing was ubiquitous. Japan's Central Bank had a go at it, the Bank of England couldn't get enough of it, and the Federal Reserve had already gone through QE1, QE1.5 and QE2, and still talked about the possible need of QE3 (the chart below illustrates (1) QE1, (2) QE1.5, (3) QE2).
Click to enlarge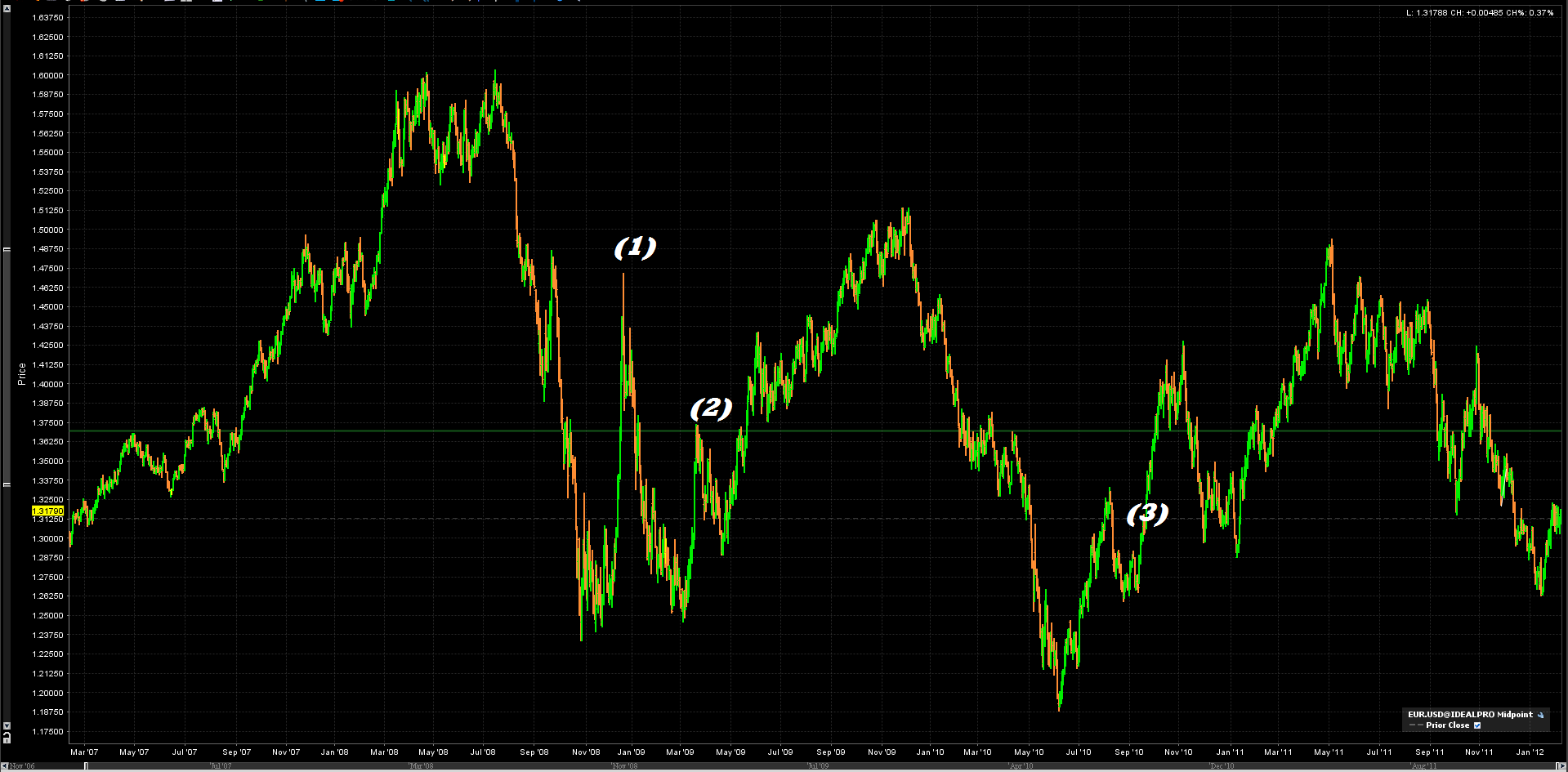 Against this background, it was perhaps not a surprise that the euro traded at a valuation premium, as seen through purchasing power parity lenses.
But that was then and this is now. Fast forward one year, add a Greek drama that threatened to engulf other much larger members, and let the ECB be run by an Italian, Marco Draghi, and things change, dramatically so.
Interest rates, once so hard to cut in the euro area, were cut with gusto. And perhaps more importantly, while the ECB didn't engage in a straight quantitative easing, it decided to implement an undercover one. The LTRO (Longer Term Refinancing Operations) was extended for up to three years, and any amount was accepted. While the LTRO still stands for a financing, instead of purchasing, operation, for all matters and at least for maturities up to three years, it's about the same. After all, if the ECB was buying three-year maturities outright, they'd be gone in three years much as they'll be gone in three years if bought by banks and financed by the ECB.
So now that the ECB joined the club of the damsels of ill repute, what do we have in the euro?
We have a currency that gets diluted as much as any other, with the added uncertainty of some of its member countries being on the verge of bankruptcy, and with the currency itself having an unquantifiable risk of disintegrating itself as a result.
What we don't have is a currency that deserves to trade at a purchasing power parity premium. And yet, the euro still does. We are fortunate that the OECD regularly publishes a comprehensive purchasing power parity study.
And this is what it shows: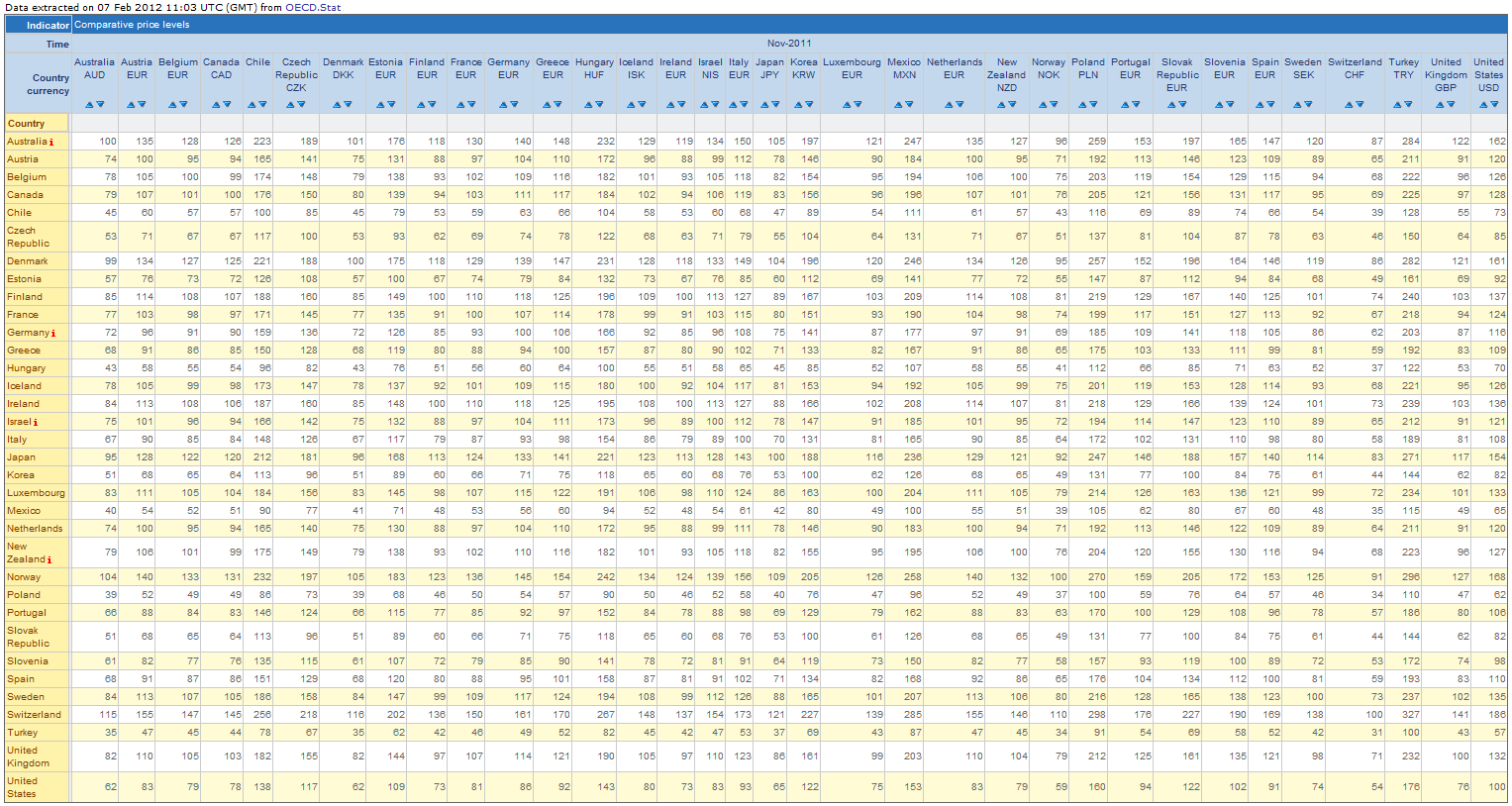 The euro countries all have PPP prices that are 6-36% above equilibrium (for instance, Germany is at 116). These are for November 2011, when the euro was around 2-3% higher than it is today (1.3180), but the point is that fundamentals as they are today warrant a euro trading at a discount, not a premium.
Just as a curiosity, back in December 5 I did a small purchasing power parity exercise using Amazon.com (AMZN) and the iPad 2, and the conclusion was about the same. Of course, since then the euro fundamentals have deteriorated given the implementation of the LTRO.
Conclusion
Given the euro's monetary discipline deterioration and its inherent risks as a single currency that still runs the risk of disintegration, it makes no sense for the euro to trade at a purchasing power parity premium, a status it achieved during a time where its Central Bank's actions were radically different. As such, one would expect such premium to disappear and turn into a discount.
Besides the obvious, direct, impact on forex trades, if this valuation change comes to pass one should also try to consider the possible impacts that come from a relatively stronger U.S. dollar (UUP), namely due to the foreign exposure that most S&P (SPY) companies now have - I have already taken on this subject in another article.