Everyone knows of Marathon Oil's (NYSE:MRO) problems with its Libyan resources over the last two years. It owns a 16% interest in the WAHA concessions (approximately 13 million acres in Libya). The pre-war production from this field was approximately 350,000 Boepd (about 56,000 Boepd for MRO). MRO says its current net production in Libya is 25,000 - 30,000 Boepd.
It does not expect to get back to full production until next year. It expects to see a large amount of production variability in Libya over the next year because there is still a lot of maintenance work that needs to be done. This whole episode was very scary for MRO investors. However, the worst does seem to be over. The new government is not hinting at nationalization or other actions that could cause substantial losses for MRO.
Partially due to the above, the company is emphasizing its development in the "safe" US unconventional oil plays now. MRO has planned 5%-7% CAGR production growth driven by mostly US resource plays. It expects the growth assets to be approximately 80% liquids. This should stand MRO in good stead given currently very low US natural gas prices. The pie charts below show the break out of MRO's estimated annual CAPEX for 2012-2016.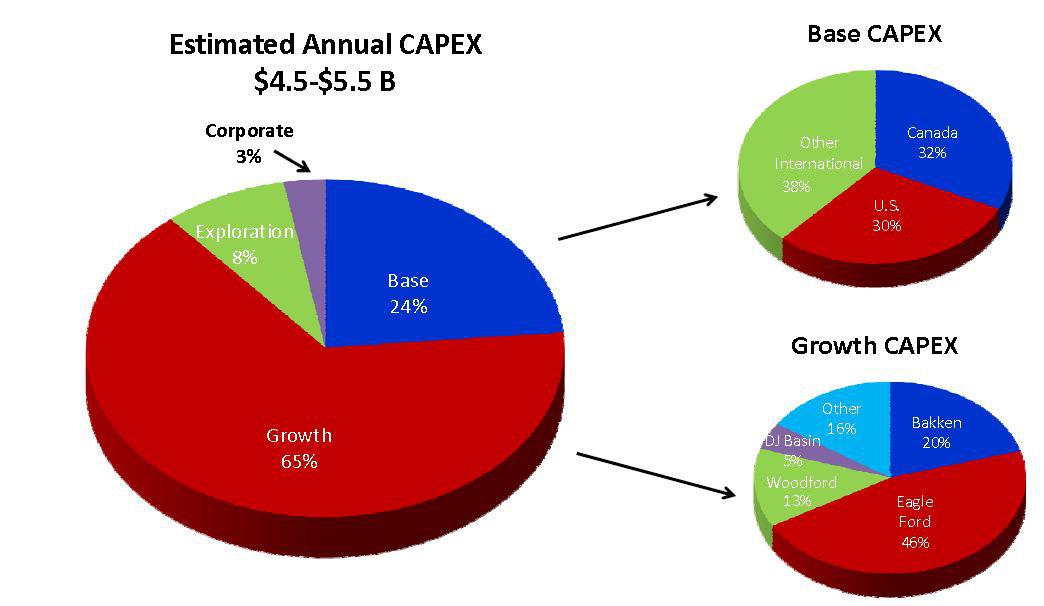 Click to enlarge
Of the 65% of CAPEX allocated to growth, virtually all is allocated to unconventional oil field development in the US. 46% of the 65% will go to the Eagle Ford, 20% of it to the Bakken, and 13% of it to the Woodford. From these developments MRO expects to maintain a stable base of approximately 340,000 Boepd. The chart below shows MRO's relatively higher percentage of "liquids" recovery than most of its peers. This is important near term. The price of US Nymex natural gas futures is approximately $2.59. This is much lower than historical prices, and it is far lower than the historical 6 to 1 ratio of oil prices to natural gas prices.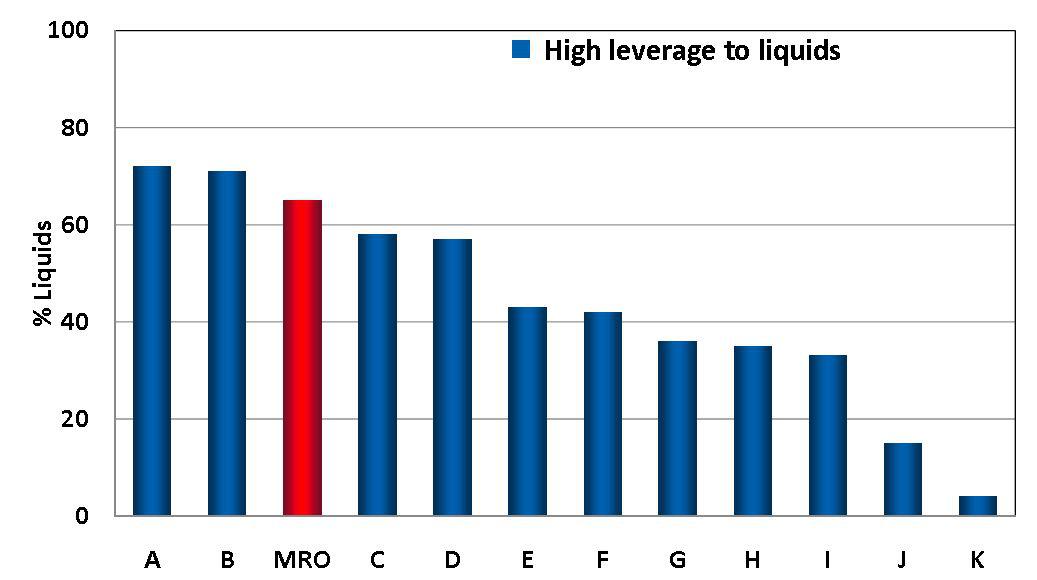 Click to enlarge
The peer group is in the chart above is: Apache (NYSE:APA), Anadarko Petroleum(NYSE:APC), Chesapeake Energy (NYSE:CHK), Devon Energy (NYSE:DVN), Encana (NYSE:ECA), EOG Resources (NYSE:EOG), Hess (NYSE:HES), Marathon Oil , Murphy Oil (NYSE:MUR), Occidental Petroleum (NYSE:OXY), and Talisman (NYSE:TLM).
On top of MRO's high liquids percentage, MRO also has better exposure to Brent prices than many other companies. This may change a bit with the new strategy of US growth. However, the safety factor should more than make up for this. The chart below shows the expected growth in US unconventional production through 2016.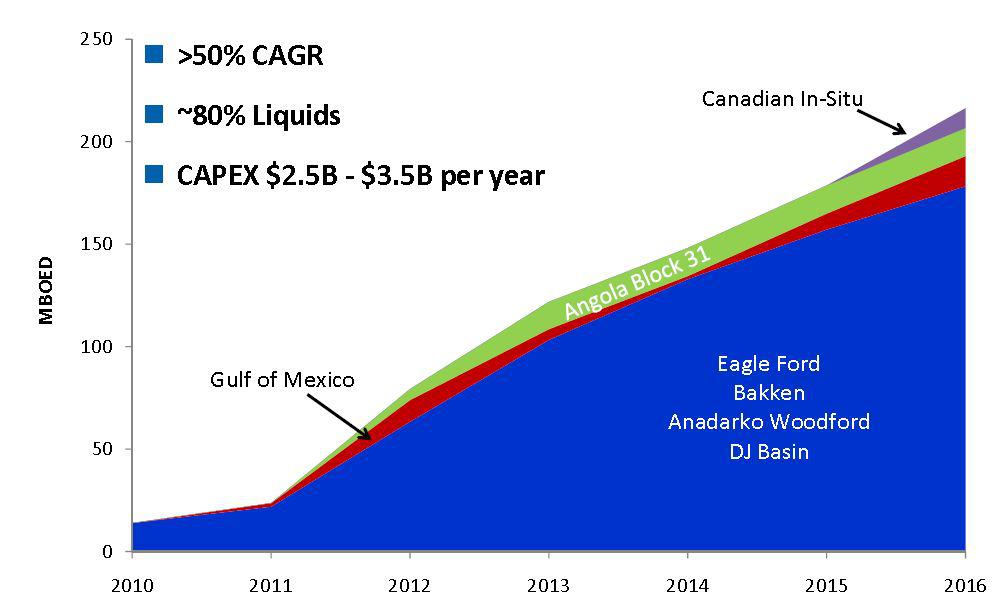 Click to enlarge
From just Q3 2011E to Q4 2012E, MRO plans to growth this unconventional production from approximately 75,000 Boepd to 125,000 Boepd. That's fantastic growth for a major oil, especially since it plans to move the overall split of this production from 55% liquids to 65% liquids during that time. I note this is excluding MRO's Alaskan and GOM production.
A summary of MRO's US unconventional positions is below. It is expected to yield approximately 80% liquids.
The Eagle Ford:
more than 300,000 net acres.
10 rigs operating at the end of Q3 2011. 17 expected to be operating by 2012E.
2011E exit rate of approximately 18,000 Boepd.
More than 100,000 Boepd by 2016E.
The Bakken:
406,000 net acres.
6 rigs operating at Q3 2011E. Will go to 8 rigs by mid 2012.
approximately 20,000 Boepd of production exit rate for 2011E.
approximately 33,000 Boepd of production by 2016, with continued growth.
The Anadarko Woodford:
160,000 net acres.
7 rigs currently drilling. MRO expects 45-55 net wells per year by 2013.
estimate peak rate of more than 30,000 Boepd by 2015.
The DJ Basin:
144,000 net acres.
70/30 de-risked JV with Marubeni.
2 rigs drilling.
observed rates as high as 500 boepd.
The above are all great plays, and MRO seems to be making good use of them. However, MRO is continuing to develop in other areas as well. It has a 10% WI in block 31 in Angola (14M Boepd by 2013-2016). It has a 100% WI in the Birchwood in Canada (oil sands) with an approximate 400 MMBBL bitumen net P50 resource. In the Gulf of Mexico, MRO has 21 prospects with approximately 1B Boe net unrisked resource. In the Kurdistan region of Iraq, it has approximately 1.6B Boe gross unrisked play across four blocks. It has a 100% WI in two of the last and a 20% and 25% WI in the two others. It has a 51% WI in 11 concessions in Poland that total 1.2 million acres. I note I have not included much of the current base of production in the description above.
On top of all of the above great development opportunities, MRO also pays a good dividend of 2.10%. It trades at a PE of 7.98 with an FPE of 7.39. MRO's five year EPS growth estimate per annum is a strong 9.04%. It missed earnings slightly in Q4 2011 at $0.78 per share versus and expected $0.82 per share. This was much lower than 2010's $0.99 per share. However, much of the fall can be attributed to the Libyan situation. This should only improve over time. MRO looks like an ever stronger and safer company going forward. It intends to expand its US unconventional holdings. It appears to be well run. Its low ratio of PE and FPE to five year EPS growth estimate per annum makes MRO one of the cheapest (if not the cheapest) major oil company.
The two-year chart below gives some technical color to the MRO trade.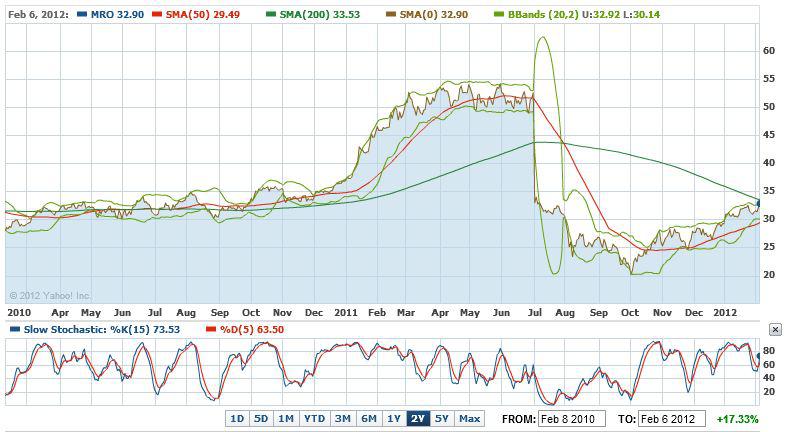 Click to enlarge
The slow stochastic sub chart shows that MRO is near overbought levels. However, it also shows that MRO has had a strong uptrend in place since it bottomed after the spin off of the old company's downstream businesses last October. This uptrend appears to be about to breach the 200-day SMA on its way up. This is usually interpreted as a buy signal for a stock, especially a fundamentally strong one like MRO.
The overall market is overbought. This could mean a pullback in the near term, which would likely pull MRO down with it. However, the long term trend does seem to be up both for MRO and for oil in general. The increasing needs of the emerging market economies have made oil a secular bull market long term. A well run company, as MRO appears to be, should do well with a secular bull market in its industry. You might want to average in, as the overall market is overbought, but MRO is a stock that you will likely want in your portfolio for the long term. 
Disclosure: I have no positions in any stocks mentioned, but may initiate a long position in MRO over the next 72 hours.