Coca-Cola Co. (KO), the world's largest soft-drink maker, reported fourth-quarter profit above Wall Street expectations due to continued growth in sales within Asia. Coca-Cola reported profit excluding one-time items of 79 cents per share, about 2 cents above average estimates.
See a recent performance chart for KO:
(Click chart to expand)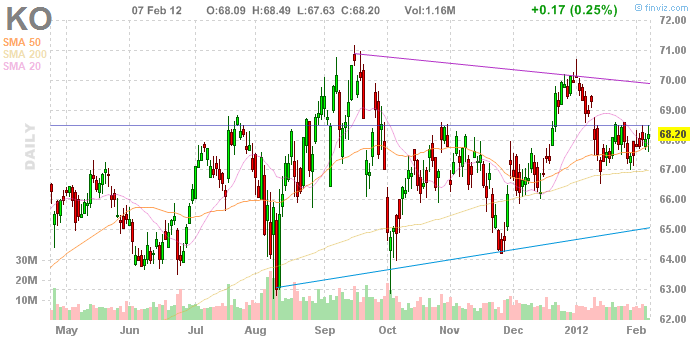 The beverage maker reported strong sales growth in Asia, including fourth-quarter sales volume growth of 10 percent in China and 5 percent in Japan. The company also had continued strong performance by its namesake drink, Coca-Cola, as well as Coke Zero within the North American division.
Total sales for the quarter rose 5.2 percent to $11 billion. The Pacific region division, including China and Japan, increased its sales volumes by 5 percent. Sales within the Eurasia and Africa division increased by 4 percent, with sales volume in India jumping 20 percent.
Coca-Cola also announced plans to reduce costs by as much as $550-$650 million over the nest three years, using some of those savings to offset any continued commodity price increases. The increasing costs for commodities such as sugar or corn-syrup and even petroleum for plastic bottles forced Coca-Cola to increase product prices by about 1 percent.
Given Cola-Cola's strong earnings and dividend history, and forthcoming dividend increase appears highly likely. Coke last increased its dividend during the first quarter of 2011, increasing the quarterly payout from 44 cents to 47 cents. Coke also increased its dividend during the first quarter of 2010 by three cents from 38 cents.
In fact, if history is any indicator of future events, a KO dividend increase this quarter is probable. Coke has raised its dividend during the first quarter of every year so far this century, and is a dividend aristocrat, with decades of increasing its payout each calendar year. Its many long-term holders likely expect a forthcoming increase.
One such long-term KO investor, Warren Buffett, has commented that the 8.81 percent stake in Coca-Cola that Berkshire Hathaway (BRK.A) owns, now valued at about $13.5 billion, may possibly pay Berkshire as much as $1 billion in annual dividends within the next decade due to KO's continued expected dividend growth. Last year, Berkshire's 200-million share stake should have provided Berkshire with $376 million. Since 2000, the KO dividend has increased from 17 cents to 47 cents, a 176% increase
Coca-Cola generally declares its first-quarter dividend during the middle of February, with declaration dates varying between the 15th and 21st of the month over the last 10 years. If the company remains consistent with its prior practices, which appears highly likely, Coca-Cola appears poised to increase its dividend by two to four cents within the next two weeks.
Disclaimer: This article is intended to be informative and should not be construed as personalized advice as it does not take into account your specific situation or objectives.