Allegheny Technologies (NYSE:ATI), the specialty metals producer that supplies companies across the manufacturing spectrum, released results last week that disappointed the market and has resulted in the shares retreating by 8.5% in the last few trading days.
Revenue increased in the fourth quarter to $1.25 billion from $1.04 billion a year earlier, an increase of 20% that the company said was due to higher shipments and raw material surcharges. Though it took a hit of $0.02 per share for restructuring and acquisition charges, Allegheny still posted net income of $0.29 per share, almost a doubling of the $0.15 per share reported in the same period a year earlier. This produced a result of $1.97 per share for the full year, compared with last year's $0.72.
Though all this sounds more than solid, analysts had been expecting earnings of $0.54 per share for the fourth quarter. The huge miss was caused by "significantly lower demand and low base prices for standard stainless products," said Allegheny's CEO Rich Harshman. On top of this, demand for its high-performance metals fell, impacted by short-term inventory actions by customers.
At around $47, the shares trade on a trailing price-to-earnings ratio of 23.63, in line with the shares of rival company Carpenter Technology (NYSE:CRS). Looking forward, both shares trade on forward price-to-earnings ratios of around 16.5.
Dividend yield at Allegheny is 1.6%, and with this covered 2.7 times by earnings, this should be maintained. However, its recent dividend history (no increase for three years) does not suggest it will be keen on increasing this.
The company has said that it expects a less volatile environment for its raw materials through 2012, with expectations for revenue of around $5.73 billion. Its current operating margin of 8.32% produces a profit margin of 4.14%. These margins could come under pressure if raw materials prices do not turn out to be less volatile this year.
Though its quarterly earnings growth of 110% year on year sounds tremendous, Carpenter Technologies' quarterly year-on-year revenue growth is posted at 154%. At the same time, revenue at Allegheny rose by 20.6% compared with Carpenter's revenue increase of 14.8%.
(Click chart to enlarge)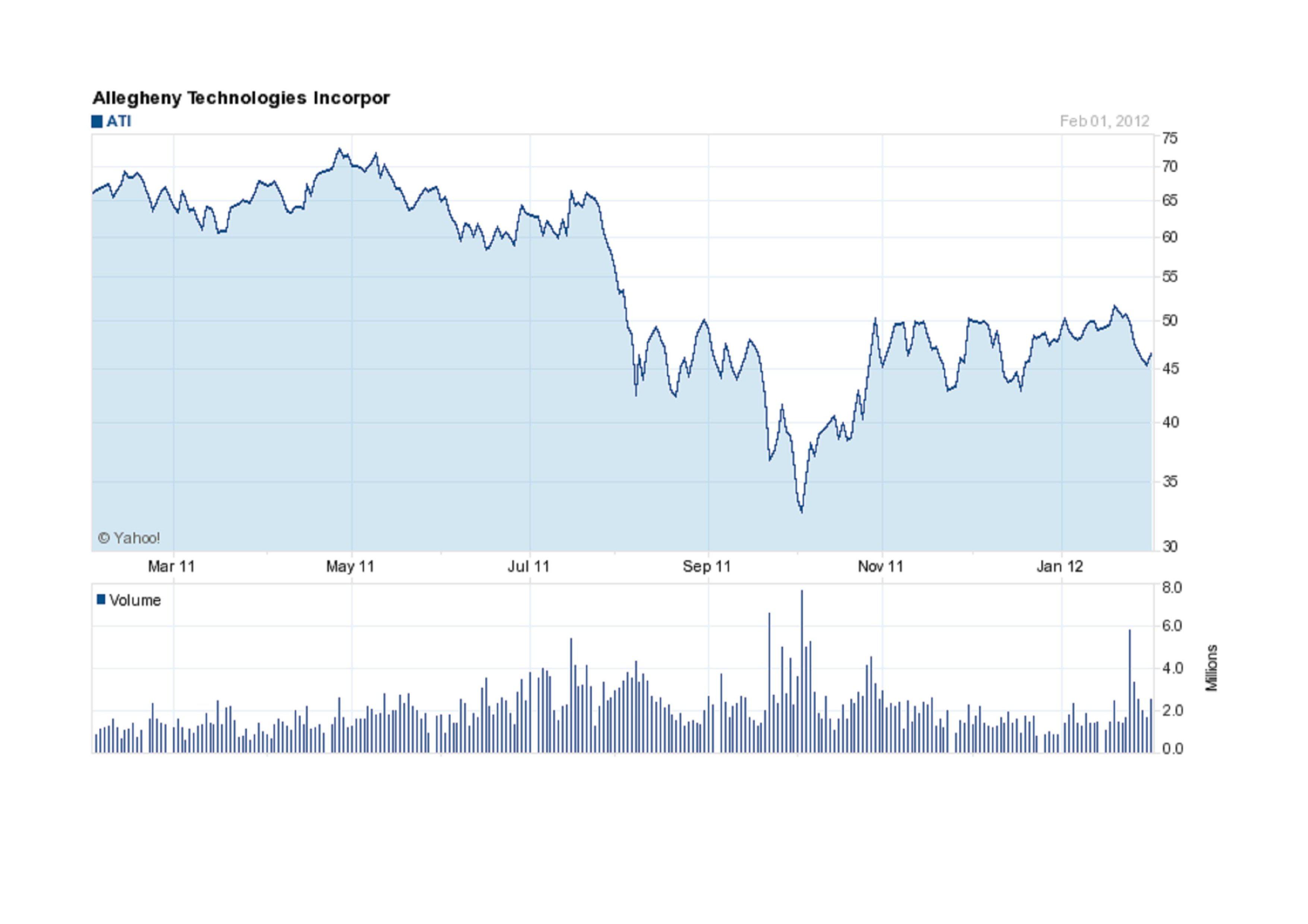 Looking at the twelve-month chart, Allegheny shares seem to have a strong level of resistance at $50, a level that has been tested many times since recovering from a 52-week low of $30.79 in October 2011. Since its first testing of this resistance, it has traded in a tight range down to around $43.
The mean twelve-month price target posted by analysts is $61.90. This would indicate an upside of 33% from today's share price. However, estimates for full-year 2012 have been cut in reaction to the disappointing fourth-quarter results. Now at $4.08, prior to the results announcement these stood at an average of $4.70. I expect the twelve-month price target to come down accordingly.
Prices of the raw materials it needs may be more volatile than it anticipates this year. Whilst economic growth is likely to ease - the latest IMF forecast is for global growth to come in at 3.3% for 2012, versus its earlier estimate of 4% - demand for Allegheny's products may continue to be weak. Suppliers of raw materials are cutting costs and production, helping to keep prices high, while demand for end products is weakening. Slowing demand in the fourth quarter may be a forerunner of more to come.
Overall, I see little upside to holding shares at the current level. A confused economic outlook, along with a potential squeeze on margins and little expectation of increasing dividends lead me to consider the shares a sell until a more definite economy is seen.
Disclosure: I have no positions in any stocks mentioned, and no plans to initiate any positions within the next 72 hours.