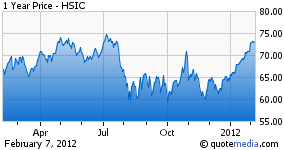 This article examines Henry Schein, Inc. (NASDAQ:HSIC) from a value investor's perspective. Use this basic information as a starting point to conduct your own due diligence before making any investment decisions about the stock.
Fortune 500 member, Henry Schein Inc., is the largest provider of health care products and services to health professional offices, including dental and veterinarian. Its technology segment provides software systems for dental, medical and animal health clinics.
The stock is currently trading close to its five-year high. As the chart below shows, the company's stock recovered nicely from the late 2008/early 2009 lows experienced across the market. Although the stock also was affected by late summer and fall volatility, it also retraced back most of its July high share price of $74.98. The stock was trading at around $71 at the end of January 2012, approximately 21 percent higher than its 52-week low and above its 200-day moving average of 64.90. Mean analyst recommendation is a lukewarm neutral 2.3 on a 5-scale.
The company has a healthy balance sheet showing $4.79 billion in assets and $1.84 billion in liabilities. The most recent cash flow statement issued September 24th, 2011 shows a negative cash flow of $322 with stock purchases and net borrowings accounting for the negative number.
The company bought 1.6 million shares of its common stock during the third quarter at an average price of $62.40 per share. The stock repurchase had no real impact on diluted EPS for the third quarter. At the end of Q3, the company authorized $167.5 million for more stock purchases going forward. The stock has no dividend policy.
Despite the healthy balance sheet, Henry Schein Inc. does show some weaknesses. Return on assets stands at 7.46 percent and return on equity at 13.73 percent. Profit margin is 4.33 percent and operating margin at 6.83 percent, which seem pretty slim.
During the most recent earnings announcement on November 1st, 2011, the company reported net sales up 11.5 percent from Q3 2010, and net income of $92 million was up by 11 percent. Earnings per diluted share were .99 cents, an increase of 5.3 percent over Q3 2010.
"We are pleased to be reporting sales growth in local currencies in each of our five business groups during the third quarter. Third quarter results were impacted by lower sales and profits from seasonal influenza vaccine. More importantly, double-digit growth in net income excluding seasonal flu vaccine sales reflects continued strength in our core businesses," said Stanley M. Bergman, Chairman and Chief Executive Officer of Henry Schein.
During the same announcement, Bergman also stated: "We are introducing 2012 guidance for diluted EPS to be from $4.25 to $4.34, which represents growth of 8% to 10% compared to the midpoint of our 2011 EPS guidance." The Company noted that the 2012 fiscal year includes one less week than 2011.
2011 diluted EPS are expected to range between $3.92 - $3.98. The company's 2012 Guidance expects diluted EPS to rise to $4.25 - $4.34, about 8-10 percent increase over 2011 EPS.
On January 5th, 2012, the company announced that it acquired all of Oak Hill Capital Partners' remaining interest in Butler Schein Animal Health for $155 million in cash. The company now owns 71.5% of Butler Schein Animal Health and the transaction should be accretive to 2012 diluted EPS by $0.02 to $0.03
Overall, Henry Schein Inc. continues to deliver on earnings. With a low beta of 0.56, the stock is less volatile than the market on average. Comparisons with other industry organizations benchmarks show a PE of 18.02 slightly above the industry average of 16.35, and PEG ratio of 1.69 against 1.54.
However, for value investors, the fact that the stock is trading close to its five-year high and offers no dividend protection against the downside, makes it unattractive at these levels. The slim margins and stock repurchase program also raise red flags. The stock appears to be fairly or somewhat over-valued at these levels with no obvious catalyst on the horizon to drive it higher.
Disclosure: I have no positions in any stocks mentioned, and no plans to initiate any positions within the next 72 hours.