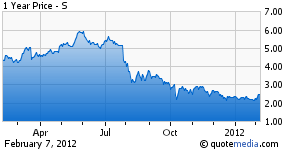 The demographics of the United States are changing, and Sprint (NYSE:S) is very well positioned to take advantage of shifting consumer wants and needs in the coming years.
As the country seems to finally be pulling out of the Great Recession, two groups of consumers have become more well-defined. One group is made up of the very comfortable middle class through the very rich. This group increasingly demands premium products and tolerates expensive prices. They carry Coach (NYSE:COH) bags. They shop at Whole Foods (NASDAQ:WFM). Having a perfect, premium product is more important than what that product cost.
The other demographic group to emerge larger and more well-defined than ever from this recession is made up from the working poor through the frugal middle class. These people seek out deals and aren't ashamed to flaunt their frugality. They shop at TJ Maxx (NYSE:TJX), they clip coupons, and they try to spend as wisely as possible.
Sprint has smartly positioned itself to meet the needs of both of these groups.
Sprint can provide excellent premium products and services that are demanded by people with premium taste. Sprint matched AT&T (NYSE:T) and Verizon (NYSE:VZ) in 2011 by offering the iPhone 4 (NASDAQ:AAPL), and Sprint betters its two competitors by offering a truly unlimited data package. And as I have previously written, it seems quite possible that Sprint may even sell a new, superior iPhone exclusively before AT&T or Verizon are able to offer it. (This alone would be a significant game-changer, and the confirmation of such an event would likely send shares soaring.)
Sprint has also done an excellent job offering cutting-edge Android phones. When I got my Motorola (NYSE:MMI) Photon 4G, Sprint was also offering the Samsung Galaxy S II, which became available at the same time that the other large carriers began offering the device. There are a few great Android devices that Sprint misses out on, but consumers still have plenty of excellent choices - plus, an exclusive iPhone would more than compensate for the occasional Android shortfall.
Along with great devices, Sprint also delivers the type of service that discerning customers demand. They were declared a J. D. Power Customer Service Champion in 2011 - one of only 40 companies to receive that honor. Despite this great service, Sprint plans are more affordable than similar ones from AT&T or Verizon, as Sprint's unlimited-data plans start at just $80 per month. If AT&T or Verizon are stupid enough to ever end the preferential grandfathered terms that most of its customers enjoy, look for a massive exodus from the big-2 to Sprint.
However, Sprint has not neglected to address the needs of more price-conscious consumers. Not only are Sprint's normal plans cheaper than AT&T and Verizon, but they also can meet this demographic's needs with services offered by their prepaid brands, Virgin Mobile and Boost.
I'm personally familiar with Virgin Mobile, as I used their service for the past two years. Forking over $300 up front for a BlackBerry (RIMM) (that could be had on a post-paid plan for 100) didn't feel great, but paying just $35/month for everything that I needed (unlimited data and texting, and more than enough minutes) surely did. That $35 even includes the miscellaneous taxes and fees that inflate most postpaid bills by an extra $5-10. Including amortization of phone cost, I paid paid less than $50/mo for a smartphone with unlimited data. Today, Virgin offers plans at $35, $45, or $55 (all of which include unlimited data, though it becomes throttled after 2.5GB of usage). The current phone lineup includes respectable Android devices as well as more basic phones.
Just as a certain savvy consumer might choose to buy a car in cash if they plan on driving it for ten years, many frugal consumers appreciate the pricing structure of Virgin and Boost that allows for long-term savings after a bit of an up-front hit. It's good for Sprint, too - they do not have to absorb a large upfront cost as they do when they sell an iPhone or Android phone on a post-paid plan.
Perhaps most importantly to a current or prospective shareholder, Sprint shares are trading at prices that have essentially priced in bankruptcy. As long as the company can demonstrate that it isn't going out of business in the immediate future, shares seem likely to move significantly higher. In late July, shares were trading for more than two times what they are now, though Sprint's prospects are essentially the same as they were then; therefore, if you have enough of an appetite for risk, now seems like a great time to give Sprint a shot.
Disclosure: Long Sprint shares, and long Apple OTM calls.