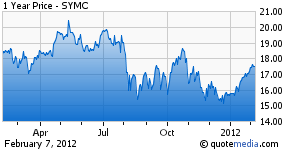 For a decade, Microsoft (NASDAQ:MSFT) has been essentially flat. And this is close to true for all the companies in its ecosystem, both hardware companies like Hewlett Packard (NYSE:HPQ) and software companies like Symantec (NASDAQ:SYMC).
The difference between the two is that, while hardware companies don't have to worry about Microsoft encroaching on their turf, software companies do. As users demand more from their operating systems, Microsoft can't help but eat its young.
Security has long been at the top of the user wish list, and Microsoft has made several efforts to improve it. But it has yet to make anti-virus programs like Symantec's Norton line an option for users.
In the run-up to the Windows 8 launch (and the beta is a matter of weeks away) journalists are once again writing sentences like this: "Microsoft says that only its Windows Defender might be needed to keep the operating system safe from malicious hackers."
Symantec, fortunately, takes that kind of talk seriously. So it keeps finding new things for people to be scared of, and keeps offering solutions to that fear. Web monitoring and block features once reserved for corporate clients are being sold to families. Cloud-based identity solutions are being offered.
Trouble is, products like these can't make up for potential losses in base-line security, assuming Microsoft comes close to meeting its claims - and Microsoft is now almost as heavily invested in Windows security as Symantec itself. Thus Zacks has a neutral view of SYMC. That's why spikes above the 30-day moving average are met by selling pressure.
Stories like this one, about a sting against hackers trying to blackmail its pcAnywhere product, should really tell you two things. Symantec is as vulnerable as anyone else, and Symantec is proprietary software. Symantec can only be protected by Symantec.
This may be a sustainable business model, but it's not a growth story. And in the tech world, as in business generally, companies that are not growing are slowing dying. Symantec's cloud security and enterprise security offerings are not going to be enough to sustain earnings momentum. Symantec desperately wants to get into the mobile space, especially the iOS space, but there is no indication that phones will become like PCs, each with its own security subscription, and until they do you need to be wary of the stock.
Back in the 1980s there was a short-lived program called Knoware, and a year after its introduction all the workers doing booth set-up seemed to be wearing its t-shirt, which read "I'm going Knoware fast." The same may be true with Symantec stock. It is range-bound and will remain so. I can't recommend it.
Disclosure: I am long MSFT.