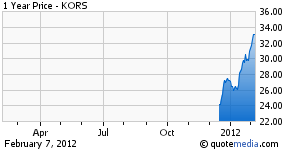 As someone who lives in Manhattan and works on 5th Avenue, I like to tell myself that I know a lot about fashion through osmosis. Michael Kors Holdings (NYSE:KORS), one of the most popular luxury brands nowadays, had a notably successful IPO in December and since its first day of trading, shares have soared 37.47 percent at the close of February 6th. With a market cap of $6.32 billion, the company's value trumps the likes of Abercrombie & Fitch (NYSE:ANF), Urban Outfitters (NASDAQ:URBN), and American Eagle Outfitters (NYSE:AEO) and has elevated Michael Kors' net worth to around $200 million. Unlike these companies, which trade at P/E ratios between 14.5 and 20.13. Currently, KORS trades at 73.52 times earnings. In this article, I explain why KORS is still a good buy for now.
From a strategy standpoint, Michael Kors has struck gold. It has become an acceptable brand for both men and women. His products appear in upscale department stores like Saks 5th Avenue (NYSE:SKS), mid-level department stores like Macy's (NYSE:M), and discount stores like TJ Maxx and Marshall's (NYSE:TJX). When it comes to brand management, the names of the game are distribution and reach and Michael Kors has won. There is a very short list of brands that appeals to such a wide scope of consumers but is still considered trendy.
When it comes to valuing the stock, the question is whether or not earnings and revenue can continue to grow. Since FY 2008 (ending in March), revenue has grown at an annualized 43.3 percent and earnings per share have grown by an annualized 20 percent. Since the company's growth is still too high to project out, the important question is when Michael Kors Holdings will stop its extreme growth.
If earnings stopped growing today, KORS would be a $7.50 stock. If EPS growth stays constant arithmetically (i.e. grows 10 cents to 15 cents per year), KORS is worth between $43 and $50. Obviously, investors are leaning towards the latter. Michael Kors Holdings has the brand power and the distribution to continue strong growth and I believe that its high P/E ratio is highly justified. I believe that KORS will be a $38 stock in one year from now and is a good time to buy at $33.
Disclosure: I have no positions in any stocks mentioned, and no plans to initiate any positions within the next 72 hours.