MLPs have become one of the best performing securities groups, especially with the extraordinary recovery of the Alerian MLP Index (AMZ) since the financial meltdown 3 years ago. The index bottomed at 152 in November 2008 with a yield above 15%. Since then, it has skyrocketed to 401. From August 2011, it has had an almost straight run-up from 315 to a new record. MLPs have been especially strong in the last 4 months. MLPs are bought for attractive yields. Yields on Treasuries are at record lows, and that should last until at least 2014, which make 6% yields (low by historical standards) for MLPs look good.
MLPs have a different form of ownership than traditional companies. MLPs are limited partnerships with units that pay distributions. Their yields are typically higher (along with a preferred tax status) than for most stocks. The good side of preferred tax status is over 80% of distributions are not taxed in the current year. But the K-1 forms bring tax hassle and added record keeping is required while holding the securities. Two of the largest MLPs, Kinder Morgan, Inc (NYSE:KMI) is the general manager of Kinder Morgan Energy Partners (NYSE:KMP) and Kinder Morgan Management (NYSE:KMR), and Enbridge Inc (NYSE:ENB), a Canadian energy company, is the general partner of Enbridge Energy Partners (NYSE:EEP) and Enbridge Management (NYSE:EEQ). KMR and EEQ are companion corporations to the MLP partnerships. Each share in the corporation is backed by one unit in the partnership and pays a stock dividend based on distributions paid to the units. Shares in these 2 companies have significant advantages for those who do not need current income and also for pension accounts if an account manager does not accept MLPs.
The business of these MLPs is building more pipelines and terminals for oil and natural gas. EEP revealed growth plans for 2012. In the Liquids segment [OIL] there will be expansion in Bakken regional infrastructure plus an expansion of crude oil terminals at the major oil hub in Cushing, Oklahoma. In the natural gas segment, EEP will construct a 150 million cubic feet per day natural gas processing plant at Ajax, located in the Granite Washington region and added investments in its Texas pipelines (including Texas South Haynesville shale).
KMI is buying El Paso Corp (EP) for $21 billion, probably in Q2, and with 67,000 miles of pipelines, will become the largest MLP. Prior to this acquisition, annual capital expenditures for KMP have been exceeding $2½ billion. An example of its capital program just announced is a $140 million investment to further expand of its coal handling facilities along the Gulf Coast. Arch Coal (ACI) has signed a long-term agreement that will help support the expansion. KMP also announced a $210 million investment to construct 7 tanks with a storage capacity of 2.4 million barrels for crude oil in Alberta Canada, and it has already entered into long-term contracts with customers to support the project.
These MLPs have excellent records of growth, which led to substantial distribution increases. EEP distributions have risen from $1.18 in 1993 to $2.13 presently, with no reductions. KMP distributions have increased annually from 97¢ in 1997 to $4.64 in Q1 2012. Quarterly distributions are used to calculate the stock dividends for shareholders in EEQ and KMR. With annual yields of 6-6½%, the number of shares will almost double in 10 years. These companies have a commitment to substantial capital expenditures and track records of higher distribution. EEP is projecting annual distribution growth of 2-5%, and KMP is guiding distributions of nearly $5 in 2012 following a record $4.61 last year. Even though each share of stock is backed by a unit in the MLPs, their price relationships vary. KMR typically sells at a roughly 10% discount from the unit price, while EEQ generally sells at a modest premium. That's how the markets behave.
These companies are now investing in projects with extra stimulus from the discovery of obtaining natural gas and oil from shale deposits. But those investments have come under a cloud. The TransCanada $7 billion oil pipeline linking the tar sands of Alberta to refineries on the Gulf of Mexico was vetoed by the President Obama. This follows a growing movement to limit exploration of shale deposits. The federal government wants to restrict oil shale development on public lands, which would keep activity off thousands of acres of environmentally sensitive areas. States are also limiting drilling. Colorado is joining other states (such as West Virginia, New York and Ohio) to regulate hydraulic fracturing from shale deposits. Even with restrictions in shale related investments, MLPs will have an abundance of investment opportunities for some time.
After reaching its record on January 25, the MLP index has been weak in a rising stock market. That disconnect may continue for some time aggravated by protests against shale investments. Any pullbacks in MLP prices should make for more attractive buying opportunities and investments will receive additional shares when stock dividends are reinvested. Stock dividends combined with growing MLP businesses make for profitable investments,
Enbridge Energy --- 10 years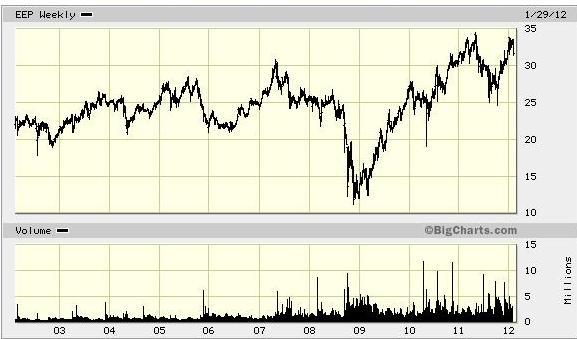 Click to enlarge
Kinder Morgan Energy Partners --- 10 years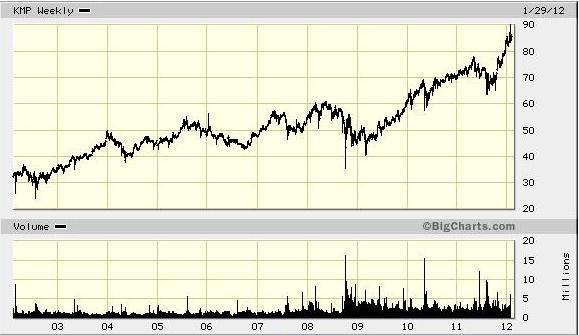 Click to enlarge
Disclosure: I am long (EEQ).