I noticed that the spot natural gas price in the US is going down, while the Russian natural gas price is going up. Both natural gas prices started at US $290 per thousand cubic metres in the beginning of 2007. Today Russian natural gas is 4 times more expensive than US natural gas.
Click to enlarge images.

A possible reason is that US shale gas finds have been increasing dramatically in the last few months, putting pressure on American natural gas prices through higher natural gas production.
Also, Russia's natural gas prices were artificially cheap during the year 2000 and onwards. From 27 May 2007, though, Mikhail Fradkov passed a decree #333 which increased Russia's natural gas price to parity with Europe's natural gas.
As this disparity in natural gas prices becomes more obvious, the US could use this to its advantage by exporting shale gas through LNG. Today the US is already challenging Russia's monopoly of natural gas in Europe.
One company I recommend is Dominion Resources which is planning to build LNG export terminals. This company could reap the benefits of a rising LNG export market from the US to Europe. Dominion Resources is expecting to have a permit in 2012.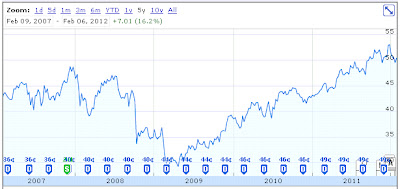 Dominion Resources
Disclosure: I have no positions in any stocks mentioned, but may initiate a long position in D over the next 72 hours.