The following article is largely based on Eni's valuation as calculated by Knight Vinke Asset Management of New York. I've been given written permission to use excerpts and graphs from their study in this article.
Oil major Eni (NYSE:E) has been in the spotlight here in Italy since Prime Minister Mario Monti has announced two weeks ago that, amid reforms aimed at boosting a stagnant economy, a liberalization decree will enforce the separation of Snam (OTCPK:SNMRF), which owns Italy's largest gas pipeline network, from its parent company Eni, currently owning a 52.5% stake, a move that has sparked new interest among investors.
This scores a victory for activist equity fund Knight Vinke - which owns more than 1% of Eni - that since 2009 has been pushing for a spin-off to reduce debt and release hidden value in the company.
The spin-off will be approved in the next six months; Eni's CEO, Paolo Scaroni, estimates that the restructuring will help reduce the group's debt from € 26 Bil to € 7 Bil ($9 Bil) allowing the company to increase its investments in more profitable upstream activities.
Eni's shares have always suffered the burden of the group's stake in Snam and, also due to the recent eurozone crisis, trades at depressed prices compared with other major integrated oil and gas companies.
Knight Vinke's calculations are based on a sum of the parts valuation; they reckon that Eni should command higher multiples because it is unique among oil majors in that it has a huge utility business that should not be valued with the same degree of skepticism that investors usually apply when they make an appraisal of oil companies. The skepticism comes from the fact that most industry analysts tend to be loose when evaluating E&P cash flow from reserves, for example using a 10% discount rate regardless of risk. Knight Vinke suggests we should think of Eni as a major utility with an E&P business rather than the opposite; utility assets are easier to value so higher multiples are warranted.
Gas & Power
The gas & power division consists of:
a 52.5% stake in Snam, that will likely be spun off
electricity and gas wholesale and retail supply business in Italy and Belgium
power generation
international transport pipelines
gas equity stakes in other companies
(Click charts to expand)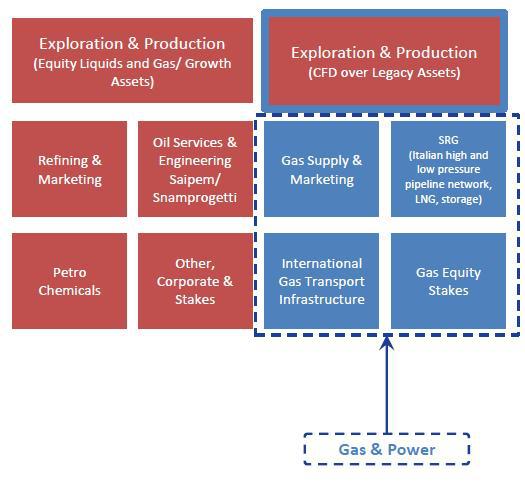 Snam Rete Gas comprises high and low pressure pipelines, a LNG
regasification station and storage facilities. As such it is considered a
pure infrastructure play and is valued using TEV (Total Enterprise Value=common equity + debt - cash) , with a current value of €22 Bil
The International Transport business includes pipeline activities outside Italy and is valued using a 7.5 to 8.5 multiple of estimated 2012 EBITDA (earnings before interest, taxes, depreciation and amortization), in line with that of comparable companies.
The Supply and Marketing business is one of the largest gas suppliers in Europe and, using an EBITDA multiple of 4.5x to 5.5x with estimated earnings in 2012 of €965 Mil, it is valued at least €4.3 Bil.
The division as a whole, including equity stakes in other companies, is valued between € 33.2 Bil and € 34.8 Bil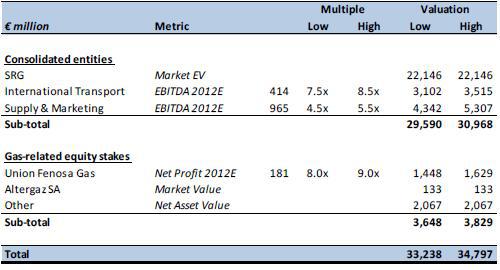 Upstream Activities
Eni's upstream activities embrace the following:
Exploration and Production
Refining and Marketing
Oil Services & Engineering
Petrochemicals
Upstream Equity Stakes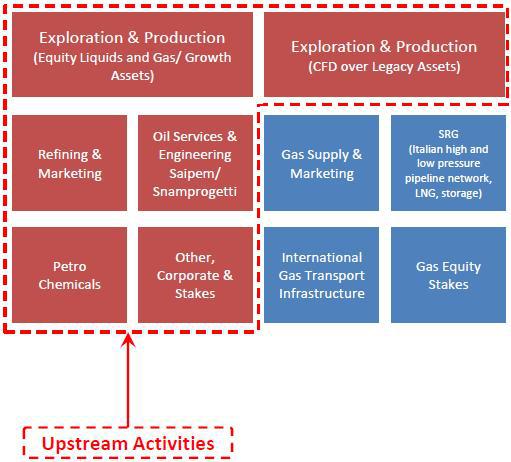 Although Eni is relatively small when compared with other oil majors (that is why I think a merger with Total is advisable), it remains one of the largest global players with promising developments in "hot" areas such as the Caspian Sea, Africa and Russia where the company has been collaborating for decades with gas giant Gazprom (OTCPK:OGZPY), my top pick in the energy sector. Worthy of mention is the fact that Eni has been able to restore production volumes in Libya, where a civil war has just ended, and extraction rights in that country have been extended for another 30 years.
E&P assets are valued using a DACF (Debt Adjusted Cash Flow) multiple of 4.5x to 5.5x, in line with peers, yielding a figure of € 60 Bil to € 73 Bil.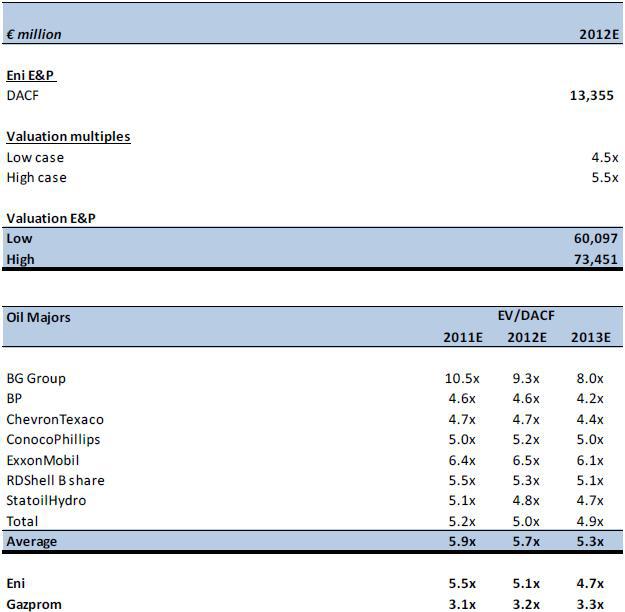 Refining and Marketing is in charge of refining and sales of refined products in more than 6,000 stations worldwide (mostly in the EU). Applying a 5.0x to 6.0x multiple to 2012 expected EBITDA we obtain a valuation of €1 Bil to € 1.2 Bil for the division.
The Petrochemicals division is quite volatile and is involved in the production of bulk chemicals such as clorine and polyethylene; it is valued around € 200 Mil.
Oil Services and Engineering
Eni, through its 43% interest in Saipem (OTCPK:SAPMY) is engaged in onshore and offshore oilfield services. The division has a strong back log and is contracted by oil majors worldwide. 2012 expected EBITDA is € 1.98 Bil and applying a 6.5x to 7.5x multiple we get to a valuation of €12.8 Bil to €14.8 Bil for the division.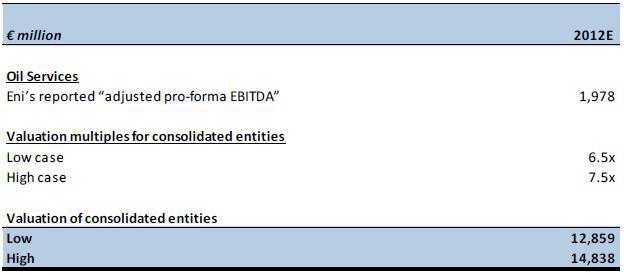 Equity Stakes consist in a 33.3% interest in Galp Energia, a Portuguese corporation engaged in oil and gas exploration and production. Last year Petrobras (NYSE:PBR) was reported to be interested in acquiring Eni's stake but the deal did not go through. The current market cap is € 10.8 Bil so Eni's interest is worth € 3.6 Bil.
Besides Galp, Eni owns interests in other assets and joint ventures, especially in Russia with Gazprom and Enel (OTCPK:ENLAY).
Putting it all together
Even using the most conservative approach in Eni's assessment, the shares appear to be underpriced. Adding all the evaluations obtained for each division and then subtracting outstanding debt and non controlling interests we get to a total group enterprise value of € 76 Bil (Knight Vinke reports € 75.8 Bil but the stake in Galp has rose in value since then so I rounded up the figure a little). With 3,623 Mil shares outstanding we reach a value per share of € 21 (rounded). Since one Eni ADR corresponds to two common shares, each ADR is valued € 42. At the current exchange rate (1 EUR = 1.315 USD), this corresponds to $ 55 per ADR; considering this is the most pessimistic scenario, I think it is safe to assume that the company is worth at least $60 per ADR.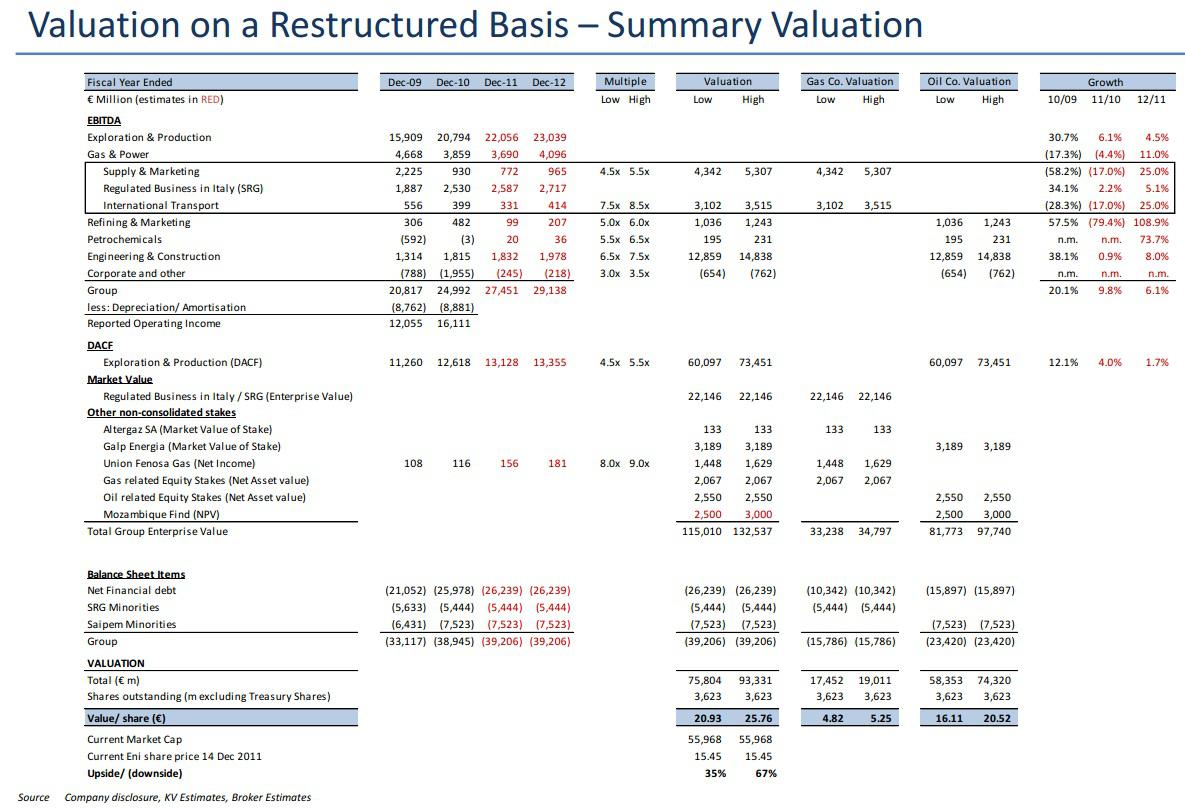 Disclosure: I am long E, OTCPK:OGZPY.