Last Friday's job report ignited talk of an economy that is performing much better than expected despite the woes in Europe. One sector that should do well if the economy is indeed showing significant improvement is business development companies. They will be positively impacted as the firms they invest in should perform much better in a more robust economy. Here is one company worth considering that is currently yielding over 13%.
MCG Capital (NASDAQ:MCGC) - "MCG Capital Corporation is a private equity firm specializing in investments in middle market companies. The firm does not prefer investments in highly cyclical and volatile industry sectors and businesses with significant volatility exposure. It seeks to invest in small to mid-sized companies. The firm prefers to invest in acquisitions, growth financings, organic growth, recapitalization, and leveraged buyouts. It invests in companies based in the United States. The firm seeks to invest up to $75 million in debt and equity in companies having revenues between $20 million and $200 million and EBITDA between $3 million and $25 million" (Business Description from Yahoo Finance).
6 Reasons MCGC has value at under $5 a share:
The company just announced a $35mm buyback. This would retire approximately 10% of the float at current prices.
The stock looks like it has bottomed and is showing improving technical strength (See Chart).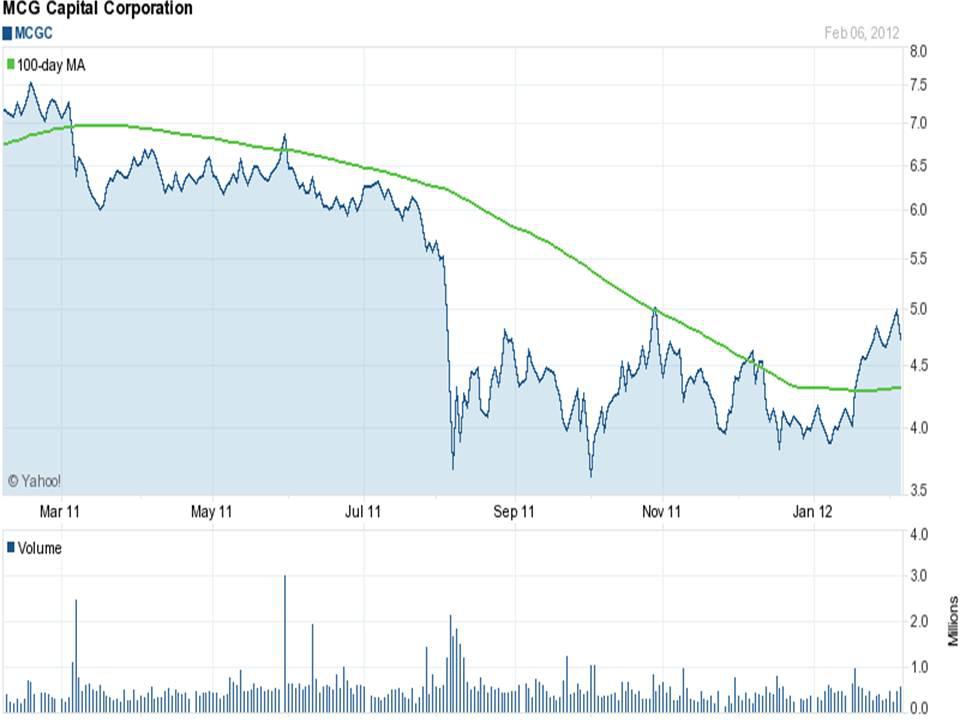 Click to enlarge
The company provides a 13.5% yield, and it has raised its dividend approximately 50% over the last two years.
The company just reduced its net asset projected to $6.44 a share. However, the company is still selling at just 74% of book value.
An improving domestic economy obviously will be good for the companies MCGC invests in. It has also written off most of its investment in Broadview, which should remove a substantial overhang over the stock.
The stock is going for less than 8 times forward earnings and has a five year projected PEG under 1 (.96)
Disclosure: I have no positions in any stocks mentioned, but may initiate a long position in MCGC over the next 72 hours.