On Friday, February 3, 2012, the Nasdaq Composite and S&P 500 Information Technology Indices broke to fresh 11-year highs on the back of a stronger-than-expected January employment report.
While the rally in technology stocks is part of a broader move back into risky assets in 2012, there are some important, industry-specific reasons for tech's leadership. Chief among those: While fourth quarter earnings season for the S&P 500 as a whole looks lackluster, technology stocks continue to post strong numbers. With around two-thirds of tech stocks in the S&P 500 reporting to date, an impressive 82 percent have delivered positive earnings surprises while three-quarters have beaten on the top line. That compares to 67 percent earnings beats for the S&P 500 as a whole.
And technology isn't the only group that's beating the broader market. Another industry to watch is the railroads -- the S&P 500 Railroads Index has outperformed the S&P 500 in a total of 10 of the past dozen years.
Over the past month I've assembled a list of ten stocks that appear to be setting up as profitable short- to intermediate-term trades for my Cocktail Stocks service. I briefly mentioned all of these companies in two Seeking Alpha articles, "7 Stocks On My Watchlist," and "Financials: From Zero To Hero." I've now narrowed down my watchlist to three companies, including two in the market-leading technology sector and one play on the fast-growing rails.
I'll be selecting my February recommendation for Cocktail Stocks from these three. Here's a detailed look at the investment case for the stocks that made my short list.
Imperva (NYSE:IMPV) - Several major companies have announced high-profile Internet security breaches over the past year that resulted in the theft of sensitive data, such as customers' credit card numbers. For example, Sony's (NYSE:SNE) Playstation gaming network and Sony Online Entertainment websites were compromised in 2011, potentially putting up to 100 million user records at risk.
And Nasdaq's Directors Desk, a program that allows corporate board members to communicate with one another, was also compromised last year, possibly allowing hackers to spy on board meetings, stealing proprietary information. Hackers also managed to steal data from EMC's RSA unit and Epsilon Data Management, an e-mail marketing firm.
In fact, according to Verizon's Data Breach Investigations Report issued in April 2011, the total number of data breach cases on the company's caseload rose by more than 500 percent from 2009 to 2010 alone. As you might expect, to target this growing threat, companies are ramping up their spending on IT security (see my chart below for a closer look).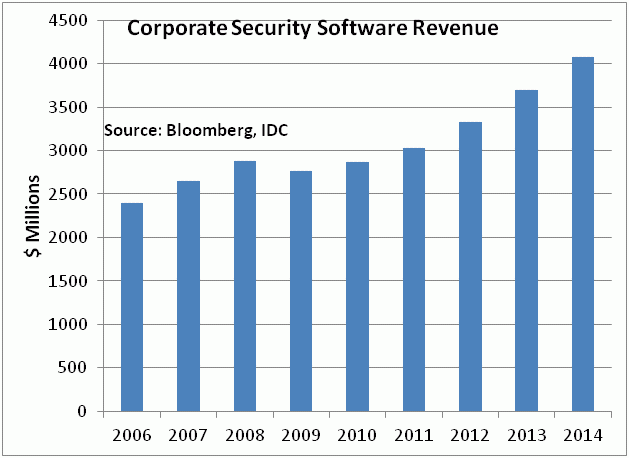 For most corporations, spending on security software and equipment is considered a necessity, not a luxury, as even a small data breach that involves customers' sensitive data can be expensive to correct and a public relations nightmare. As the chart shows, even during the heart of the 2007-2009 recession and financial crisis, when corporate spending on information technology collapsed, spending on security software only saw a modest decline in 2009, followed by a return to significant growth over the past two years.
According to IDC, revenues for security software firms are expected to grow at a more than 8 percent annualized pace out to 2014. And software is just the tip of the iceberg for security, as IDC also expects total worldwide spending on IT security products to jump as high as $38 billion from $27 billion today.
Imperva operates in a fast-growing niche of the IT security space. Traditionally, IT security products have been aimed at protecting corporate networks from attack. Products like firewalls were designed to prevent hackers from taking control of the entire corporate network, and could effectively block out malicious incoming data packets.
Increasingly, however, the biggest threat firms face is hackers attempting to target their valuable corporate data directly. In some cases, the theft could be an inside job, where a company's own employees steal data directly from a database and sell that information for profit. Alternatively, hackers might be able to install malware on a company's IT system to disguise the collection of data.
Imperva's products are designed to address this threat by collecting information on where a particular organization's data is stored and then monitoring how the data is accessed. A company can also set rules to determine how, when and by whom data can be accessed. Imperva's products are then able to spot anomalous or unusual behavior that might suggest an attempt to steal data.
The stock went public on November 8, 2011, so it has a limited trading history and is still thinly traded. That said, thin trading is a double-edged sword - while it means that the stock is more volatile than most, it can also mean it moves quickly as investors discover the story and pile into the stock. Imperva could also be an acquisition candidate for a larger IT security firm that wishes to add more functionality to its existing products.
Greenbrier Companies (NYSE:GBX) - The major US railroad companies have been standout performers in recent years. Contrary to its reputation as a cyclical group, the rails have handily outperformed the broader market both in strong economies such as the period from 2004 through 2005 as well as during recession years like 2001 and 2008.
Railroads have several durable advantages that make the sector a secular growth story. In particular, trains are far more fuel efficient than trucks and are capable of hauling a ton of freight for about 450 miles on a single gallon of diesel. In addition, the railroads have made vast strides in efficiency over the past decade; for example, the rails have adopted sophisticated rail scheduling systems to increase the average velocity of their cars over their track networks and to reduce dwell time in rail loading terminals. This has resulted in significant cost savings and improved profitability.
In the short-term, rail traffic trends are a key driver of performance. The good news is that traffic looks strong headed in early 2012 - check out the chart below for a closer look.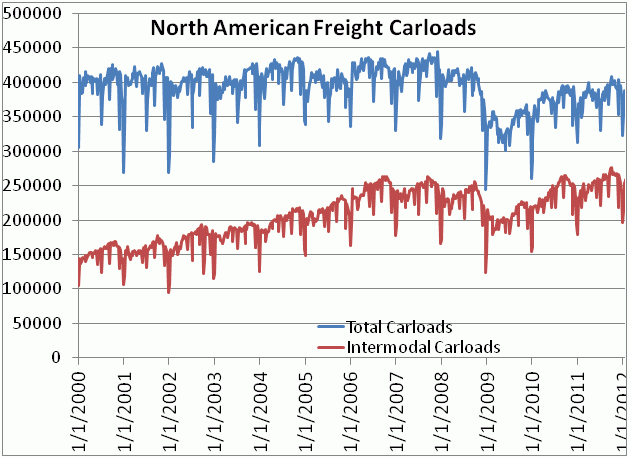 Source: Bloomberg; Association of American Railroads.
The blue line on this chart shows total freight carloadings in North America, while the lower chart shows intermodal volumes, essentially containers that are shipped by multiple modes of transport, such as container ship, train and truck. Rail volumes slumped during the severe recession of 2007-09 but have since recovered; in fact, intermodal traffic is approaching all-time highs.
A closer look at weekly rail traffic over the first four weeks of 2012 shows some even more impressive trends. In particular, shipments of metallic ores are up nearly 30 percent year-over-year and motor vehicles volumes are up a healthy 18.3 percent.
Another new, fast-growing market for the rails is petroleum products; oil producers in regions such as the Bakken Shale play of North Dakota are increasingly turning to tank cars shipped by rail due to a shortage of sufficient pipeline capacity. In the first four weeks of the year, shipments of petroleum products have soared 22.3 percent compared to last year.
Greenbrier Companies manufactures railroad freight cars, repairs and refurbishes older cars and operates a railcar leasing business. Freight railcars come in many shapes and sizes, including covered hopper cars used to transport grains; tank cars to transport liquids like oil, ethanol and chemicals; and flat cars used to carry containers.
In the most recent quarter, Greenbrier reported it delivered 3,300 railcars up from 1,050 in the same quarter one year ago. Total backlog of railcar manufacturing orders reached 13,300 cars up from about 8,100 a year earlier.
Data for the fourth quarter released by the Railway Supply Institute reflects healthy industry railcar order trends. In the fourth quarter, a total of 16,434 new railcars were ordered industry-wide led by demand for intermodal and tanker cars; that breakdown is hardly surprising when you consider ongoing strength in petroleum products and intermodal volumes. This compares to just 10,853 railcars ordered in the same quarter of 2010. And the backlog of railcar orders surged from just 22,658 one year ago to 64,575 in the fourth quarter. All told, railcar order volumes are expected to be higher in 2012 than already solid 2011 levels.
More rail traffic volume spells for demand for Greenbrier's maintenance and repair services, while growth in railcar orders benefits its manufacturing operation.
Equinix (NASDAQ:EQIX) - Equinix is the world's largest network-neutral data center provider with 6 million square feet of physical data center space spread across 92 individual data centers on four continents.
The Internet is really a network of individual networks that are interconnected to allow communication. For example, if Verizon (NYSE:VZ) is your Internet Service Provider, and you wish to send or access data on a Comcast network, that information must jump from the Verizon's network to Comcast's. While this is generally all seamless to those using the Internet, as you can imagine it becomes increasingly complex and difficult to manage as the number of networks grows and the volume of traffic on the Internet explodes.
Equinix's data centers allow for this interconnection between networks. In a sense, these data centers are the heart of the Internet.
The stock has seen a strong run since I profiled it in my January 13 article. There are several drivers of this upside. First, another data center provider, Digital Realty Trust (NYSE:DLR) hosted an investor day on January 30 and had some positive things to say about the supply/demand balance for new data centers.
Specifically, it appears that pricing for data centers continues to rise outside a few specific regions, such as Silicon Valley. But in Silicon Valley, the weakness in data center pricing appears due to the fact that a number of new centers opened up ahead of an expected increase in demand; as demand for capacity rises, that excess supply is quickly being absorbed. Overall Digital realty sees demand for data centers continuing to outstrip supply. These comments suggest we're not seeing a repeat of the excess capacity buildout during the late 1990s that led to a prolonged downturn in pricing.
Another factor that has helped push up Equinix is Facebook's filing of its initial S-1 registration statement with the SEC. Specifically, the filing highlights that Facebook's monthly active users have increased from 197 million in March 2009 to 845 million as of the end of last year. Facebook does use Equinix facilities to interconnect with key partners such as Zynga (NASDAQ:ZNGA), the firm behind popular games like "FarmVille." As traffic across social networks like Facebook increases, so does demand for interconnection services.
Disclosure: I have no positions in any stocks mentioned, and no plans to initiate any positions within the next 72 hours.