In a recent article (Hedging 8 Debt-Free But Richly-Valued Stocks), we looked at several stocks that may have attracted interest in part due to their strong balance sheets, but appeared overvalued on a PEG (price/earnings/growth) ratio basis. That article was prompted by a Financial Times Lex column about one such stock, Arm Holdings (NASDAQ:ARMH). Lex had cautioned that the company's shares could pull back when markets normalized. For this post, I decided to modify the screen to look for debt-free companies that were undervalued on a PEG ratio basis.
In addition to the three fields I looked at last time, I added price performance as a fourth criteria this time to screen out companies that might appear undervalued due to a plummeting share price. Using Fidelity's screener, I looked for stocks meeting these criteria:
PEG ratio below 1.0 (but above 0)
Debt to capital ratio of 0 (no debt)
Cash/Price ratio in the top 80%
52-week price performance in the top 20% of its industry
A corollary of Lex's logic about the pullback-risk of a stock with a high PEG ratio would suggest that these low-PEG stocks might pull back less than more richly-valued companies when markets normalize. Given the high correlation of all stocks during recent market downturns, some shareholders may still consider hedging them. With that in mind, the table below shows the costs, as of Tuesday's close, of hedging the eight stocks that came up on my screen against greater-than-20% declines over the next several months, using optimal puts.
A Comparison
For comparison purposes, I've also added the costs of hedging the SPDR S&P 500 ETF (NYSEARCA:SPY) against the same decline, using optimal puts. First, a reminder about what optimal puts are, and a note about decline thresholds. Then, a screen capture showing the optimal puts to hedge one of these stocks, Apple, Inc., (NASDAQ:AAPL).
About Optimal Puts
Optimal puts are the ones that will give you the level of protection you want at the lowest possible cost. Portfolio Armor uses an algorithm developed by a finance Ph.D. to sort through and analyze all of the available puts for your position, scanning for the optimal ones.
Decline Thresholds
In this context, "threshold" is the maximum decline you are willing to risk. You can enter any percentage you like for a decline threshold when scanning for optimal puts (the higher the percentage, the greater the chance you will find optimal puts for your position). I've used 20% as a threshold for all of the names here.
The Optimal Puts For AAPL
Below is a screen capture showing the optimal put option contract to buy to hedge 100 shares of Apple, Inc. against a greater-than-20% drop between now and July 20th. A note about these optimal put options and their cost: To be conservative, Portfolio Armor calculated the cost based on the ask price of the optimal puts. In practice, an investor can often purchase puts for a slightly lower price, i.e., some price between the bid and the ask (the same is true of the other names in the table below).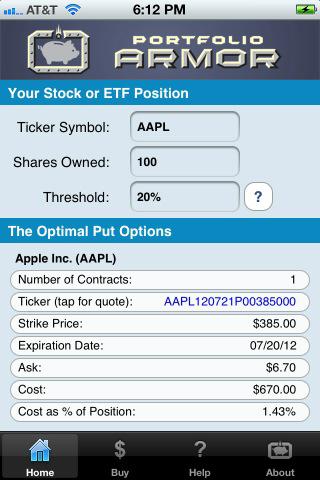 Hedging Costs As Of Tuesday's Close
The hedging costs below are as of Tuesday's close and are presented as percentages of position value. Stocks are ranked in descending order of their PEG ratios.
| | | | |
| --- | --- | --- | --- |
| Symbol | Name | PEG Ratio | Hedging Cost |
| MA | Mastercard, Inc. | 0.99 | 2.10%* |
| NTES | Netease.com, Inc. | 0.98 | 8.80%*** |
| AAPL | Apple, Inc. | 0.96 | 1.43%* |
| GILD | Gilead Sciences, Inc. | 0.91 | 4.21%** |
| OII | Oceaneering, Intl. | 0.83 | 4.00%* |
| | BE Aerospace, Inc. | 0.77 | 3.92%* |
| JAZZ | Jazz Pharmaceuticals | 0.65 | 2.13%** |
| LSI-OLD | LSI Corp | 0.53 | 4.94%* |
| SPY | SPDR S&P 500 | NA | 1.97%*** |
*Based on optimal puts expiring in June.
**Based on optimal puts expiring in July.
***Based on optimal puts expiring in August.
Disclosure: I have no positions in any stocks mentioned, and no plans to initiate any positions within the next 72 hours.