The Federal Reserve's December 2011 report on consumer credit painted a clear picture: that consumers did not hold back during the holidays. Economists expected consumer credit to come in around $15 billion but the report showed $19.3 billion. This may not be the best situation for cash strapped consumers, but the credit services industry will be thriving for years to come. Therefore, investors should begin to position themselves to profit from the surge in credit use.
It can be argued that retailers and/or businesses that made the sales are the big winners, but there are two problems with this. The first problem is that consumers likely received incredible deals on many of the items purchased; therefore, overall margins will be down. And secondly, December spending was included in a company's calendar fourth quarter earnings report. Therefore, if any gains were to be made these would have already happened or will happen after the earnings season completes.
More importantly, the credit services industry has the added bonus of collecting profits over the long term. For instance, consumers that spent an excessive amount will be paying the interest for those expenditures many quarters and possibly years from now. Therefore, December's credit increase will be seen on the balance sheet for many months.
With that in mind, the million dollar question remains: which companies will receive the most profits? This is difficult to determine because the Federal Reserve's report does not specify this information and if it did this report would be a crucial piece of information for credit services companies. Nevertheless, based upon recent trends it is not difficult to determine which credit companies stand to gain the most over the next 12 months.
The first firm is Discover Financial Services (NYSE:DFS). Discover has been one of credit services leaders for over a year. The company's share price has recently skied back to a 52 week high. The previous high was achieved in July 2011. Not only has Discover's share price performed well, but the company's financial position has slowly strengthened.
This strength will be further pronounced in 2012 due to December's rise in credit spending. Of course, this assumes consumers will not default on their loans. Luckily, Discover's delinquency rate has been declining. Therefore, investors should not fret about Discover's customers not paying back their debts or loans.
By looking at Discover's financial sheet in more detail it is clear the firm is growing market share because revenue has increased sequentially for at least five quarters; perhaps Discover is taking share from Capital One (NYSE:COF) which has been struggling. The biggest knock against Discover is the company's 18 basis point (BP) drop in net interest margin. This indicates that Discover has paid more interest payments to lenders than the firm has earned from its own lending. This can sometimes be an indicator of a weak business model because the firm is, to an extent, losing money and not maximizing productivity. This is something to worry about, but until we see more results indicating a downward trend it is premature to make any negative assumptions at this point.
However, on the other hand, Discover's return on equity (ROE) increased year over year (y/y). This is important for shareholders because it indicates Discover has been able to increase shareholder value which can also be seen in the increasing book value. Both of these values are more directly related to shareholders, but net interest margin can affect the long term stability of the firm if it continues to decline.
Nonetheless, while the past financial results are important, it is better to view the future at this point. And due to the increase in consumer credit in December the future for Discover is very bright. Even though Discover's share price is approaching its highest level since 2007, this does not mean the share price is done growing. Investors should expect to see Discover's share price continue to soar higher until significant credit weakness is noticed. And since investors will have about four weeks before any type of credit report and/or Discover's earnings are released, there are plenty of profits to be made.
click to enlarge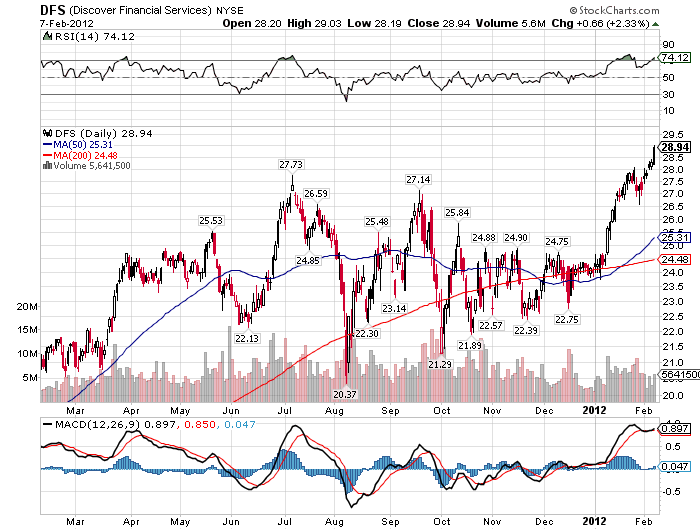 Click to enlarge
Another credit company poised to benefit from December's surge in credit is Visa (NYSE:V). Visa has very closely followed Discover over the past 12 months, but Visa has outperformed Discover over the past few months. Similar to Discover, Visa is fresh off a 52 week high. More importantly, Visa has been able to increase revenue and operating income at a more stable rate compared to Discover. Discover's operating income is more volatile due to excessive selling, general and administrative (SG&A) expenses. Therefore, Visa may be a better investment decision.
However, it is important to note that, again, the December credit surge is the catalyst for Visa's stock because Visa will see major revenue and profit increases throughout 2012 due to interest payments. And as revenue and profits continue to grow, investors will see the share price move higher accordingly. Since this will be combined with the current momentum, investors will see Visa's share price move substantially higher. Another important reason Visa's share price will move higher will be due to the 2012 Olympic Games; as I wrote about in a December 6, 2011 Editor's Pick (How to Position Your Portfolio For The Olympic Games).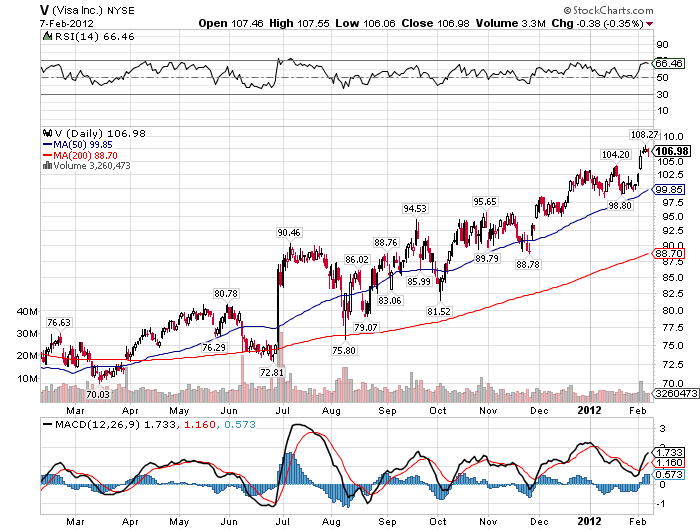 Click to enlarge
Two credit companies with substantial upside after a weak 2011 are Bank of America (NYSE:BAC) and JP Morgan Chase (NYSE:JPM). Both banks offer several credit card options, and it is very likely these two were used for a significant amount of purchases in December. Therefore, as payments begin to stream in investors will see revenue and profits jump slightly. However, it is important to keep in mind that both banks do not live off of credit card payments. Although a significant amount of unexpected revenue will give investors and traders a reason to send each share price substantially higher.
As you can see from above there are many ways to position yourself to take advantage of the credit splurge in December. Even if a substantial amount of transactions have already been paid off, this data will not have been seen during fourth quarter earnings reports. Therefore, investors should be prepared for the companies above to present higher than expected first quarter revenue and income.
Lastly, from an economic standpoint, credit spending can be taken in several ways. First, and most obviously, it can be stated that consumer expenditure has increased because over $19 billion of goods were bought using credit or loans. This can have positive short term and long term implications. The short term implications are that companies were able to receive money - from credit companies - and therefore purchase more goods themselves to replenish low inventories. However, on the other hand, if these companies depleted inventories due to excessive sales then investors will see low margins from these businesses.
Another implication the December credit report has is that many consumers are still on a credit cycle. Compared to a cash cycle, a credit cycle may not be sustainable for consumers unless wages increase which can also increase inflation. Obviously, if consumers pay these debts off it will only help the credit companies who will have received higher profits due to interest charges and other fees. Also, the higher amount of credit use indicates consumers may feel confident about the economy, but as history and Hyman Minsky have shown, sometimes excessive confidence can lead to dire situations.
Furthermore, from an investment perspective it is best to profit from credit companies which benefit from consumer spending rather than investing in companies that consumers purchase products from. This may be a wise decision because if a business's margins shrink, investors, traders, and analysts are likely to punish the particular stock. Also, it is very likely that consumers will continue to use credit for everyday purchases. Therefore, 2012 may be an even stronger year for credit services companies than one can imagine at this point in the year.
Disclosure: I have no positions in any stocks mentioned, and no plans to initiate any positions within the next 72 hours.