On Tuesday, Coke (NYSE:KO) reported fourth quarter earnings that beat the street's expectations. Shares of the company rose on the earnings report as well as on KO CEO Muhtar Kent's plan to put as much as $650 million in cost savings back into the company for the purpose of growth and price stability. The company reported:
Fourth-quarter net income down 71% to 1.7 billion or $.72 from last year. ($.79 when the purchase of Coca-Cola Enterprises is excluded). This beats the consensus by $.02.
Volume sales rose 3%
Revenue rose 5 percent to $11.04 billion
KO also reported exciting news that volume increased by double-digits in Japan, Thailand and China. These earnings along with the company's plan to expand into the future will allow KO to continue to be a safe-haven for investors. Even though the recession is in the rearview mirror in America, the rest of the world is facing rising currency and debt issues. KO is exceptionally positioned to both maintain market share in North America, Asia, and Europe as well as expand into emerging markets.
click to enlarge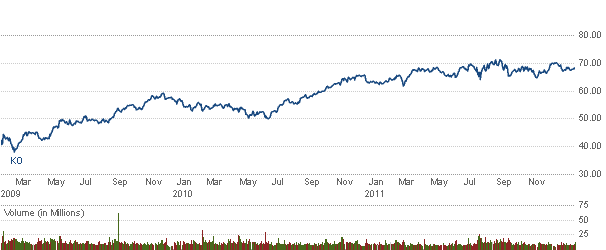 Click to enlarge
(NASDAQ:CNBC)
The feat of being number 1 and cutting costs:
Coke rose to being the number one soft drink manufacturer again in 2011 after Pepsi (NYSE:PEP) stole the title. Both KO and PEP have been in constant battle due to the competitiveness of the industry and both companies' ability to expand into other markets. The difference between KO and PEP is that KO has put forth a plan that the company projects will save $650 million into 2015.
KO and PEP face rising commodity prices and these increases will be felt within the price at the register. KO is determined to keep prices at or below PEP to drive sales in the company's current markets and drive incremental sales in emerging markets. KO CFO, Gary Farard, stated, "I want to be very clear that our system remains fully committed to continuing our relative historic price premium for our brands in the marketplace." This sentiment illustrates the company's ability and forethought to keep pricing in-line. Jack Russo of Edward Jones added,
If Pepsi starts discounting to gain share, Coke will have to be able to respond to that…I think that's the reason they're trying to get a lot of costs out of their system so they can reinvest if they have to.
Though PEP has fantastic brand recognition, KO is still the most respected brand in the world and if the company is able to keep prices low (on the heels of the $650 million plan Kent outlined), then KO will continue to generate increased profit, market share, and revenue.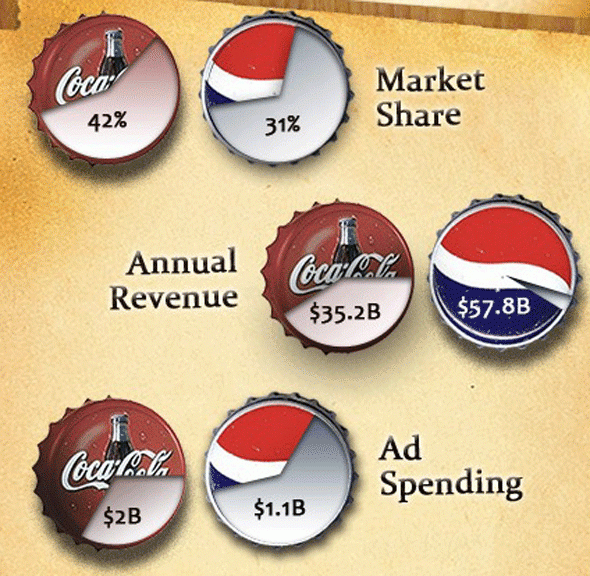 Click to enlarge
(Buisness Insider)
Weakness in PEP:
Over the past several years KO has set itself apart from its largest rival PEP by keeping prices low, building the brand, staying focused, and cutting costs from the supply chain. As evidenced by the graphic above, PEP generates more revenue than KO, but has less market share in soda. The risk this presents is within the fact that the more products a company has out there, the less focused a retail can become.
Citi analyst Wendy Nicholson posed the rhetorical question, "The biggest variable right now affecting Coke is Pepsi - if Pepsi is eager to gain market share, will Pepsi be rational with respect to pricing?" The verdict is not yet out on whether PEP can keep prices low, but the fact is that KO plans to take costs out of the system in the face of rising commodity costs will ultimately supplant the company's position in the market and keep the retailer well ahead of PEP.
Global Growth:
This quarter was momentous for investors in KO because the data illustrates that in the midst of a global recession, KO can continue to grow sales. An independent analyst David Silver gave us this:
I would definitely still be buying…Volumes are keeping up with their growth forecasts. The big question they answered was that their volumes can increase, despite a struggling global economy…
This type of sentiment is rooted within the fact that KO has been able to maintain volume even in the face of increasing prices by $.02 in North America. This type of performance speaks to the stability within the stock and why investors have been clamoring to KO for years. The high point for KO is that even with $46 billion in annual sales, growth is on the horizon.
Dividend Growth:
From just glancing at the chart below, KO has delivered dividend increases for the past 10 + years and there is no sign of this trend stopping. Dividend stocks have fallen out of favor this year due to investors having an appetite for more risk. Although this may be true, KO is a staple stock and the dividend growth allows the company to attract long-term investors who see the value within KO and both its growth and stability. David Silver added, "They have a good, solid dividend. They have tons of cash on hand, and I expect another dividend increase in the next three to six months."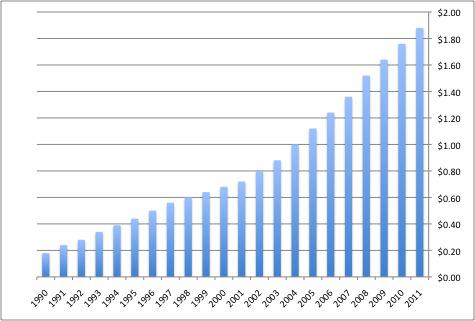 (Cool Stock Data)
KO by the numbers:
Trailing Earnings: 18.6. To give this number some context, the Vanguard Consumer Staples ETF (NYSEARCA:VDC) is trading at 16.5 trailing earnings. Although VDC provides a more diversified portfolio, it does not have the ROE (below) that KO has of 41.31%. (Chris Baines)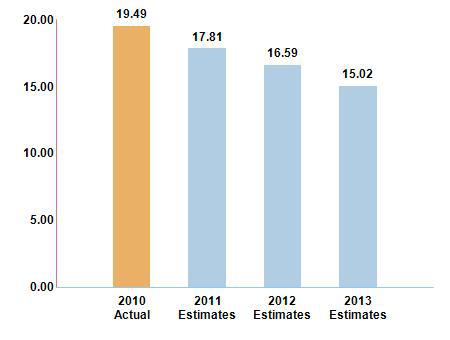 (Nasdaq)
Earnings per share: $3.84 for the year. This marks a 10% increase in EPS for the year, which is an incredible feat due to the company's size and stability.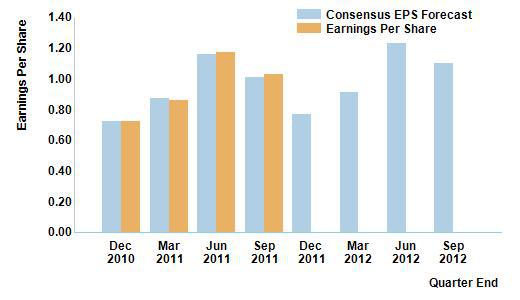 Click to enlarge
Return on Equity: 41.31. These numbers give validity to the P/E ratio because KO is able to return 41 cents on every dollar an investor invests. This is remarkable due to this being in line with companies like Apple (NASDAQ:AAPL) and Microsoft (NASDAQ:MSFT) with ROE of 45.6% and 41.7%, respectively.
Conclusion: KO has just concluded an exceptional year and the company is poised for growth and stability in the future. Between the tangible plan Kent has put forth, the potential for a dividend increase, and the company's growing footprint, KO is a strong company poised for performance in both a good and bad economy (as evidenced above). As David Silver said, "I think they're light-years ahead of Pepsi. That's not going to change any time soon."
Disclosure: I have no positions in any stocks mentioned, and no plans to initiate any positions within the next 72 hours.