On Tuesday, February 7, 2012, after the markets closed, Annaly Capital Management (NYSE:NLY), announced earnings for the fourth quarter of 2011. The mortgage REIT or mREIT, reported GAAP net Q4 income of $445.6 million or $0.46, compared to $1.2 billion or $1.94 per share for Q4 of 2010, and a loss of $921.8 million or $0.98 per average share for Q3 of 2011.
Excluding unrealized gains and losses on interest rate swaps and Agency interest-only mortgage-backed securities, net Q4 income was 54 cents per share, compared to 60 cents for the same quarter in 2010 and 65 cents for Q3 of 2011. Wall Street expectations were for earnings to be slightly higher, and on average between 56 and 57 cents per share.
See a recent performance chart for NLY, below:
click to enlarge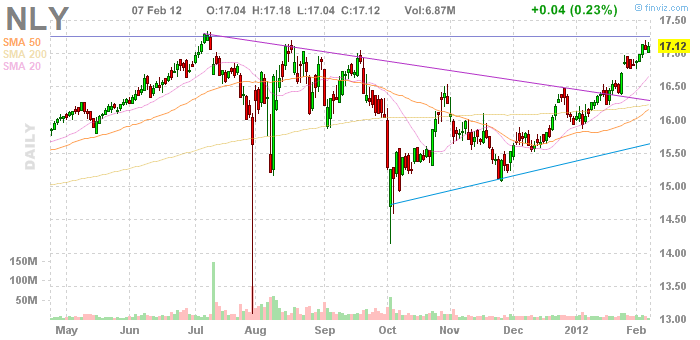 Click to enlarge
Annaly buys agency mortgages that are backed by federal agencies. Other well-known agency mREITs include American Capital Agency Corp (NASDAQ:AGNC) and Hatteras Financial (NYSE:HTS). Index ETFs for mREITs include the FTSE NAREIT Mortgage REITs Index ETF (NYSEARCA:REM) and the Market Vectors Mortgage REIT Income ETF (NYSEARCA:MORT), though both of these ETFs also hold mREITs that invest in non-agency backed securities.
Annaly also reported an average interest rate spread of 1.71% for Q4 of 2011, which is a 14 basis point decrease from a 1.85% spread during Q4 of 2010, and a 37 basis point decrease from the 2.08% average spread Q3 of 2011. Annaly also reduced its leverage down to 5.4x, from 6.7x during the same quarter in 2010 and 5.5x during the third quarter of 2011. These lower spread and leverage rates indicate that a dividend reduction should be forthcoming, as the company continues to take a defensive stance.
Michael A.J. Farrell, Chairman, Chief Executive Officer and President of Annaly, commented on the company's results, echoing the defense it is now plating, stating:
In this environment, I believe that it is best to be conservative in our approach to risk and performance. It is intended not only to protect our portfolio but also to prepare us to take advantage of opportunities as they arise.
Annaly has been playing it conservative since its last secondary offering over the summer, in advance of the debt ceiling crisis and subsequent downgrade of U.S. debt. During last quarter's conference call, management stated that a reduction in leverage was "all by design," adding that leverage can be difficult to reduce and that it the mREIT wanted to be more conservative due to present market volatility. Apparently, Annaly is continuing this conservative stance, only further deleveraging despite narrowing spreads.
Nonetheless, a 1.7 percent spread is not insignificant. Relatively wide spreads are probably going to remain for a while, though they are tapering off. Still, the reduced leverage and spread-rate should lessen the payout to something closer to between 10 and 12 percent from its current yield of about 13.3 percent.
On Monday, February 6, 2012, American Capital Agency , the second largest agency mREIT behind Annaly, announced its earnings for the fourth quarter of 2011. The mortgage REIT or mREIT, reported net income of $208.7 million, or $0.99 per share, compared to $1.39 per share during the third quarter of 2011. Following their announcement of earnings, AGNC also announced a dividend policy cut, lowering the quarterly payout to $1.25 from 1.40 per share.
Annaly will also likely report a reduced dividend next month. Normally, Annaly reports its dividend in mid-March, with an ex-dividend date in late March.
Disclosure: I am long NLY.