--- "Diligence is the mother of good fortune"

Benjamin Disraeli
OpenTable (NASDAQ:OPEN) surprised the street by besting analyst consensus Q4 2011 earnings estimates of $0.30/share with $0.37/share. On the surface, one would think the former high-flier restaurant reservations company is ramping up EPS growth again. After all, seated diner counts increased in spite of the tough economy.
However, in cases like this, performing due diligence often yields a completely different understanding of company fundamentals. Upon taking a closer look at OpenTable's earnings report, several key items stand out:
The company declined to offer guidance for Q1 2012, but they did provide the following clues for analysts to use in their model forecasts:
Operating Expense will be 15% higher for Q1 2012 than Q4, and continue with 1-2% OpEx increases beyond that level per quarter hereafter. In other words, the low OpEx in Dec '11 was an anomaly.
They guided for a sizable $6.7M in Stock Based Compensation (up sharply from $1.92M in Q4 2011).
The company's Q4 operating expense was down -2% from prior projections. Because the revenue part of the earnings equation showed a modest $300K upside ($37.2M actual vs. $36.9M estimate), one has to conclude that the 7c beat on EPS was due to one-time cost-cutting in December. According to the conference call, OpEx will jump 15% in Q1 versus Q4.
It is likely that the company's buyback added almost 2c per share to EPS that wouldn't have been there otherwise.
DUE DILIGENCE ON Q4 and Q1 "GUIDANCE":
In the absence of transparent company guidance, the conclusions one can draw from these three observations are:
Q1 2012 EPS will most likely be substantially down from the just-reported quarter. Instead of matching the $0.37/share reported this quarter, Q1 2012 is likely to be at or below $0.20 EPS due, in part, to the 15% ramp of operating expense (see calculations below).

Analyst consensus Mar '12 estimates is currently at $0.34, so I have no doubt the analyst consensus EPS forecast for Mar '12 is going to have to come way, way down after this earnings report.

Q4 2012 organic EPS (non-GAAP) would have been about $0.35/share without the benefit of the share buyback, thus the YoY EPS growth would only be about 6% when compared to the $0.33 non-GAAP EPS in Dec 2010.
Q1 2012 GUIDANCE - CONSENSUS ESTIMATES NEED TO COME DOWN
First let's address the issue of the Q1 2012 guidance (or lack thereof):
Since they said in the conference call that OpEx will increase in Q1 2012 by a substantial 15%, let's use that to make our own model for EPS for the current quarter.
With operating expenses running at $26.4M in Q4, one can therefore expect OpEx to run $3.9M higher (15% increase) in Q1 2012. Assuming revenues are flat-to-slightly-increasing in Q1 2012 (they said in the conference call that January is not showing as much of a "tailwind" as they had in Q1 2011), we would need to subtract $3.9M of OpEx from their Q4 Non-GAAP Consolidated Income of $8,937,000:
($8,937,000 MINUS $3.9M of 15% higher OpEx) / (24,096,000) shares = $0.21 EPS
In other words, the higher OpEx in Q1 - with other factors remaining constant - will result in just $5,037,000 non-GAAP consolidated income instead of the $8.9M in Q4.
If these Q1 2012 projections are correctly modeled by analysts, we're looking at a huge drop-off in EPS for the current Q1 2012 quarter and a NEGATIVE GROWTH story.
It looks like they did everything they could to make the December quarter look good, but there are five factors that are not likely to exist in the March 2012 quarter:
Q4's Operating Expense being down -2% was a transient one-time event and hereafter OpEx will be 15% or more higher for the rest of 2012 per the conference call.
There will not be a $50M buyback to inflate EPS by 2c/share as was the case in Q4 (the company doesn't have enough money to wisely institute another buyback)
The company had a substantial backlog (stated by Matt Roberts, CEO in the conference call) going into Q4 that helped EPS.
They indicated so far in January 2012 that they're not seeing a similar "tailwind" that they had in the prior quarter.
Stock Based Compensation was "only" $1.92M in Q4, but in the conference call they said it will be a hefty $6.7M in the current quarter (due to the way they do "accelerated amortization").
With Operating Expenses slated to increase by 15% (about $3.9M) in Q1 and Stock Based Compensation to shoot up to $6.7M, their GAAP EPS will likely be a red number. Thankfully, they'll be able to headline the non-GAAP EPS dropping to "only" about $0.20/share.
One can't help but wonder if the guidance for Q1 was looking to be so much lower than the Q4 EPS of $0.37 (and Q1 Consensus of $0.34) that the company declined to offer guidance.
STEADY, BUT NOT HEADY GROWTH
On the plus side, some of the company sequential stats seem to show steady (but not heady) growth:
| | | | | |
| --- | --- | --- | --- | --- |
| | Q3 2011 | Q4 2011 | QoQ growth | Annualized |
| US Installed base | 16,237 | 17,150 | 6% | 24% |
| Int'l Installed base | 7,629 | 7,969 | 4% | 19% |
| Seated diners | 23,600,000 | 26,900,000 | 14% | 69% |
| Tot Revs | 34,400,000 | 37,200,000 | 8% | 37% |
If the company were able to keep operating expense as barebones as it was in Q4 and have a little more self-control with lavish stock based compensation, these numbers would translate into decent EPS growth going forward. But with the company's OpEx guidance of a 15% increase in the conference call, that's just not going to happen.
BUYBACK CONTRIBUTIONS TO EPS (CALCULATION)
Finally let's review the buyback contributions to EPS. Here's the logic:
At 14:28 in the conference call CFO Duncan Roberts stated:
I'm pleased to announce that we've completed our $50M stock repurchase in early January, repurchasing 1.31M shares at an average cost of $38.14/share.
And the Q4 earnings report says:
During Q4 2011 the Company repurchased 1,089,300 shares of common stock at an average price of $37.91 per share.
Looking at the chart you'll see that shares were trading well above $38.14 for most of January and they announced their $50M buyback on Nov 30th so they had all of December to nibble shares: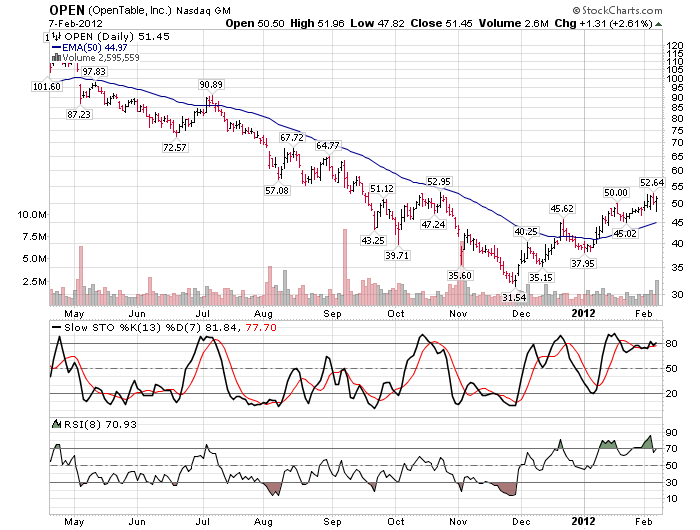 Note that they used 24,096,000 "Weighted Diluted Shares Outstanding" in their $0.37 EPS calculation:
($8,937,000 Non-GAAP consolidated Income) / (24,096,000) shares = $0.37 EPS
Now suppose they had NOT bought the 1, 089,300 shares back as of 12/31/11, then the true (organic) EPS calculation would have been:
($8,937,000 Non-GAAP Consolidated Income) / (24,096,000 shares + 1,089,300 shares if had not bought back)= $0.35 EPS.
Therefore, the buyback in December significantly reduced the share count used in the Q4 earnings headline non-GAAP EPS. Had the company NOT done the buyback, the non-GAAP earnings would have been almost $0.02 LESS than the reported $0.37 non-GAAP earnings.
Now, compare the year-ago 2010 Q4 non-GAAP EPS of $0.33/Share to the "organic" $0.35/share EPS for 2011 Q4 (after factoring out the buyback) and you have a company that is only growing organic earnings at 6% per year but trading at a 64 P/E.
CONCLUSION
In summary, due diligence pays off.
While the OpenTable Q4 earnings headline (37c eps vs the 30c eps estimates) was inspiring, it will be interesting to see how analysts will have to cut their current quarter EPS estimates from $0.34/share to almost half that - once realization sets in that the December quarter had several favorable factors that analysts won't be able to model into the current quarter.
Disclosure: I have no positions in any stocks mentioned, and no plans to initiate any positions within the next 72 hours.