While the U.S. markets have been in an uptrend in early 2012, the emerging markets have been even hotter. The S&P 500 (NYSEARCA:SPY) is up 7% year to date, a nice return over 25 trading days ending February 6, 2012. Emerging market ETFs remain at attractive valuations after taking a beating over the course of 2011. But since the start of 2012, they've been advancing. Look at the performance of these emerging market ETFs (see price performance chart below):
Click to enlarge: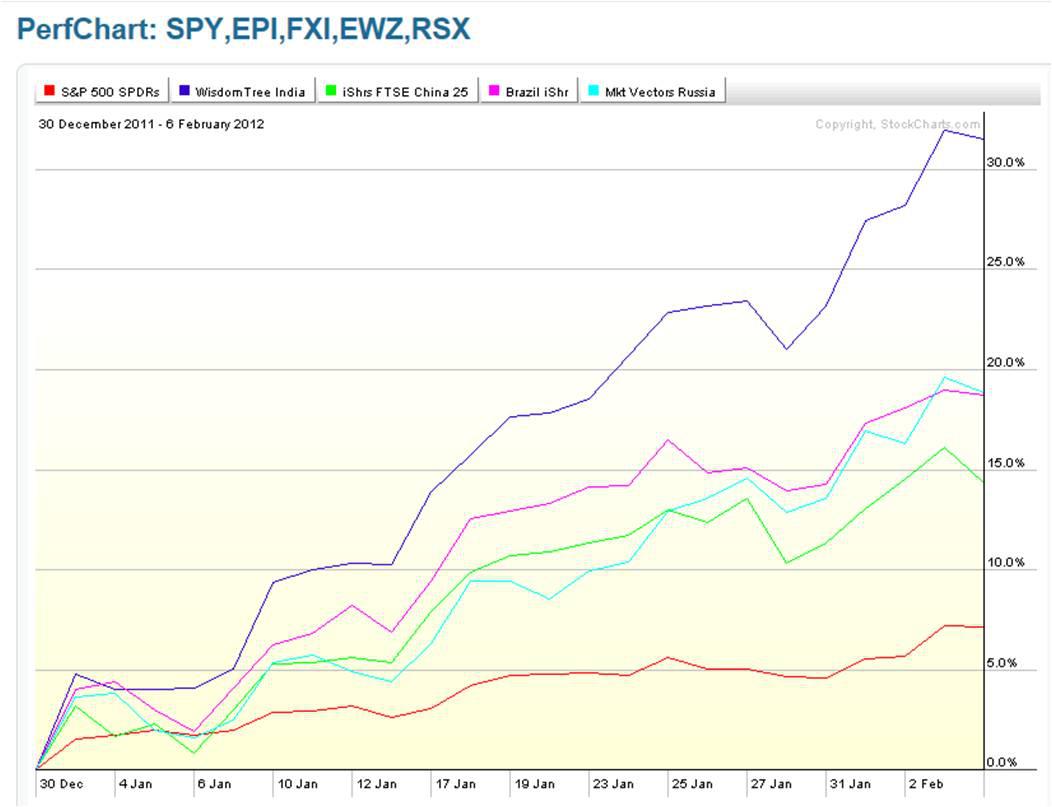 Click to enlarge
While their economies have slowed, these emerging markets are still growing. India's economy is still growing at a 7% annual rate. The same goes for China and Brazil as both are still growing faster than developed areas like the U.S. and Europe. China's economy grew by about 9% last year and Brazil's growth was above 3%.
Also, the governments of these nations are starting to boost their slowing economies. Brazil began lowering interest rates in late 2011. In December, the Brazilian government unveiled a set of tax cuts aimed at boosting demand for everything from food to appliances. Just a few weeks ago, the Reserve Bank of India lowered reserve requirements for Indian banks, which will free more money to flow into the economy. If the economy doesn't pick up, analysts expect interest-rate cuts in India as well.
Russia should be one of the most vibrant emerging markets in the world. It has vast mineral wealth, low debt, and a well-educated workforce. For those with stout stomachs and longer-term investment horizons, Russian equities, as measured by the MSCI Russia index in rubles, have produced 15-year annualized returns of more than 12%. That's one of the highest in the world and includes a 72% fall in 2008. Russia, the world's biggest oil producer, is still attractive on a long-term basis. Especially if there is any interruption in the oil supply from Iran and the Middle East oil producers.
Investors should keep an eye on these emerging markets for a significant rebound in 2012.
Disclosure: I have no positions in any stocks mentioned, and no plans to initiate any positions within the next 72 hours.