Longwei Petroleum Holdings Inc. (LPH) is scheduled to report financial results for the second quarter of fiscal year 2012 on February 09, and will host a conference call on February 10 to discuss it. My predictions for key financial numbers for the quarter are as follows:
Revenue: I predict revenue to be $128 million to $135 million. The most likely value predicted by my quantitative model falls at $130 million. The main driver behind the increase in revenue was increase in inventory. From December to the Chinese New Year (end of January), many people working in mega metropolises such as Beijing went back to their parents' homes in secondary metropolises such as Taiyuan, for family reunions. Therefore, during this period oil demand very likely increased in Taiyuan and dropped in Beijing, the area which the new Haujie facility is expected to service. Therefore, I estimate that the management team decided to postpone paying the final payment to close out the acquisition, but instead used the funds to put more inventory in its existing two facilities in central Shanxi in order to increase revenue run rates in the past two months.
Gross Margin and Gross Profit: I predict the company's gross margin ticked up slightly to about 19.5% due to increases in revenue. Accordingly, my prediction calls for a gross profit of $25 to $25.5 million.
Net Income and EPS: I predict net income to be $18.3 to $18.8 million and EPS to be 18.2 to 18.8 cents per share.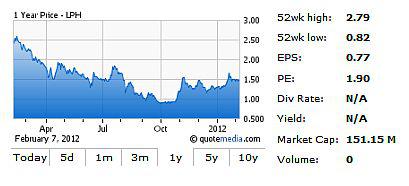 Several other things in the earning release and conference call worth paying special attention to are:
The timing of closing of the acquisition of Huajie facility. According to what the CFO said in prior conference calls, the transaction has entered the final stage. It would be good to know if the company is paying the balance, getting title and other relevant documents, or closing the escrow at this very moment.

How quickly does the management team expect to increase inventory level and ramp up revenue run rate of the new facility?

Will the management team consider borrowing some money to fund additional inventory later to increase revenue and net profit? As I said in my previous post regarding general economic conditions in China, the lending drought last year not only affected small to mid- size companies, but also large companies, including state-run enterprises. Average lending rates shot up 50% or higher per year, as reported in this video. Under those circumstances, it was cost prohibitive for Longwei to borrow money to fund the acquisition or additional inventory. However, the Chinese central government seems to be reversing its monetary cycle this year. If the government lowers the benchmark interest rate and bank reserve requirements two, three or more times this year, mid-size companies like Longwei might be able to borrow at 20% or lower annual interest rate again. At that level, it might be worthwhile for the management team to consider leveraging up a little bit to further boost top line and bottom line.

Is the management team still planning to reconcile the financial numbers in its SEC reports and SAIC reports soon? If so, is there a target date?

Is the board of directors still planning to begin paying dividends once the operation of the new facility is at a stable level for the short-term and the company is accumulating free cash flow at high speed later this year? With the addition of the Huajie facility, the company can be at a net profit and free cash flow run rate of $25 million or higher per quarter by the end of this year. That's quite a cash stockpile to deploy. The management team should be able to pay out a starting quarterly dividend of $5 million or so, even if it wants to reinvest the majority of the earnings in inventory, equipments, and/or small-scale acquisitions.
Because several major events are coming up for the company, significant progress can happen in just a week. As such, I encourage readers to also listen to the management team's presentation and Q&A session in an upcoming virtual conference on February 16.
One closing thought here. Longwei is one of the biggest gasoline and diesel wholesalers and distributors in central China, the region with the fastest GDP and consumption growth in the second largest economy of the world. Because the company is the first among most public oil companies to report, its financial results serve as a good leading indicator of financial results of PetroChina (NYSE:PTR), CNOOC Limited Common Stock (NYSE:CEO), China Petroleum & Chemical Corp (NYSE:SNP), and even Kinder Morgan Energy Partners (NYSE:KMP), Chevron Corporation (NYSE:CVX), and Exxon Mobil Corporation (NYSE:XOM).
Disclosure: I am long LPH.
Disclaimer: My standard disclaimer for my analysis can be viewed here.