Rockwell Automation, Inc. (NYSE:ROK) may provide investors with an investment opportunity in wide-ranging sectors, from industrial applications to energy and mining interests. ROK is an open equipment manufacturer (OEM) of industrial automation equipment, software and services. ROK consists of two main divisions. The Architecture and Software Control segment provides information architecture and integrated control to industrial clients. The Control Products & Solutions segment provides intelligent motor control and industrial control products. ROK's industrial clients range from pharmaceutical companies to oil and gas companies and mineral development groups.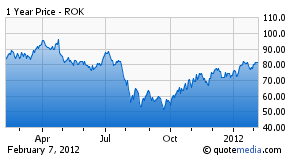 The oil and gas sector accounts for nearly 13% of the company's revenue, and may provide opportunities for revenue growth. ROK provides automated solutions and products to oil and gas clients, including intelligent motor control, pump station control, safety shut-down systems and remote monitoring. In addition, ROK has a significant software component, offering comprehensive software solutions to the automobile, pharmaceutical and consumer products industries. Software comprises approximately 10% of the company's total sales. ROK's main competition appears to be FANUF, a Japanese company with a market capitalization of $39.4 billion.
ROK has made significant investments in emerging growth markets. In 2011, ROK acquired Hiprom, a South African company providing project management and delivery to mining and mineral processing industries. ROK is opening a new plant in Brazil, which will increase its manufacturing capacity in the region, and provide further investment in emerging growth markets. It is reported that the plant will manufacture medium and low-voltage drives for use in the oil and gas and mining industries. Six percent of ROK's sales are to China, with the company anticipating revenue increases due to expansion in that market. Another 8% of the company's sales are in Latin America with 17% in Europe. Thus, ROK still does have exposure to the continuing European instability.
ROK has a market capitalization of $11.41 billion, with a current P/E ratio of 16.99. Earnings per share in 2009 were $1.53, increasing to $3.05 in 2010, and up 57% to $4.79 in 2011. Revenue grew from $4.86 billion in 2010 to $6 billion in 2011, an increase of a little over 23%. However, earnings did decrease from $5.7 billion in 2008 to $4.3 billion in 2009, indicating that ROK is certainly tied to larger macro-economic trends due to the core industrial nature of its business.
ROK has a current free cash flow of $561 million, with a dividend of 0.43 for a dividend yield of 2.09%. The current mean of analyst recommendations is currently overweight. Goldman Sachs upgraded the company to a buy on 1/11/12. However, there does appear to have been some recent insider selling of shares, which may discourage some investors.
Rockwell Automation's share price recently closed at 81.32, up nearly 12% for 2012. ROK is up nearly 62% since its 52 week low of 50.36 on 9/22/11, trading with a daily average of 1.27 million shares. ROK appears firmly entrenched in an upward channel, although there does appear to be a lower channel forming within the large channel. The open up gap up on 2/3 creates a doji "shooting star" on the daily chart, indicating that price could retrace back a step toward the lower channel support line. Assuming a pullback to the lower resistance level of the channel holds, this may provide traders with a opportunity for an entry point into a position. The 50 day SMA crossed the 200 SMA on 1/19, shown by the arrow on the chart below, creating a golden cross as reported by Barclay's which many consider to be a bullish sign.
As stated previously, ROK is subject to larger macro-economic forces, especially the uncertain potential for growth in international markets. ROK may be exposed to hiccups in the Asian and Latin American economies. Still, ROK may provide investors with an opportunity for growth due to its diversified clients, and its potential for increased revenue streams in the oil and gas sectors.
Disclosure: I have no positions in any stocks mentioned, and no plans to initiate any positions within the next 72 hours.