I have penned quite a few articles on gold miners over the past few months as the sector has not moved up in line with the huge increase in gold prices over the last five years. I have advocated for Randgold (NASDAQ:GOLD) based on their recent earnings report and Barrick Gold (NYSE:ABX) has been a core position in my portfolio since the middle of 2011. Silver miners have also found themselves in the same position as silver prices have far outrun the gains in the silver mining stocks. One little followed miner that produces both metals, and has rapidly increasing earnings I find intriguing at current price levels is Coeur d'Alene Mines Corporation.
Coeur d'Alene Mines Corporation (NYSE:CDE):
Coeur d'Alene Mines Corporation, together with its subsidiaries, engages in the ownership, operation, exploration, and development of silver and gold mining properties located primarily in South America, Mexico, the United States, and Australia. (Business Description from Yahoo Finance).
7 Reasons CDE is a buy at $28 a share:
The company is rapidly increasing earnings. It made just 54 cents in FY2010 and will more than double that in FY2011 with an expected $1.38 a share as the fiscal closes. The company is projected to more than double earnings again in FY2012 with analysts tagging $2.92 a share for the company.
The stock looks like it has bottomed and is showing improving technical strength and it just crossed its 200 day moving average (see chart)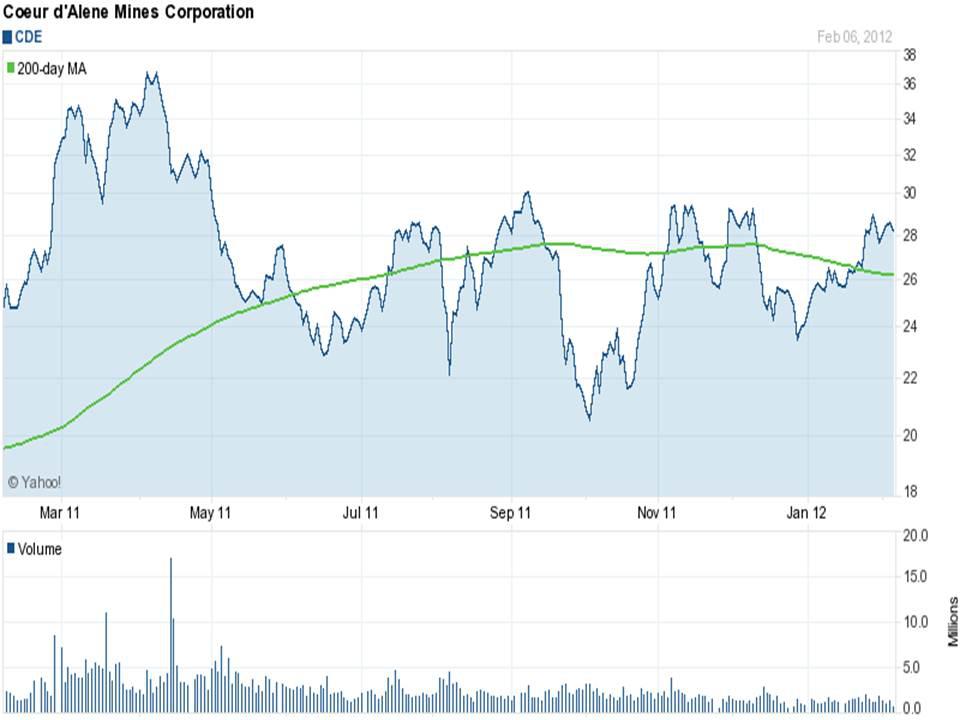 Insiders believe in the company. There has been no insider selling in the last year.
The company estimates the average cost on the roughly 20mm ounces of silver it will produce in 2012 to be $5.75 an ounce, a huge operating margin compared to current silver prices. It also expects to mine 220,000 ounces of gold in 2012 with an average cost of under $1,000 an ounce.
The stock has a low five year projected PEG of .82 and is selling for just 19% over book value.
The company has a solid balance sheet with more cash than debt. It also sells for less than 10 times its forward PE and 6 times operating cash flow despite its rapid growth in earnings and revenues.
Disclosure: I am long ABX, GOLD.
Additional disclosure: Might go long CDE in next 72 hours