As a long time shareholder in Cisco (NASDAQ:CSCO) I have recently become enamored with one of its competitors, Brocade Communications (NASDAQ:BRCD). While it is not yet on the level of the other prominent names in the networking space such as Juniper (NYSE:JNPR) nor Hewlett-Packard (NYSE:HPQ), I think it is a name that is grossly underappreciated and one in particular that should fit the strategies of aggressive investors who like turnaround stories. The stock is up 18% so far on the year and almost 50% since November 1 - a move that has taken its P/E to 60. The company is indeed working hard to improve its fundamentals. However, it seems that the market is beginning to favor Brocade for another reason.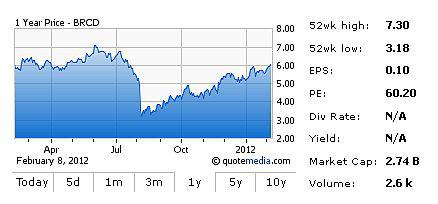 On Friday, reports began to surface from a Bloomberg article that Brocade was on the verge of being sold. But this is nothing new since the company has been the subject of M&A discussions for quite some time. Most recently involving Dell (NASDAQ:DELL), which opted last year to go in a different direction after confirming that it had considered the acquisition. However, as with the failed talks with Dell, I suspect that these current rumors are unlikely to develop into a deal. Mainly because of Brocade's current valuation relative to the proposed acquirer, Blackstone (NYSE:BX) and its ability to finance the transaction.
If you believe in the notion that "where there's smoke, there's fire," chances are the stock may continue to experience some upside movement on the assumption that, at some point, an acquisition will indeed take place. To me, the more likely scenario is for Cisco to enter the discussion and eventually close the deal. The benefits for both sides are obvious. However, as Brocade is due to report earnings in a couple of weeks, I think acquisition or not, the company deserves a long look on the basis of its continued improving fundamentals as well as the return of technology spending.
The long case
In its recent Q4 earnings announcement, not only did it beat its projected numbers but it also raised guidance. The question is though, what did it prove? I will concede that as Cisco continues its turnaround story, there is a good chance that Brocade may suffer slightly from its resurgence. But that is not to take away from the many accomplishments that it has logged this year, especially considering the market's early reaction to its once perceived inability to compete.
Looking at it from a bearish lens, Brocade's Q4 numbers were far from stellar. The company reported flat revenue on a year-over-year basis and less than 10% sequential. Revenue for its network storage service were down 4% from the previous year, but this was offset with an 11% growth from smaller areas of its business - notably IP. But regardless of how one looks at it, it can't be discounted that it did beat consensus estimates on both year-over-year declines and its end of range. To top it off, profitability was a huge plus.
In 2008, Brocade took a page out of Cisco's book and acquired one of its competitors, Foundry Networks. That was an acquisition that seems to now be paying off. In its acquisition, management sought to broaden the company a little bit more and place less dependency on its storage business. The other advantage was it wanted to be able to sell networking gear to its existing customer base to provide the services of a one stop shop, a strategy that is now proven to have worked or at the very least, currently working.
There is no denying that Cisco is clearly the market leader, and it's not going away. But Brocade is proving that it can do just fine with a small piece of the pie. This has also proven to be the case for other Cisco competitors such as Aruba (NASDAQ:ARUN). But the sad reality for them is that (as we started discussing earlier) growth continues to be a challenge.
Summary
As Cisco has regained its Wall Street darling status over the past two quarters, Brocade has launched a turnaround of its own; from having issued not only meager projections, but also questionable managerial execution. As a Cisco shareholder, it pains me to want to see Brocade succeed. But who doesn't like an underdog story? I have to say that the stock is worth a long look at current levels - particularly as it is widely assumed that the worst is behind it. There are a lot of questions that needs to be answered, but from a risk-reward point of view, it's one that is worth taking a chance on.