I lost a few friends on Monday when I announced that I had sold my position in Sirius XM (NASDAQ:SIRI) at a price of $2.15, ahead of its earnings report this Thursday. Remarkably, it seems as if somehow my sale impacted everyone else's portfolio as it moved the market. My reason for doing so had to do with the fact that (for quite some time) I sensed that the market has been suggesting that the stock had become fairly valued. This arrived after almost two weeks of trying to answer the question, what is wrong with this stock?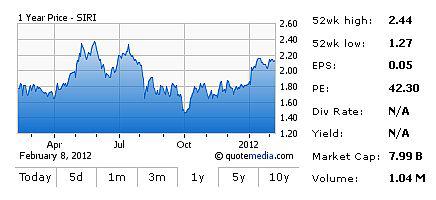 Read. Decide. Invest and Mind Your Own Business
For two days, I have had to explain my rationale for executing a trade that I felt was in my best interest. This is not so bad and I don't mind sharing why I felt it was time to make the decision. However, in that same breath, I have had to delete hate mail after hate mail filled with f-bombs, personal attacks and the ever-popular "you are going to regret this." I do my best to brush it off and just shake my head as I come to the realization that the lack of investment perspective is getting progressively worse for (some) involved with this ticker.
When it comes to Sirius everyone is an expert - including yours truly. But interestingly, quite a few number of investors pretend to know what is best for every other investor to the extent that any type of sale (regardless of outcome) is met with tremendous contempt. The idea that one should never realize his/her gains has to be the dumbest thing that I have ever experienced. I recently announced that I had sold my entire position in Apple (NASDAQ:AAPL) upon its earnings annoucement at $450 and nobody in the Apple camp cared. You know why? Because unlike Sirius investors, they are secure in their investments and couldn't care less about what anyone else thinks. Apple is now trading today $20 higher than where I sold it - easy come, easy go.
There's a famous quote that says, "What I eat, doesn't upset someone else's stomach". Well, that's the cleaned-up version anyways. But I think it applies in this case and it is something that needs to come to an end immediately. How can one article generate so much negative emotion? The idea is to just read, decide, invest, (and if inclined) trade - it's all the same. But more importantly, let's mind our own investments and our own business.
Buy-and-hold 'til death do you part
I love what Seeking Alpha presents here for investors in terms of the discussions that it generates. However, I can't help but realize that there is a segment of the investor community (traders) that have suppressed (unfairly) their desires to discuss trades because of what I have just experienced above. I became aware of this because as bad and as anger-filled as some of the emails have been over the past couple of days, I have also received quite a few congratulatory emails regarding my trade - some of which were not only thoughtful but extremely brilliant in terms of what I could have done instead.
I'm bringing this to light because I see this as a problem that needs to be corrected and Sirius investors need to understand that they are doing themselves a disservice by not being more open-minded to other ideas - specifically, ideas regarding trades. I've taken particular interest in this because I will concede that there are trading opportunities and ideas that I could learn from if the comments section on the articles were more welcoming of those who prefer to trade and not solely dominated by comments of "buy-and-hold 'til death do you part."
I have a tremendous amount of respect for anyone in this market because I appreciate the level of difficulty and the tremendous risk involved in trying to make money while faced with exceptional odds. But it is remarkable to realize the volume of stupidity from investors suggesting that I have committed a crime against humanity by merely opting to sell my stock. The fact of the matter is, (and I will say this until I'm blue in the face) Sirius XM is a tremendous growth story and will likely have its best year in 2012, but I also understand the forces that its current valuation faces- which involves standard laws of economics. The lack of this understanding is what stirs up such emotion, which then propels the unrelenting hatred and insults towards anyone with a differing opinion.
The market speaks
It goes without saying that this article will somehow be perceived as a "bash piece" when I haven't said one negative thing about the company. But according to Barclays analyst James Ratcliffe who on Tuesday issued a price target of $2.00 on the stock while offering an "underweight rating" does not seem to enamored with its recent movement. "Underweight" is a nicer way of saying "sell" in regular market terminology. He said pretty much what the market has been saying the past couple of weeks: The stock has reached a point of fair value and that the good news has already been priced in. But I told you this almost three weeks ago in another so called "bash piece." He also went on to say:
"We believe the SIRI business is healthy and expect material growth in EBITDA [earnings before interest, taxes, depreciation and amortization] and FCF [free cash flow], but believe, at 14x 2013E EBITDA and nearly 19x 2013E fully-taxed FCF, growth is more than priced in at current levels," he writes. "For investors seeking exposure to SIRI operational performance, we prefer Liberty Media [LMCA) [the company's largest holder with a 40% stake] which allows investors to purchase SIRI shares for a more reasonable ~$1.61, even assuming a 20% discount on Liberty's other assets."

"SIRI has performed well in a difficult economic environment, and we believe it can continue to do so for the foreseeable future. From 2011-18E, we are forecasting revenue, EBITDA and FCF [compounded annual] growth of 8.6%, 15.8% and 19.3%, respectively, driven by sub growth, an increase in pricing, and a reduction in capex spending," he writes. "However, we believe the upside from the improving fundamentals is already more than priced into the stock."
One may look at the stock rating as well as read between the comments and arrive at some negativity, but I don't see it that way. Indeed he is playing it pretty conservative - much to the dismay of current long investors. However, his analysis is likely also used as extra due diligence by those who were thinking about entering the stock at current levels while the rest of the market is ready to sell upon earnings. Investors have to also consider that there are those that bought last year at $2.44 who are still waiting for an opportunity to break even.
What to expect
For the company, consensus estimates are at 1.5 million net subscribers for 2012. Coming from someone that appreciates both the good and the bad, I am eager to see if the company will low-ball guidance as has been the norm? With several of the auto manufactures - namely Ford (NYSE:F) having reported stellar earnings as well as positive outlooks, it will be hard to receive guidance from Sirius this time that does not align with projected auto sales.
For the stock, I think that any projection at 1.5 or below will likely send the shares lower. But any other nuggets regarding stock buyback, dividends or unknown projects may not only stabilize it, but send it higher. As I've said before, I remain bullish on the company long-term and feel that its prospects for this year are outstanding. But for a stock that rarely trades on fundamentals, I'm deciding to take my gains now - even at the risk of leaving a lot on the table.
Summary
We're all different, that's what makes the world go round. However, one unifying trait of all investors is the profit objective. How it comes may differ from person to person, but no one is under any obligation to sacrifice his or her own convictions for the sake of anyone else in the market - that's just stupid. This week, my conviction was to sell. After the company reports earnings, this conviction may change and I may re-establish a long position. But it will be because Sirius inspired me to do so by virtue of its report.
Disclosure: I have no positions in any stocks mentioned, but may initiate a long position in SIRI over the next 72 hours.