Apple (NASDAQ:AAPL) has been on a tear for the last 5 years with the stock up approximately 450% compared to the 17% increase in the broader Nasdaq index. Apple has been posting all-time highs on a daily basis and, in the process, has become the world's largest company by market capitalization, bypassing ExxonMobil (NYSE:XOM). Trading at $463.97, AAPL has a market capitalization of $432.59 billion. By my estimation, Apple will become the first trillion dollar company in the next 36 months. At current levels, the stock trades at a significant discount to its intrinsic value.
In this article I will develop my fair value estimate using relative valuation. To develop my fair value estimate, I first looked at the historical growth rates of the company along with various performance and profitability metrics. These are presented in the tables that follow.

Click to enlarge

Click to enlarge
The tables shown above portray a very pretty picture for the Apple shareholders of the last few years. It is very unusual for a company as large as Apple to grow at annual rates of 65%. Companies like Microsoft (NASDAQ:MSFT) and Google (NASDAQ:GOOG) have slowed down considerably during the last 5 years, growing at annual rates of 14% and 24%, respectively. Apple on the other hand is not only growing, but has accelerated its growth rate over the last 5 years in every category that I consider. To top that, the company has also improved its margins, and delivered impressive returns on invested capital, equity and assets.
Finally, I also analyzed the cash conversion cycle for Apple. Although not a critical metric for a tech company, CCC does inform me about the leverage the company has with its suppliers and customers. The table below presents the CCC for Apple for the last 5 years.

Click to enlarge
The negative CCC indicates that Apple can make its suppliers wait to receive their payments while it collects its receivables from its customers. It reinforces my belief that Apple calls the shots when it comes to its suppliers. This is a characteristic of a company that dominates its business. Wal-Mart (NYSE:WMT) is another example of a company that dictates terms to its suppliers. Like Apple, Wal-Mart boasts a very low CCC of 7 to 10 days.
Coming to valuation, analysts expect the company to grow at an annual rate of 20% over the next 5 years. I believe that the growth rate will be skewed towards the immediate future. I agree with S&P Equity Research that Apple will increase its earnings at an annual rate of 34% over the next 3 years. In fact, I am a little apprehensive forecasting Apple's earnings 5 years into the future as the tech sector in general and the PC, notebooks, and smart phone market in particular is very dynamic and susceptible to sudden changes. We all know the fate of the golden child of yesteryear, Research in Motion (RIMM).
The relative valuation shown below was performed assuming a growth rate of 34% for the next 3 years. The stock currently trades at a P/E of 13.2, below the P/E of the S&P500 index. This just does not make any sense to me. My relative valuation assumes that Apple would trade at a P/E of 14.2 on par with the broader market. This multiple by itself is conservative in my opinion. Based on the projected growth rates and company fundamentals, Apple should be trading at a sizable premium to the broader markets.
Additionally, to account for the competitive and unpredictable nature of the tech sector, I have applied a risk premium of 15% while calculating my discount rate.
The relative valuation is shown below: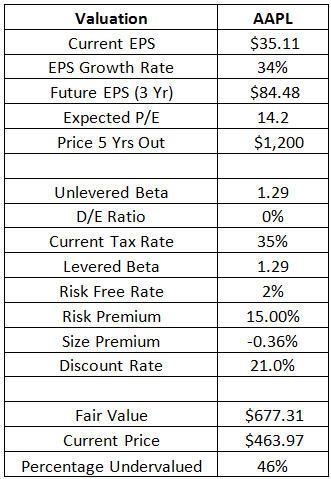 As shown in the table, Apple is expected to be trading at $1,200 a share 3 years in the future. Assuming 950 million shares outstanding, the company is projected to have a market capitalization of $1.14 trillion making it the first trillion dollar company on the planet. At current levels, although hard to believe, Apple is grossly mispriced by the market and is a bargain.
Disclaimer: Kindly use this article for information purposes only. Please consult your investment advisor before making any investment decision.
Disclosure: I have no positions in any stocks mentioned, but may initiate a long position in AAPL over the next 72 hours.