I recently came across a stock in my research that has three things I love to find in an equity, given our current low yield environment: (1) A robust dividend yield, (2) Low valuation and increasing earnings and (3) Improving technical strength.
Hercules Technology Growth Capital, Inc. (NASDAQ:HTGC) is a private equity, venture capital, and venture debt firm specializing in providing debt and equity to privately held venture capital and private equity backed companies and select publicly-traded companies. The firm is also a Small Business Investment Company." (Business Description from Yahoo Finance).
7 Reasons to pick up HTGC at just over $10 a share:
The stock is showing increasing technical strength and just crossed over its 200 day moving average (see chart):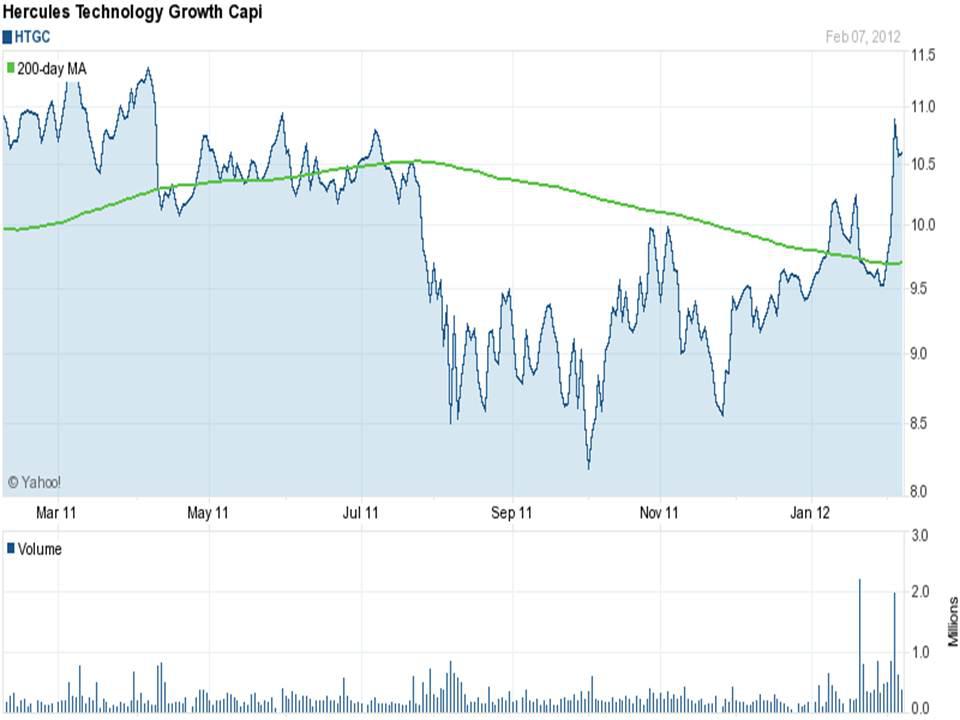 The stock yields a robust 8.3% and sells at just over book value.
Stifel Nicolaus just upgraded the stock to a "Buy" from "Hold" in early February.
The company is showing consistent earnings growth. It earned $.80 a share in FY2010, will make approximately $.90 in FY2011 and analysts expect it to make $1.09 in FY2012.
Insiders have been net buyers of the stock over the last six months
The company is producing impressive revenue growth. Analysts expect HTGC to produce sales growth north of 25% for both FY2011 and FY2012.
The company is having no problem raising funds and should have increasing opportunities given the improving activity in the venture capital and technology space.
Disclosure: I have no positions in any stocks mentioned, but may initiate a long position in HTGC over the next 72 hours.