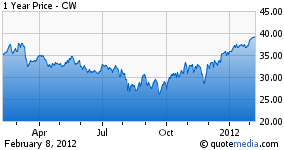 Curtiss-Wright (NYSE:CW) is a leading supplier of aviation and naval components for both the defense and civil market. The company was formed in 1929 by the merger of parts of the Wright Aeronautical and Glenn Curtiss companies originally created by three early American pioneers of the aviation industry.
For most of its first thirty years the company delivered advanced engines and aircraft for military and commercial aviation. In the Fifties it began to concentrate on components including electrical, mechanical and advanced products for the growing advanced aviation, power, and vehicle and space industry. It also invested in early military simulators and trainers. Currently it has three major business segments: flow control, motion control and metal treatment supporting a variety of industries.
On the 14th it will announce the results for its last quarter of 2011 and the full year earnings. The first nine months of last year saw sales of just under $1.5 billion with operating income of $144 million and earnings of $91 million. These were increases of 9%, 17% and 29% over the year prior. At that time the company predicted full year results of $2.06 to $2.075 billion. This was an increase of $15 to 30 million from the last estimate with earnings per share 10 cents higher.
Curtiss-Wright has been consistently able over the last six quarters beat analyst predictions. They have averaged 2 to 8 cents a share higher then estimates. Analysts seem to have taken that into account for the fourth quarter by picking 84 cents a share which would put the stock right at $2.68 a share for the year which is the low end of the company's projections.
The stock is currently trading within a dollar cents of its 52 week high which occurred near the beginning of this month. Except for a time in 2008 and 2009 where it got above $50 the stock has traded in a consistent range of $25 to $40. If 2011 results are better then expected it should be expected to pass through that $40 line.
Recently analysts have begun to pay attention to CW with Capstone Investments in early January initiating coverage and a target price of $43. Other banks and advisors have given it mixed reviews although overall it is rated a Buy with the current sentiment the strongest since last spring.
While like a number of other companies that have significant military sales it could see a downturn in that business over the next several years due to the expected decline in U.S. defense spending. This will be especially true if some of the proposed changes in aircraft and ship procurement plans are executed. Curtiss-Wright is a sub-contractor to Northrop Grumman (NYSE:NOC) on the production of the Global Hawk strategic drone and some of that system's production could be eliminated reducing revenue from those sales in 2013.
Curtiss Wright should balance these potential losses by increased sales to the commercial aviation market. It provides Maintenance, Repair and Overhaul of its own products as well as those of other companies which is a growing business. Its metal treatment segment also provides significant support to the commercial aircraft, automotive and energy business which should also make up lost military revenue.
For example metal treatment sales were up 36% so far in 2011 and commercial sales in the Motion Control to the aerospace market were up 18 as the company did more commercial work. As Boeing (NYSE:BA) increases production of the 787 and 737 aircraft to meet its orders it will buy more from Curtiss-Wright also offsetting cuts to military aircraft production.
Curtiss-Wright has made efforts to expand their product lines and business through acquisitions. In December they closed on buying two companies, Anatec and LMT which support the nuclear power industry. These had annual sales of $28 million combined and will make future contributions to Curtiss-Wright's bottom line especially if the U.S. and other countries do invest in more nuclear power generation.
Overall the company is well positioned to adjust to current trends in the U.S. future market. As the current economic downturn ends and the world economy grows it will cushion the projected decline in U.S. military spending by providing increased commercial sales and markets. Curtiss-Wright will maintain revenue and perhaps continue to surprise each quarter as it has in teh recent past. This performance could support the current trend of steady increases in its value.
Disclosure: I have no positions in any stocks mentioned, and no plans to initiate any positions within the next 72 hours.