By Stuart Burns
We have been asked by readers why miners and refiners of metal — who, just five to ten years ago, could apparently survive perfectly well at half or a third of the current price levels — are now falling below the cost curve in today's market.
Overall, it's a fair question. Many metals have what are termed very tight supply markets, meaning exposure to multiple supply constraints including (although not limited to) high labor rates, high power costs, falling ore grades, cost of capital, rising resource taxes or royalties, and so on. So an article in the Financial Times provides some interesting insight into the challenge miners and (although not specifically mentioned) refiners often face.
Since the middle of the last decade, commodities have been a hot topic. Fortunes have been made and, while the markets have been characterized by extreme volatility, there is the sense that mining companies, metals producers and resource-rich countries have never had it so good.
Witness Australia: struggling with a lackluster economy in the 1990s, the country's place as the largest supplier to Asia's rapidly industrializing markets has turned it into a commodity superstar. You could substitute Australia for Chile, South Africa, Brazil, or Russia — all these economies and more have suffered a similar fate of becoming commodity currencies.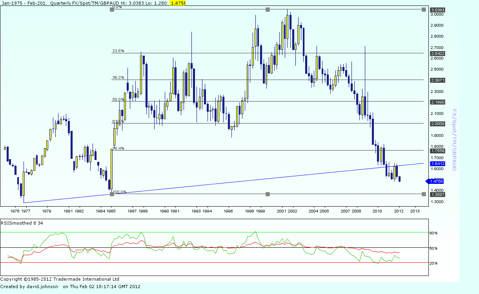 Click to enlarge
Source: Halo Financial
As this graph from Halo Financial shows, even against a weakening British pound sterling, the Australian dollar has been on a relentless rise from A$3.00 to the pound in the year 2000 to less than a A$1.50 today. As a result, a company buying in sterling (or US dollars or Euros) could be paying twice as much today for their ore, but the Australian supplier would not realize one cent more on their domestic books.
Indeed, in the meantime, inflation has ripped along at 5 percent or so, forcing the Australian central bank to hold interest rates at some of the highest among the major Western economies. Labor costs, energy, transport, etc., are domestically incurred costs of extraction and do not fall as the currency appreciates.
As the FT report says, just this year the Australian dollar is up nearly 6 percent against the US dollar since the start of January, and BHP Billiton, not usually thought of as a high-cost producer, announced last week that it would temporarily cut production at its Mount Keith nickel mine in Western Australia, blaming "depressed nickel price and a strong Australian dollar."
When BHP Billiton (NYSE:BHP) expanded Mount Keith in the early part of the last decade, it was costed on nickel that was around $3.00 per pound at that time, with an anticipated extraction cost of about $2.00 per pound. Today, nickel is on average over $9.00 per pound, yet Mount Keith is no longer viable.
Nor is the problem reserved for nickel. Thomson Reuters GFMS, the precious metals consultancy, argues the appreciation of producing countries' currencies against the US dollar is the "main driver" of estimated cash cost inflation of 14 percent in the global gold industry in the first 9 months of 2011. In Australia and South Africa, costs rose 21 percent and 23 percent, respectively, according to the FT.
Soaring currencies are not just a problem for resource-rich countries; any major exporter faces the same problem and this partly explains Germany's robust manufacturing sector operating from a weak Euro base.
Japan has faced the same problem as resource-rich economies, as Japanese manufacturers have been priced out of overseas markets, forcing the Ministry of Finance to sell yen five times in the final quarter of 2011 in an attempt to drive down the yen. Records show the ministry sold a record $105 billion in a single day on Oct. 31, followed by more in the following days.
Unfortunately, they did not simply sell yen and buy dollars — many of the trades involved buying other Asian currencies, including the Australian dollar, adding to the strength of that currency.