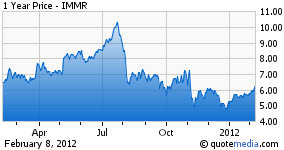 Today, Immersion Corporation (NASDAQ:IMMR) filed a lawsuit against one of the major handset producers utilizing haptic technology in its smart phone range - and the target is Motorola Mobility (NYSE:MMI):
Immersion Corporation, a leading developer and licensor of touch feedback technology, today announced that it has filed a complaint with the U.S. International Trade Commission ("ITC") against Motorola Mobility. The complaint alleges that certain Motorola Mobility Android-based smart phones infringe six Immersion patents that cover various uses of haptic effects in connection with touchscreens. Immersion has also filed a patent infringement complaint against Motorola Mobility in the U.S. District Court for the District of Delaware.
The news comes with no surprise to those who have followed the company's most recent developments, although the target may be unexpected, in light of the fact that Motorola might soon become part of Google (NASDAQ:GOOG), whose Android OS is Immersion's most successful platform for its enhanced haptic technology.
Back in August 2011, Immersion had announced reaching a milestone of over 600 patents issued:
Immersion today announced that it has been awarded over 600 patents in its world-wide portfolio of over 1,200 granted and pending patents. Immersion's most recent additions strengthen the company's portfolio of haptic effects for touchscreen user interfaces.

Some of Immersion's most recent patents cover the output of haptic effects based on sensing a user's input on a touchscreen and the association of an event with a haptic effect in a multi-tasking environment. These patents belong to patent families with a number of granted and pending patents:

U.S. Patent No. 7,969,288- "Force Feedback System Including Multi-Tasking Graphical Host Environment and Interface Device" covers the association of an event with a haptic effect in a multi-tasking environment.
Unsurprisingly, the patents mentioned in this old press release are also part of today's lawsuit against Motorola.
A closer look at the six patents that Immersion believes are being infringed by Motorola reveals that most of them have been recently awarded, dating 2011 (U.S. Patent No 7,969,288, No 7,982,720, No 8,031,181 and No 8,059,105), while only two patents date back to 2002 and 2009. While it is extremely challenging to dig into these as well as other patents related to haptic technology, for sure Immersion's research was not unknown to Motorola, as some of their own patents in this field, like US 7999660 reference Immersion's previous patent applications dating back 2002 and 2006.
Immersion's management has been very open with investors about its intention to start an offensive against OEMs that are incorporating haptic effects in their smart phones without licensing it from the company, both during the last conference call and the more recent 14th Annual Needham Growth Conference:
Victor Viegas - CEO

So our patent portfolio continues to grow and mature overtime. And as a result, recently we've announced we have six patents, I think now up to eight patents that have to do with almost any form haptic capability on a mobile device. One area includes using haptics in a menu selection, using haptic in a GUI interface, using haptics in a multi-tasking environment, you are playing a game and you get an incoming phone call.

So much of what is currently used in today's phone are covered by this group of patents. So as a result we've begun working with notifying a number of the companies that are producing haptic capability in their phones but it's unlicensed.

So today we have licensees that include Samsung (OTC:SSNLF), LG and Nokia (NYSE:NOK), if I were to go through the top 10, other companies that have some form of haptics in their phones include Apple (NASDAQ:AAPL), HTC, Motorola, Sony (NYSE:SNE), ZTE, Huawei. I think those are the top 10.

So, the typical use in an unlicensed fashion we call it basic haptic. In some cases on the Android Operating System for example, when you're powering up or down, when you are inputting text, dialing a number, there is a very limited set of effects, they all feel the same, they feel buzzy their arm for a rather lengthy period of time, you probably have it in one of your phones.

And in most cases people still like the user experience because there is a lot tactile information. But it is in this crisp. It is in as broadly deployed. It's not as intuitive.

So to add that level of fidelity requires our software, our technology, but we believe our IP covers both. So we've been out selling high-end good experience and clearly, there is a big difference. And Samsung Galaxy uses this extensively throughout their phone system and they're having a lot of success with it. So it does make a difference. It improves user experience. The basic haptics it's not where it need, it should be, but nonetheless it should be a revenue generating event for Immersion.
In practice, what the company targets is having three different levels of licensing opportunities, at different royalty-per-unit rates, starting from basic haptics to programmable haptics and to the most sophisticated level of effects, the recently introduced HD haptics, now available in the latest Pantech tablet: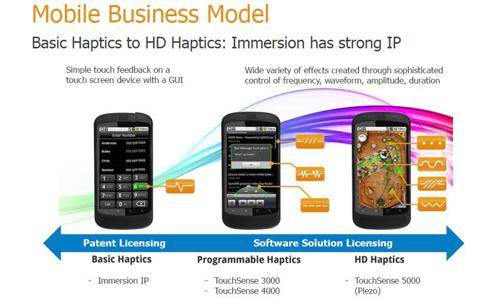 (Click to enlarge, from the company's recent Investor Presentation)
If successful in its litigation strategy, Immersion might have found a powerful tool not only to protect and monetize its IP, but also to push OEMs into licensing. For example, its more advanced programmable haptics would represent only a slightly more expensive per-unit-sold solution that would also increase the quality of the handset's haptic effects available to end users.
Immersion's market share in touchscreen phones is now at about 20% to 30%, and a broader number of licensees could not only increase it, but create a "must have" effect, leading to implementing more sophisticated haptic effects in the high-end smart phone segment - the most profitable segment both for producers and Immersion.
While litigation is always a risky, lengthy and often distracting process, the company might have come to the conclusion that, similar to what happened in the past when Microsoft (NASDAQ:MSFT) and Sony (SNE) were using rumble in gaming peripherals without a license, this was an inevitable move to protect its IP, and its own customers licensing haptics in the mobility vertical.
Thanks to its strong cash position (over $60 million with no debt), the company is well positioned to stand the challenge of a long lawsuit. However, we would prefer to see a settlement between Immersion and Motorola as soon as possible, for no other reason than the fact that Google's Android platform is the company's most important platform for many of its licensees like Samsung, LG, Fujitsu, Toshiba and Pantech. And most of Immersion's efforts in simplifying haptics adoption, like the MOTIV platform and Haptify, the company's independent subsidiary created to develop, drive adoption and increase visibility of mobile apps with integrated haptics, are targeting exactly this operating system.
Disclosure: I am long IMMR.