"Comfort and prosperity have never enriched the world as much as adversity has." - Bill Graham
With yields starting to rise in the U.S. as investor confidence grows in the reflation theme I've been addressing in all my writings following the first week of January, there are many investors who are stuck not knowing what to do. There are a lot of people looking at the stock market who are not comfortable with the way stocks in the S&P 500 (NYSEARCA:SPY) have risen, but at the same time are now extremely nervous about their "risk-free" bond holdings. The intermarket analysis I focus on in my writings suggests that the bond market can be a significant underperformer relative to stocks for some time as animal spirits return to markets. I addressed this in a recent Bloomberg interview which can be heard here and which I would love to get some feedback on.
So you're not comfortable with stocks, but at the same time you're not comfortable with Treasuries. Is there an area of the bond market which could potentially perform better? Take a look below at the price ratio of the iShares JPM US Dollar Emerging Market Bond ETF (NYSEARCA:EMB) relative to the iShares Treasury Bond 7-10 Year ETF (NYSEARCA:IEF). As a reminder, a rising price ratio means the numerator/EMB is outperforming (up more/down less) the denominator/IEF.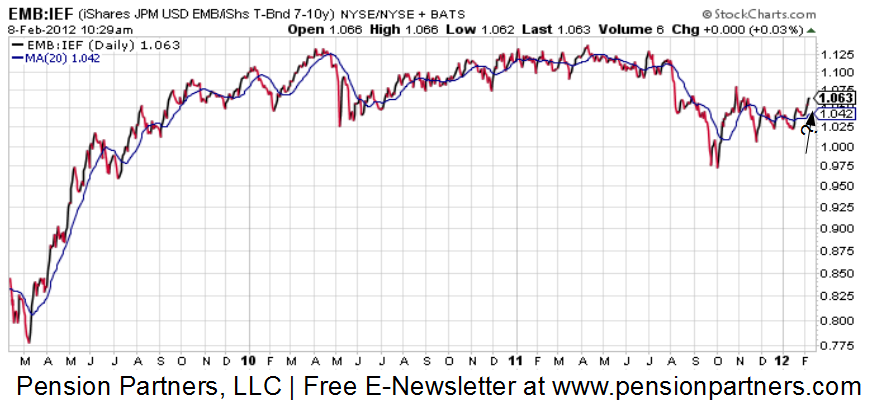 Click to enlargeNotice how poorly sovereign debt did relative to U.S. Treasuries as the Summer Crash of 2011 unfolded, sending the ratio at its lowest point back to mid-2009 levels. As the October Melt-Up occurred, there was a strong recovery in sovereign paper in a "risk-on" juncture for bonds. The ratio since November though has gone no where, performing roughly in line with Treasuries until about the middle of January. It appears that a strong uptrend in Sovereign Debt relative to Treasuries may now be taking hold, with outperformance beginning in earnest.
Note that this is a relative argument. If I'm right about 2012 looking like 2003 and 2009 in terms of the reflationary environment, then it likely would be better to be in emerging market stocks (NYSEARCA:VWO) as opposed to emerging market debt. But, if you're not comfortable with the equity story, it might be worth tilting fixed income allocation to emerging sovereign debt.
Disclosure: I have no positions in any stocks mentioned, and no plans to initiate any positions within the next 72 hours.
Disclaimer: This writing is for informational purposes only and does not constitute an offer to sell, a solicitation to buy, or a recommendation regarding any securities transaction, or as an offer to provide advisory or other services by Pension Partners, LLC in any jurisdiction in which such offer, solicitation, purchase or sale would be unlawful under the securities laws of such jurisdiction. The information contained in this writing should not be construed as financial or investment advice on any subject matter. Pension Partners, LLC expressly disclaims all liability in respect to actions taken based on any or all of the information on this writing.