The market is getting a bit frothy in my opinion. I have closed out quite a few positions in the last couple of weeks that have had huge rallies in hot sectors, such as technology and basic materials. One sector that I still think could have legs is domestic manufacturing, given the improving economic numbers recently. One method I have liked to use recently is to find underfollowed firms with low valuations, unappreciated growth prospects (low PEGs) and whose technical strength is improving (recently crossed their 200 day moving average). Here are two equities that meet these criteria.
Rocky Brands (NASDAQ:RCKY) - "Rocky Brands, Inc. designs, manufactures, and markets footwear and apparel under the Rocky, Georgia Boot, Durango, Lehigh, Mossy Oak, and Michelin brand names. The company offers footwear, apparel, and accessory items to hunting, fishing, camping, or hiking enthusiasts; footwear and apparel to industrial and construction workers, and workers in the hospitality industry, such as restaurants or hotels; footwear products to law enforcement, security personnel, and postal employees; and footwear products to farmers and ranchers". (Business Description from Yahoo Finance)
4 reasons RCKY is a good value at under $12 a share:
The stock looks like it has bottomed and just crossed its 200 day moving average (See Chart)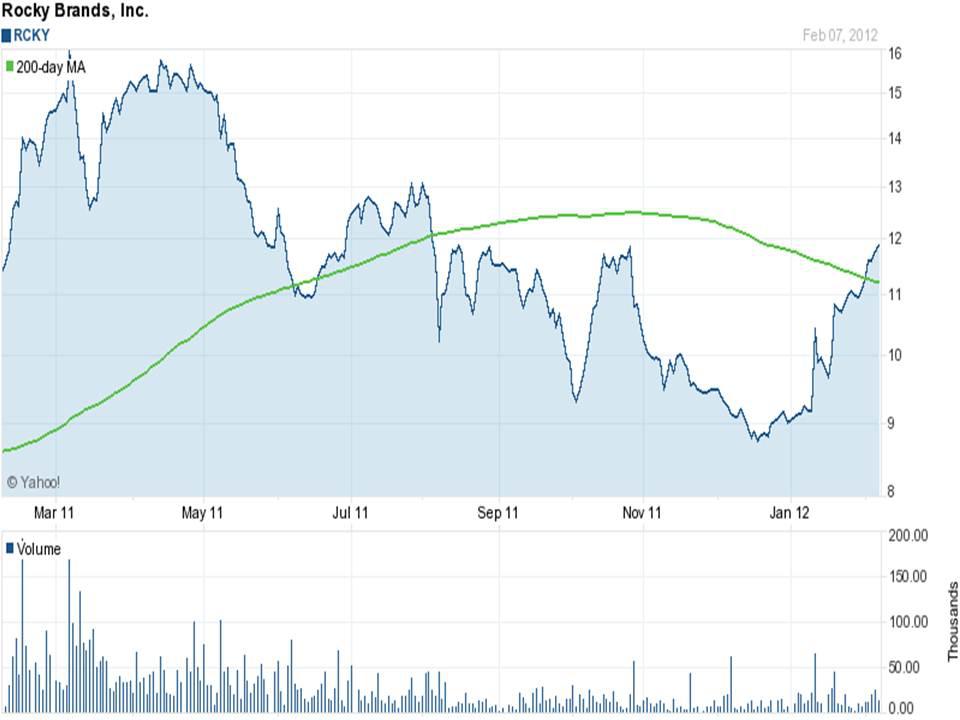 Click to enlarge
The company is rapidly increasing earnings. It made $1.14 a share in FY2010, looks to earn $1.53 in FY2011 and analysts project it to make $1.75 in FY2012.
Insiders have been net buyers of the stock over the previous six months and it is priced at just 78% of book value
The stock is cheap at less than 7 times forward earnings and a five year projected PEG of under (.76).
Vishay Intertechnology (NYSE:VSH) - "Vishay Intertechnology, Inc. engages in the design, manufacture, and marketing of discrete semiconductors and passive electronic components in the United States, Europe, and Asia. The company's semiconductor products include MOSFETs consisting of low and medium-voltage TrenchFET MOSFETs, high-voltage planar MOSFETs, high-voltage super junction MOSFETs, power integrated circuits, analog switches, and integrated function power devices; diodes, such as rectifiers, small signal diodes, protection diodes, thyristors/SCRs, and power modules; and optoelectronic components, including infrared (NYSE:IR) emitters and detectors, IR remote control receivers, optocouplers, solid-state relays, optical sensors, light-emitting diodes, seven-segment displays, and IR data transceiver modules". (Business Description from Yahoo Finance)
4 reasons VSH is a buy at $12 a share:
The company has a rock solid balance sheet with over $3.50 in net cash per share.
The stock is selling at 4 times operating cash flow and about 6 times its trailing PE.
The stock shows improving technical strength and just crossed its 200 day moving average (See Chart)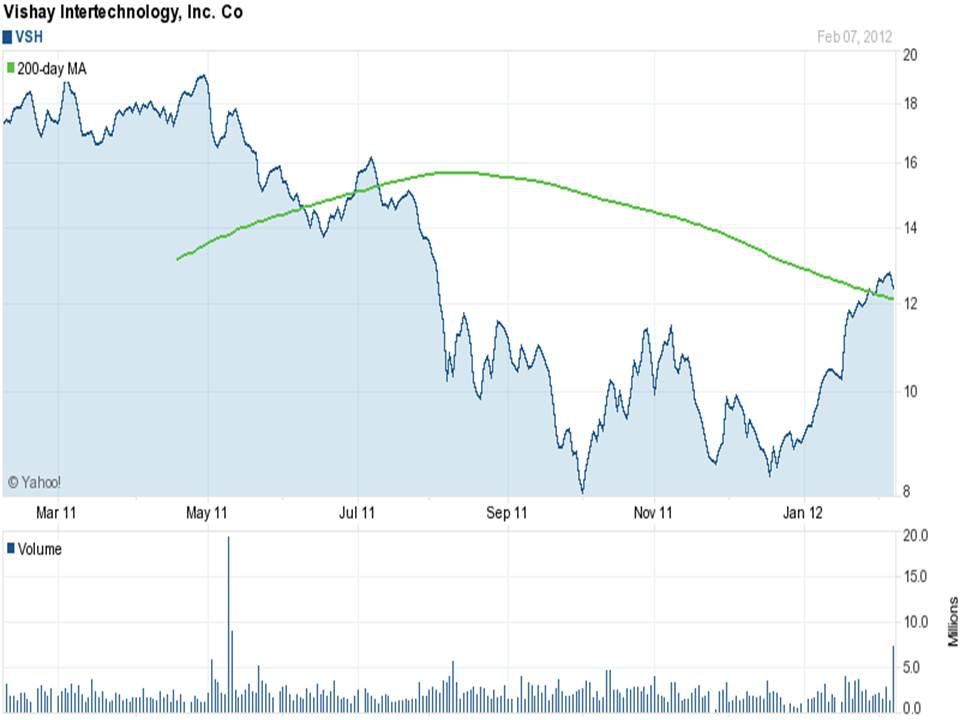 Click to enlarge
Insiders have not sold a share in over 6 months and it has a five year projected PEG of under 1 (.98).
Disclosure: I have no positions in any stocks mentioned, but may initiate a long position in RCKY over the next 72 hours.